World Water Day - March 22:
World Water Day for celebration or education?
As a day is designated to celebrate even trivial things in the world today, important events such as the World Water Day can easily go amiss.
On this day, which has been commemorated on March 22 annually since 1993, we must question our eligibility to celebrate the cause as most of us are transgressors of wasting water on a daily basis on habitual grounds in the name of convenience.
Although many people in the country are unaware of this fact, like any other nation, Sri Lanka too has people who lack access to clean water. "Only 82-83 percent of people have access to clean water of which pipe-borne water accounts for 40 percent," Secretary to the Ministry of Water Supply and Drainage, A. Abeygunasekara told the Sunday Observer.
One can question how this is the case when we have long stretches of rivers, mesmerising lakes and a blanketing coastline which leads one to think that we are a water-rich nation. However, we fail to comprehend if this water is fit for drinking.
Drinkable water
"Gone are the days our rivers and lakes contained drinkable water. The amount of toxic waste and agro-chemical refuse that pollute our water is not very conducive although most rivers have not been discoloured.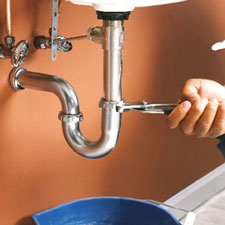 Repair leaks immediately
The closer we move towards urbanisation and industrialisation, the higher the degree of water pollution. Recently we set up a water distribution operation for nearly 50 families in Billava, Anuradhapura because they were deprived of clean water due to a polluted river," Abeygunasekara said.
It is puzzling how urbanisation can pollute water because it is an obvious stimulus in improving our living standards. "Only 2.5 percent of the country's population use pipe sewerage; the others have on-site sanitation which is a major cause of water pollution under flooding and other weather conditions," he said.
The recent floods that hit many parts of the country exposed clean water to sewage and surprisingly areas such as Borella, Nawala and Rajagiriya in the city were affected by this situation too," Abeygunasekara said.
The Ministry of Water Supply and Drainage has joined hands with UNICEF this year to commemorate the World Water Day under the theme 'Water and Urbanisation'. They will together aim at educating people on the waste of water, the widespread diseases caused by consuming unclean water and re-iterate the practice of rain water harvesting where possible.
"Rain water harvesting was implemented some time ago, but we want to make people more aware of the benefits of using rain water for gardening, sanitation and other washing activities while using clean water only for cooking and drinking purposes," he said.
UNICEF claims that almost 50 percent of the population of the developing world - 2.5 billion people - lack improved sanitation facilities, and over 884 million people still use unsafe drinking water sources.
Inadequate access to safe water and sanitation services, coupled with poor hygiene practices, kills and sickens thousands of children every day, and leads to impoverishment and diminished opportunities for thousands more.
Kidney infections, cholera and diarrhoea are among some of the most prominent diseases contracted due to the consumption of unclean water. Boil water intended for drinking purposes and fill only the quantity needed, he said.
This does not only make one healthy, but helps save water too.
It is our fundamental responsibility to ensure that we minimise water waste, but how?
* Turning the tap off while brushing teeth will save at least 15 gallons of water a month, which is 180 gallons a year.
* Turning off the shower while shampooing or taking shorter showers will save at least two gallons of water a day, which is 60 gallons a month and 720 gallons a year.
* Don't use the toilet as an ashtray or waste paper basket. This wastes nearly 5-6 gallons of water per instance so the more you flush, the more you waste water.
* Repair leaks immediately or at least tape the area to avoid leakage. This is one of the biggest contributors to water wastage
* Use the washing machine with a full load; be patient until worn clothes accumulate or handwash if a single garment needs to be washed.
Starting point
The World Water Day can be our starting point to become more aware of the importance of water. Let us read about it, talk about it and most of all act on it. The modern world encourages us to chase after technology at the expense of nature. No matter how advanced we become or how many other planets we step into, where nature is concerned, what you give is what you get.
Most Gulf countries can afford to buy water as long as they have the oil reserves to support them, but for a country such as Sri Lanka that still strives on tourism, water should never become a high-priced commodity. We have the power to control waste and we should embark on it to prove to the world that we are a practically literate nation.
All awareness programs and re-iterations can be in vain if we do not contribute to protect this vital resource which is becoming scarce.
At a time climate change and natural disasters are creating mayhem around the globe, most of us still enjoy the luxury of unobstructed access to clean water. This does not mean we have an advantage over those who are deprived of clean water; it just means that we have an extra responsibility to think twice before using water unnecessarily.