Lanka's first sea plane port in Ja-Ela
In a bid to meet the future demand for domestic travel from locals and foreigners, Sri Lanka is building the country's first sea plane airport at Dadugam Oya Ja-Ela.
SriLankan airlines was planning to use a section of the Negombo Lagoon for this project, but decided against it as fishermen in the area pointed out that it may not be conducive to them.
The new float-plane landing strip in Ja-Ela would also have a mini passenger terminal and also offer hangar facilities for aircraft.
"We are planning to raise the standard of the mini sea plane airstrip to international level and even allowing private operators to land here. We also expect sea planes from other countries like the Maldives to land here," the Minister of Aviation, Priyankara Jayaratne, said.
He said that the proposed Colombo-Katunayake highway too would be linked to the float-plane airport. "This would enable a passenger from the Colombo international airport to get to the sea plane port in less than five minutes."
The Minister said that the future of this airport would also see immigration and custom offices being set up. "President Mahinda Rajapaksa has set a target of 2.5 million tourists visiting the country by 2015 and we are gearing to meet this target more international entry points to the country are needed to achieve this target."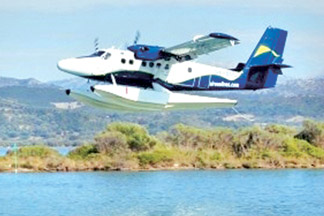 A SriLankan airlines sea plane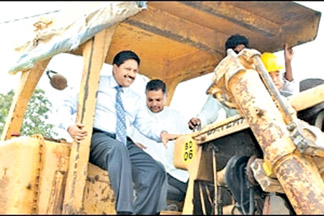 Minister Jayaratne with Chairman Airport Aviation, Prasanna Wickramasuriya at the Mattala airport
Sri Lanka has entry points at Colombo airport and the harbour, and the future includes the Ja-Ela, Galle Harbour and Hambantota airport and the harbour.
CEO SriLankan airlines, Manoj Gunawardane said that the construction of the seaport has already begun and it is expected to be ready early June this year.
This is a coordinated effort made by the Ministry of Airport and Aviation and the Divisional Secretariat. "We will use this to land and for take off of SriLankan airlines float planes as well," he said.
Gunawardane said that they are also looking at permitting sea planes to land in the Beira Lake. "We are currently working with the Defence Ministry in this regard."
Currently Sri Lankan float planes land at 10 points and our aim is to increase this to 20 by the end of this year.
He said that the launch of Mihin Lanka has made international travel within the reach of everybody and similarly sea plane travel will be an economical mode of travel for locals as well.
"We believe this would strengthen the country's tourism industry attracting up market clientele."
The CEO said that they are looking at obtaining one more sea spot for operations in two months and were looking at another 15 seater plane. "We will also be recruiting more pilots and stewardesses, to serve on these flights."
Asked if the airline had plans to operate domestic flights he answered in the negative.
Commenting on the new airport being built at Mattala he said that it was one of the best things that happened to the local aviation sector. "We are currently preparing a synergy for the Mattala airport," he said.
He said that the airport would also focus on cargo operations and they will look into pilot training and other logistics. Commenting on the flights to Japan he said that President Mahinda Rajapaksa is keen to provide an uninterrupted service and the airline has not lowered its frequency. Out-bound traffic from Japan is currently on hold. "This is common when a country faces problems and it is only a temporary setback."
Air Taxis will give travellers the option of turning a 6-hour road trip into a 40-minute flight and with the private sector too showing an interest, operational the cost would come down, enabling everyone to take a way flight from a long distance destination such as Nuwara Eliya to another spot.