Pettah Self-Employment Market:
One stop shop for all commodities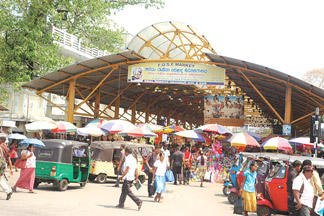 Pettah Self Employment Market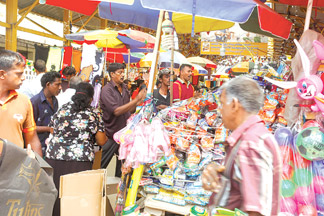 A toy shop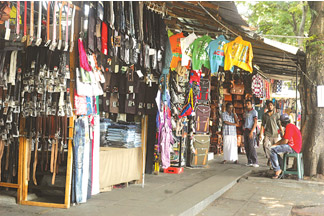 The World Market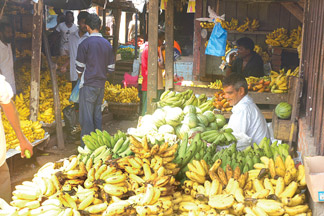 A fruit stall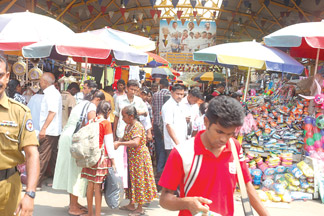 Shopping
The Self-Employees Market (SEM) at the Bo-tree Junction, Pettah has now become popular among locals and foreigners for textiles and various other day-today needs.
There is nothing wrong if anybody says that this is another shopping arcade, since people could buy every household item under one roof. Some varieties of textile which are freely available in the market cannot be purchased even from supermarkets.
The SE Market, popularly known as the Bodhiraja Mawatha Shopping arcade has a history of over 40 years. In the early 70ís, only few shops and temporary trade stalls were seen in the area.
Few traders were engaged in fruit, ornaments and toy business. some others ran temporary tea shops for stall owners and labourers who transported goods from their hand carts to lorries coming to the town from distant areas. Unlike today the area was deserted after 5.30 pm. But, today large number of people and also vehicles could be seen even after 11.00pm.
The SEM was opened on May 29 last year under the supervision of Economy Development Minister Basil Rajapaksa.
The objective of opening such a market in the heart of Colombo is to help small traders, especially street sellers and pavement hawkers to do business at a permanent places.
The Sunday Observer last week visited the SEM Market to see the progress. In an interview, Federation of Self Employees Market (FOSEM), General Secretary Chanaka Hettiarachchi thanked the Government for constructing a huge shopping complex in the heart of Colombo for the benefit of thousands of pavement hawkers who ran their stalls on the city pavements without any shelter or any protection.
These employees carried out their business activities for the past several decades at temporary places in the city without any shelter.
The stall owners were badly affected by the rain, floods and the scorching heat.
They were treated by police and officials of the Urban Development Authority (UDA) in a different manner. The stall owners also faced unnecessary attacks from underworld thugs, officials of the Colombo Municipal Council (CMC) and from money lenders by lending on high interest rates to carry out daily business.
The FOSEM statistics reveal that traders at the Bodhiraja Mawatha complex get an income of over Rs. 4 million a day.
According to statistics there are 289 stalls at the complex, while 534 stalls were opened at fifth Cross Street, Colombo recently.
Pavement hawkers, who are the members of the FOSEM also do business near Colombo National Hospital Junction, Borella and Negegoda.
The FOSEM has also planned to open Self Employees Shopping Complex in Kandy, Galle, Kalutara, Kataragama and all major cities in the country including the North.
FOSEM, Vice President, Joseph Anthony was satisfied with the new business complex at Bodhiraja Mawatha and thanked the Government for extending their fullest co-operation to carry out the business activities of self employees under one roof in the heart of Colombo.
He said over 200,000 customers including foreign tourists visit the shopping complex every day.
Unlike in the past business activities could be done in Colombo and other cities without any obstacles from outsiders.
A stall owner, Mohamed Niyaz urged Government authorities to introduce a pension scheme for self employees as many of them are not in a good health to do business everyday.
A shop keeper Ruwan Perera said there is a trade mafia and the Federation helped the Government to sell vegetable, coconut and dry ration at affordable prices.
FOSEM, President, Mahinda Kahandagama said during the recent past the Federation helped the Government to distribute coconut at Rs. 35 and also vegetable at affordable prices.
The CWE too helped by providing commodities and the Federation distributed them at main cities through vehicles given by the Government. He said the FOSEM was given Dimo vehicles to do business activities in distant areas with the aim of providing a welfare service to people.
He said the members buy textile mainly from the Colombo Bazzar and also from the Pamunuwa, Maharagama textile Bazar.
Vice President Bodhiraja Mawatha Traders Association Lalith Ramanayaka said his organisation runs nearly 178 shops and requested authorities to reinstate the bus stand, so that people could visit their shops without any difficulty.
He also asked authorities to prepare a way to lend money to traders at low interest, so that they could do their business smoothly without borrowing money from outsiders on high interest.