Ferry service to enhance Lanka's tourism goals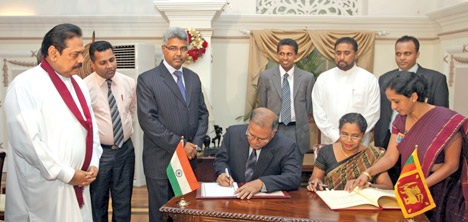 Ports and Highways Ministry Secretary Sujatha Cooray and Indian High Commissioner Ashok K. Kantha sign the MOU in the presence of President Mahinda Rajapaksa
Though Sri Lanka is being served by over 60 airlines it seriously lacks an international passenger service.
The passenger service Sri Lanka can boast of despite being an island nation that depends heavily on tourism is the Jetliner by the Sri Lanka Navy and a mini ferry service from Trincomalee to Mannar.
However over 30 years down the line Sri Lanka was operating a ferry service between Talaimannar and Rameshwaran. When this service was in operation it was fed by a night mail train service and both these services were used by locals, Indians as well as foreigners.
The service was also used by entrepreneurs to ferry goods across and coconut oil, soap, pepper and cinnamon were some of the commodities that were traded from Sri Lanka. In India, wrist watches, sarees, sarongs and banians were priority items that came Sri Lanka's way.
Low budget tourists who at the time were labelled as 'Hippies' too heavily depended on this service mainly to travel to Hikkaduwa.
It is said that tourism in Sri Lanka started from Hikkaduwa and the ferry service played a major part towards this endeavour.
LTTE terrorism put a halt to this ferry service resulting in the air fares that were hovering round the Rs. 5,000 region to then Madras shooting past the Rs. 12,500 mark.
Today Indian tourists top the arrivals for Sri Lanka and this service which is set to take off in the first week of April will give another boost to tourism.
The resumption of the ferry service was being discussed by successive governments in the past decade.
However, it only became a reality at the last SAARC Summit where this matter was once again discussed by President Mahinda Rajapaksa and Indian Premier Manmohan Singh.
Deputy Minister of Ports, Rohitha Abeygunawardane said that a Memorandum of Understanding (MOU) was signed between Sri Lanka and India for passenger transport by sea on January 7 at Temple Trees which was the key for this service. The MOU will first pave the way for a ferry service between Colombo and Tuticorin and subsequently between Talaimannar and Rameshwaram.
The service was to commence last week but had to be rescheduled as the ships that were to sail to Sri Lanka from India had to be diverted to Libya to ferry Indians and Sri Lankans who were trapped in the country.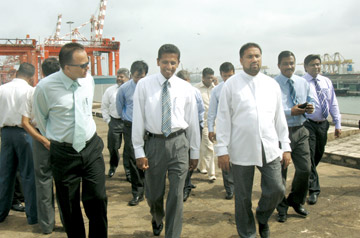 Minister Abeygunawardane inspecting the Port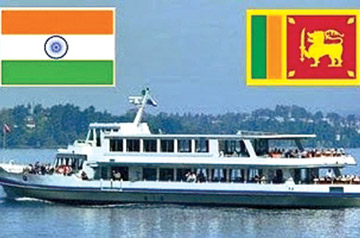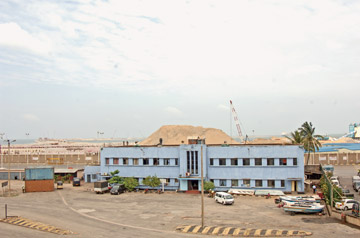 The old Colombo harbour passenger terminal inside the passenger terminal
The first ferry, a vessel with a capacity of 500 passengers run by a private Indian operator, is scheduled to sail from India in April. Thereafter there would be three ships per week which would soon be extended to a daily schedule.
The Minister said that Sri Lanka will operate three ships while India will operate four per week. The island's ferries will be operated by State-owned Ceylon Shipping Corporation which is in talks with several parties on chartering vessels.
"We're looking to hire a ferry with a capacity of 500-600 passengers, including cabins. We are also thinking of operating this service at night so that passengers can sleep during their journey."
Colombo and Tuticorin are about 280 miles away and the duration of the journey will be about 10 to 12 hours.
The fare of each journey is expected to be around Rs. 8,000 and each ship could carry around 400 passengers. Over 10,000 are expected to use this service weekly.
Colombo Port renovation
The Colombo Port was geared to accommodate passengers as well as cruise ships. However this service was hardly used in the past three decades and was in a dilapidated state.
"In view of the ferry service we have now begun renovation of the Colombo Port with even immigrations, baggage scanning and Customs counters being set up," the Minister said.
He said that the old passenger building was completely redone in view of this service.
A new charter bus service would be launched from the passenger terminal so that the Colombo Port security would not be jeopardised, he said. "New security measures too would be in place."
The passengers would be loaded from a point from D.R. Wijewardene Mawatha, Colombo and then taken to the Colombo Port.
"When this service gets popular we will also introduce modern ships so that it could take more passengers and also their personal vehicles so that they could travel inland in their own vehicles."
This is very common in European countries. Reports from India indicate that they are ready for this passenger service and a large warehouse has been converted into a passenger terminal.
Tuticorin Port is one of the 12 major ports in India. It was declared to be a major port on July 11, 1974.
It is the second-largest port in Tamil Nadu and the fourth-largest container terminal in India after Kochi International Container Transshipment Terminal, Jawaharlal Nehru Port (Mumbai) and Chennai Port. The Tuticorin Port is an artificial port. This is the third international port in Tamil Nadu and its second all-weather port.
All Tuticorin Port's traffic handling has crossed 10 million tons from April 1 to September 13, 2008, registering a growth rate of 12.08 per cent, surpassing the corresponding previous year's handling of 8.96 million tons. It has services to USA, China, Europe, Sri Lanka and Mediterranean countries.
The service will add more revenue to the port with other logistic services such as hotels, restaurants, fruit and vegetable transport too expected to receive a boost.
Air fares to come down
One of the biggest advantages of the service is the enhancement of 100 kilogram cargo that would be offered to the passengers. "This would be a major attraction," a local travel agent said.
He said that most of the passengers that ply the two routes are going for shopping and they would be happy to take advantage of the 100 kg 'bonus.'
Since the service is cheaper than the airfare there would also be a new 'budget' market' from both countries who would use this service.
Pilgrims too would use this service as it would be cheaper.
"Although the flight time between Sri Lanka and South India is less than an hour, security concerns that require passengers to arrive three hours ahead of their flights and the time taken to travel between airports and city centres also need to be considered," he said.
He also said that the Colombo, Chennai market is price-sensitive and this too would attract more passengers to the ferry service.
However airlines are confident that the ferry service would not eat into their market. "This is a different low cost market who do not take the flight," an airline official said.
Main attraction
In addition the main attraction for the India Chennai sector is shopping and there are no big shopping opportunities in Tuticorin.
Passengers who take the ferry have to spend 10 hours in the ship and then travel another 11 hours in the train to reach Chennai. "This may not be practical though there is a 100 kg baggage allowance," she added.
She said that from the point of view of tourism it would definitely help increase numbers for both countries.
The Indian Embassy is anticipating a huge growth of passengers and has introduced an on-line visa application system and the service will most importantly create a better understanding between the two countries.
China Port
Sri Lanka is scheduled to sign a Memorandum of Understanding with one of the busiest ports in the world, Ningbo of China.
Deputy Minister of Ports and Highway Rohitha Abeygunawardane said that one of the priorities of this agreement would be to obtain technological knowhow for Sri Lanka and also to share the success stories of the Chinese ports.
In addition, Ningbo Port would help secure additional businesses to Sri Lanka.
The Ningbo Port some times cannot meet the demand and they would divert some of the ships to both Colombo and Hambantota for logistics support, the Minister said.
This would bring in additional revenue to the country.
With these developments in the Port sector with the Hambantota Sri Lanka is poised for growth in both cargo and passenger transport.