From LPs to cassettes - a trail of music
A sprawling area of land of about fifteen acres, half a kilometre from the Netaji Subhash Chandra Bose International Airport, Kolkata where screaming and weeping were its identity during the British period in India is now a prime spot in delivering the joy and happiness of the Indian music heritage to the rest of the world.
Tiny dog
A pretty, browny, tiny dog lending its ear before a trumpet, who had won the heart of millions and whose image was displayed all over the world as a trade mark for over a century is the proud landmark of this multi-million business house. Once a military hospital with a underground morgue and a graveyard with poisonous cobras moving freely is today the prime operational centre of the Gramophone Company of India". It owns the internationally known popular brand name "His Master's Voice" (HMV).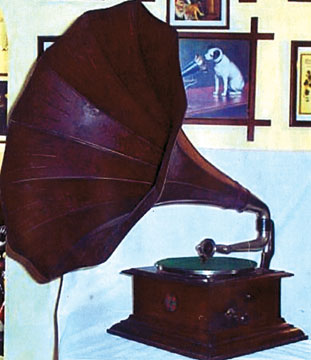 My visit to this institution which is performing the industry of 'human happiness' took me back over sixty years through memory lane. It was in 1945 that Col. T. Y. Wright, a pioneer in tea plantation, owner of Mahakanda Estate and who later became a member of the Senate representing the British in Sri Lanka brought a gramophone from Cargills, Colombo to my village, Hindagala, Peradeniya. He specially took it to play the British national anthem when Sir Henry Moor, last British Governor of Ceylon visited his Balmore type palatial bungalow at Mahakanda, which is now known as Galbangalawa and owned by the Peradeniya University.
After the return of the Governor, the gramophone was presented to three young men serving under him, viz. Jamis, Layiris and Danoris of Hindagala who were living a few yards away from my house. The machine and the records bore the brand name, 'HMV'. It was the first time my villagers saw a Gramophone.
History
The history of the Gramophone Company of India dates back over a century. At the beginning it was "Gramophone and Typewriter Company Limited" which was started in November, 1901 in Calcutta, having its base in London. Mr. J. Watson Hawd was the first manager.
The interesting story of the HMV gramophone and records in our region begin with the arrival of Fred Gaisburg, Recording Engineer assistant of the inventor of flat disc record, Smile Berliner.
He came to Calcutta in 1902 for recording with all equipment specially designed to capture the music of India.
At the turn of the twentieth century the Gramophone Company of America divided into two parts. The American Company was known as Victor and UK Company, subsequently became known as HMV.
The dog's figure in the HMV trade mark was drawn by Francis Barrnad in London. It was his pet dog named Nipper. Barrnad's father and uncle were well-known artists in England, highly competent in drawing animals.
Barrnad first made this piece of work for Edison Bell and Company in London who were manufacturing 'talking machines', phonographs. But later the phonograph in the picture was replaced by Gramophones by Barrnad himself and was adopted as 'Trade Mark' by H.M.V. It was registered in London in 1900.
The prestigious label on the record with the 'dog and trumpet' logo was the vision of joy for the customers.
The big brain behind the technological aspects of the Gramophone Company of India. Jayanta Kumar Maitra, who was the Chief Technical Manager of HMV narrated the history and the progress of the institution which now has a capacity of producing 100,000 of cassettes a day having a business turnover target of Rs. 1000 million a year. He was assisted by the Executive-Recording Administration, Shyamal Mukherjee.
First recording
The first recording in India started with famous dancing star Gauhar Jan on 5th November, 1902. Since then, there was no looking back, encompassing every genre of Indian music. HMV's repertoire of recordings and artists today represent the very essence of India's musical pride.
The industry grew substantially and moved from originally producing 78 rpm records to the micro-groove disc.
The well organised first Record factory was started in 1907 in Beliaghata in Calcutta, popularly known as the 'Sealdah factory'. Incidentally, the EMI recording factory at Middlesex, England was also established around that time.
Other countries
Other countries were to start record production much later - for example, China in 1922, Argentina and Australia in 1925, New Zealand in 1926 and Switzerland and Turkey in 1929.
The first recording studio in Sealdah factory was in 1908 and the electrical recording in 1925. Those occasions were graced by Rabindranath Tagore.
According to the 'old notes' available it was around this time that a few HMV gramophones and records were sent to Ceylon. But notes does not mention whether they were really exported or taken by somebody to the island. But what I have heard from late Saranagupta Amarasinghe, an eminent music teacher, was that it was Srimath Anagarika Dharmapala who first took a set of records from India around 1906. They were with Bengalee songs. It was worthwhile mentioning that the old "Nritya Geetha" recorded by several old time singers both male and female in Sri Lanka during that time were similar to Bengalee songs.
In later years Cargills (Ceylon) Limited was the major importer of HMV Gramophones and records. Several other companies such as Lewis Browns, Gauri Corporation, New Saraswathi Stores, Wickramasooriya and Company, International Recording Studio, N. Porolis Fernando and Company and V. G. Brothers also imported HMV records to Sri Lanka.
With the introduction of the gramophones and increasing demand for records there was a need for larger premises and the Sealdah factory was shifted to the present location at Jessore Road, Dum Dum in Calcutta in 1929, the vacated military hospital built by a British Governor in undivided Bengal, Lord Clive. There, the first record was pressed by an automatic press on 7th July, 1930 - a South Indian disc. Radio, Record Player/Radiograms etc. were also introduced during 1930 by the Gramophone Company of India. Microgroove Recordings LP, EP, etc, were started in the year 1958 and the stereo Recording in 1967.Early recordings were made directly into the wax discs. Lacquers were introduced around 1940.
The equipment used originally is presently displayed at the National Museum in Delhi.
Though there were other recording companies such as EMI, Columbia, Paralophone, Odeon and Eagle etc., HMV was the leader in the field. Up to year 2000, Gramophone Company of India has carried an inventory of 100,000 records, comprised 2,000 couplings to cater to the needs of the discriminating customers. According to a former engineer Shyam Mukherjee, there are hundreds of mother-shells of Sinhala records.
Film songs
Recording of film songs was started in the year 1931. The first film record was released by the Company in 1932.
A few film recordings done in Sinhala were Chandali, Wahaldupatha, Sarubima, Sussy and Hondama Welawa.
Interestingly hundreds of records with the national song of Sri Lanka, 'Namo... Namo.... Matha' was also processed under the brand name of 'HMV' in Calcutta.
A few names of Sri Lankan singers are also noted in the books. Among them were Mohideen Baig, Visharad Amaradeva, Nanda Malini, Neela Wickramasinghe, Milton Mallawarachchi, H. R. Jotipala, C. T. Fernando, Christie Leonard Perera and T. M. Jayarathna.
Unfortunately, most the 'register books' containing the names of dozens of Sri Lankan artists have been destroyed due to weather condition or for want of space.
Among those whose recordings were done in 'HMV' were Gauhar Jan, Lal Chand Boral, Gopeswar Banerjee, Ustad Abdul Karim Khan, Ustad Kale Khan, Ustad Imdad Khan, Piara Sahib, Bedana Dasi, Rabindranath Tagore, George Harrison Beatle Group, Mahatma Gandhi, Pandit Jawaharlal Nehru, Indira Gandhi, Lal Bahadur Shastri, C. Raja Gopalachari, Lord Mountbatten, Dr. Rajendra Prasad, Dr. Zakir Hussain, Dr. Sarvapalli Radhakrishnan, D.L. Roy, Kazi Nazrul Islam, Sarojini Naidu, Pandit Ravi Shankar, Ustad Ali Akbar, Ustad Amjad Ali Khan, Bhimsen Joshi, Satyajit Ray, M.S. Subhalakshmi, Pankaj Mullick and several other prominent artists.
"However, the introduction of audio cassettes into the Indian market restricted the growth of records. Subsequently, the invention of the compact disc and availability of the hardware for CDs in India has finally sounded the death knell of the vinyl record industry", said Jayanta Kumar Maitra who was serving the institution for over 30 years.
The institution commenced manufacturing cassettes from December, 1976.
The Gramophone Company of India with its popular brand name HMV was taken over by R.P. Goenka Enterprises (RPG) in 1985.
At present, the production capacity is over 40 million cassettes per annum and it is the India's largest cassette processing venture.
The Scully machine was installed in the morgue of the Lord Clive Hospital, so it was not surprising that a few ghosts might haunt the studio premises.