Tilapia takes fish markets by storm
Tilapia is taking the world fish markets by storm, growing from a small subsistence species to an important economic food security commodity. It is the second largest cultured fish with a global production of nearly three million metric tons. It is cultivated in Sri Lanka, though in small quantities. Therefore, considering global demand we should cultivate more Tilapias which will not only earn foreign exchange but also provide self-employment, said a grower of Tilapia.
Although indigenous to Africa, it is now grown in many continents across the world.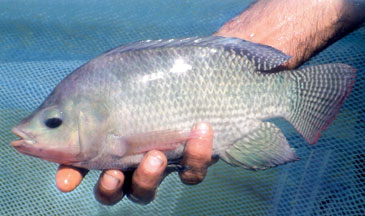 The popularity of Tilapia as food has increased in many domestic and foreign markets which were traditionally not receptive to this species, states Infofish magazine. The top three Tilapia markets in the world are China, Egypt and the Philippines, all of which are also producing countries. However the fourth, developed lately is a western import market - the USA. Tilapia is the second most popular white fish preferred by American consumers.
It continues to increase its market share every year even during the years of financial crisis; consumption increased by 42 percent in the US during 2005-2009.
wInfofish further states that Vietnam's great success in marketing "Pangasius Catfish" in Europe is well-known.
The Tilapia is also gaining market share in Europe including in the Eastern block. High quality Tilapia fillets have made inroads to many restaurants in Southern Europe and also in Switzerland.
The premium export prices that Tilapia fillets fetch in European markets should be a matter of interest to potential investors, farmers and exporters.
In the southern Asian restaurant trade 'Red Tilapia' has largely replaced the "Seacaught Red Snapper" over the decade. It has now entered the retail market as well. From China to Thailand, live Tilapia is widely sold in the supermarkets along with fresh fish. The retail price has also increased as supplies quite often are unable to match the growing demand. It is time to think Tilapia. Either you are on the bandwagon of producers culturing it by not very traditional methods and not using very traditional species of Tilapia or you have found your markets giving away a substantial share to the imported Tilapia. One good thing about Tilapia is that it is a hardy fish which is easy to culture and its white flesh is acceptable to all categories of consumers across the globe, states the Infofish Considering the rising demand for fish in developing and developed markets, the largely herbivorous Tilapia could be the choice in sustainable aquaculture be it in Asia, Africa or Latin America.