IN BRIEF
Kandy Sinhalese Traders' Association/SLIC, sign MoU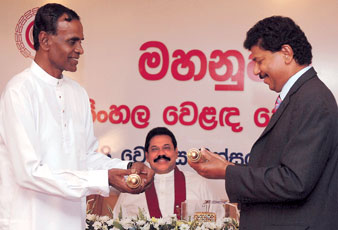 Kandy Sinhalese Traders' Association signed an MoU with the Sri Lanka Insurance Corporation (SLIC), to provide insurance facilities to its members at the 38th anniversary celebrations of the organisation held at the Mahaweli Reach Hotel recently, in the presence of President Mahinda Rajapaksa. Chairman, Sri Lanka Insurance, Gamini Senarath and President, Kandy Sinhalese Traders' Association, Buddhi Ramawickrama exchange the MoU. Governor, Central Province Tikiri Kobbakaduwa, Chief Minister Sarath Ekanayake, Minister Mahindananda Aluthgamage, and MPs Dilum Amunugama and Lohan Rattwatte were also present.
---
Synex Group receives ISO 9001-2008 certification
Total turnkey (design and build) solutions provider Synex Group of Companies with a presence in Bangladesh, Vietnam and India has been awarded the ISO 9001-2008 certification by Moody International.
The certificate is valid for three years and verification audits will be done annually.
The group consists of four companies which are engaged in handling local projects related to the garment industry, overseas projects, large non-garment related projects and Synex Engineering focusing on extra low voltage systems.
Services offered by the group include total turnkey solutions and installations, computer aided lighting design systems, design and manufacture of reflectors for fluorescent lamp fittings, designing of all systems according to local and international standards, power generation and distribution systems and office automation systems.
Established in 1999 as a single company today the group has the capacity, expertise and experience to provide electrical solutions be it extra low voltage or a high voltage system, said the Group Managing Director R.P.P. Senarathna.
Synex is registered at the Institute of Construction Training and Development (ICTAD) under the EM01 category on financial terms and has also obtained the membership of the US Green Building Council in 2009.
Senarathna said "Obtaining ISO certification proves that the systems are in place and we are benchmarked. The senior management of Synex are qualified engineers (except for the accountant and CEO) which proves that we are committed to quality.
Project Manager Moody International Sanjeewa Senevirathna said that in civil construction most have got ISO certification but only a few have done so in the EM category. According to the company policy of Moody International, they cannot hire local auditors to conduct audits which ensures that the audits are not biased. Senarathna, a qualified engineer by profession has more than 30 years of experience in the field of construction.