Survey on jumbos with foreign expertise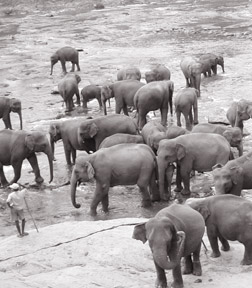 Government and private institutions from India and the United States will share their expertise in the Sri Lankan elephant survey shortly. This will be in addition to the major part played by the local expertise. It was revealed at the recently held workshop by the Department of Wildlife Conservation to educate officials of the regional level on the methodologies for the survey.
According to the wildlife officials the best time for the survey is the peak of the dry season when most of the water holes are dry and hence elephants mostly use water holes that are still not dry which are identifiable.
One of the leading elephant experts Professor Charles Saanthiapillai emphasised that particular attention must be given to the recording of calves and tuskers. "By keeping track of the proportion of calves and very old animals in the population, it would be possible to get a clear idea of the growth rate and the death rate in the wild.
The objectives of the survey are mainly to determine the composition of the population to find out the proportion of calves, juveniles, sub-adults and adults in the population, to determine the proportion of tuskers, to determine the sex ratio and to the health condition of the animals.