Police chiefs from SAARC nations to meet in Colombo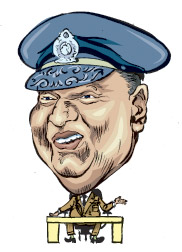 Police chiefs of SAARC nations will meet in Colombo this week to tackle cross border crimes more effectively and strengthen cooperation among the law enforcement agencies in the SAARC region. It will be a prelude to the SAARC Interior Ministers' conference on border crimes, shortly.
Police Chiefs of SAARC countries will meet for the ninth occasion in Colombo to discuss issues relating to terrorism, drug peddling and gun running crimes that have plagued the region. Afghanistan, Bangladesh, Bhutan, the Maldives, Nepal, India, Pakistan and Sri Lanka will participate in the conference on April 4 and 5, Inspector General of Police (IGP) Mahinda Balasuriya told a media briefing at Police Headquarters in Colombo on Friday.
Heads of agencies involved in investigating terrorism and narcotics in SAARC countries will also participate. "I participated in the last conference held in Peshwar Pakistan", IGP Balasuriya said.
The agencies participating in the discussions in Colombo will be the SAARC Drug Offences Monitoring Desk (SDOMD) and the SAARC Terrorist Offences Monitoring Desk, (STOMD) in the Criminal Investigation Department (CID) of Colombo. These agencies will discuss regional issues pertaining to terrorism and drug smuggling across SAARC countries on April 4.
It will be followed by the Police Chiefs of SAARC conference meeting on April 5 to examine and discuss proposals presented by the SDOMD and the STOMD. The final draft will be prepared based on the recommendations presented by the agencies. The report will thereafter be submitted to the Interior Ministers of SAARC countries who will meet shortly prior to the main SAARC conference.
IGP Balasuriya said the conference would be a forum to enhance professionalism of police agencies, to promote goodwill among police officers in the SAARC region and share information. "The main aim will be to eradicate terrorism in the region. As policemen, the experience we gathered in the fight against terrorism in the past will be shared among those in other countries," the IGP said.