Stopping vehicles on zebra crossings taboo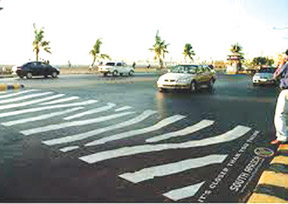 The City Traffic Police have warned motorists to refrain from stopping vehicles on the Zebra crossings when pedestrians use them.
According to a senior Police spokesman, many motorists were in the habit of stopping their vehicles on the crossing line until pedestrians cross the road.
City Traffic Police, SSP Chula de Silva told the Sunday Observer that over 300 such cases are reported from Colombo and other major cities every month and the offenders are produced before the Courts.
He also drew attention on the use of mobile phones by motorists while driving and said that over 200 persons are detected every month for doing so.
"We have deployed special teams to crack down on offenders especially in the city, since most of the cases are reported from city limits".
An incident was reported from Gampaha recently where a 21-year-old Lakmal Hewapathirana was knocked down by the Kurunegala bound train from Colombo while he was driving through an unprotected railway crossing using a mobile phone.
"Using mobile phones while driving have led to a number of road accidents in the recent past and motorists must be vigilant," the SSP said.
SSP De Silva called upon all motorists to refrain from stopping their vehicles on the crossing lines and allow people to walk across. He also cautioned them against using mobile phones while driving.