Vesak reflections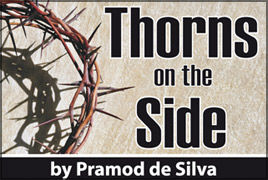 Rare is birth as a human being. Hard is the life of mortals. Hard it is to obtain the chance to listen to the Dhamma. Rare is the appearance of the Buddhas. (The Dhammapada, Buddhavagga)
More than 2,600 years ago, there was such a rare appearance. Prince Siddhartha, later to become Gautama Buddha, was born to a world where people believed in all kinds of superstitions and tried various methods for emancipation, some of which were extreme. Prince Siddhartha too, having seen the vagaries of life and nature, sought such emancipation. He too tried the very extreme methods to achieve this goal but failed.
Then, he opted for the Middle Path, which was neither extremely excruciating nor ultra luxurious, and attained Enlightenment. It is the 2600th anniversary of this momentous event that we are commemorating this Vesak.
This Vesak is especially significant because of the 2600th Sambuddhatva Jayanthi. As the above stanza from the Dhammapada denotes, we may not see the living Buddha today, but still, we are fortunate enough to listen to His words, which still hold true to this day. But the crux of the matter is, how many of us are still listening to His immortal words and how many are actually following Him?
The best of all paths is the Eightfold Path. The best of all truths are the Four Noble Truths. Non-attachment is the best of all states.
The best of all men is the Seeing One (the Buddha). (The Dhammapada, Maggavagga)
This is the truth that all Buddhists have to realise. Unfortunately, most Buddhists have been veering away from the words of the Buddha. The temple used to be the focal point of the village - it should once again be. City dwellers too must get closer to their places of worship.
The close village-temple link helped to create a just society. It is heartening to see that Dhamma School attendance is up, but more needs to be done to ensure that Buddhist values are inculcated in the minds of the younger generation.
Sri Lanka has gone through a very difficult 30 years. It is only two years ago that terrorism was vanquished, restoring peace. There is a lot more to be done. The Buddha's words can heal the wounds of conflict and reaffirm the significance of peace. Hate is not overcome by hate; by Love (Metta) alone is hate appeased.
This is an eternal law. (The Dhammapada, Yamakavagga). Thus the Buddha's eternal words will help us in forging national reconciliation.
It must be recalled that the Buddha during one of his visits to our island settled a dispute between two factions, stressing the importance of peace. His message of peace resonates to this day, for His words are immortal and timeless.
The Buddha advocated compassion for all beings, human and animal.
We are all mortal beings and it may not be possible to give up all attachments of life. But many of us have forgotten the Middle Path that the Buddha advocated. The Buddha espoused how lay persons can ideally lead their lives in the Singalovada Sutta, following the tenets of Buddhism and moral values. He made it clear that inner peace or cleansing the mind was the first step.
"The mind is hard to check. It is swift and wanders at will. To control it is good. A controlled mind is conducive to happiness." (Chitta Vagga, The Dhammapada).
There are many values that our society has lost sight of in the relentless pursuit of material wealth. This is not surprising in a highly commercialised world, where money is generally regarded as 'everything'. In fact, the Vesak festival itself is commercialised to such an extent that many have forgotten its very purpose and foundation.
We see the glitter and glamour in the illuminations and the pandals but fail to turn the light inwards to our inner selves with a view to purifying our thoughts, words and deeds. We should see beyond the decorations and strive to understand the Buddha Dhamma and how it relates to our day-to-day lives. The 2600th Sambuddhathva Jayanthi is an opportunity to look at the spiritual side of Vesak and our spiritual uplift as well.
"Do not follow a life of evil; do not live heedlessly; do not have false views; do not value worldly things.
In this way one can get rid of suffering." (Lokavagga, The Dhammapada). These are great words that we should heed in order to find solace in the rat race of our commercialised world.
Vesak is primarily a Buddhist celebration, but in our multi-ethnic, multi-religious society it has become a national event. Non-Buddhists actively participate in and organise many Vesak events such as pandals and dansals. They also help their Buddhist neighbours with decorations and illuminations. That is the very essence of our multi-cultural society. Religious coexistence is as important as ethnic harmony and are often intertwined. Any attempt to create religious discord must be condemned.
Should a person perform a meritorious action, he should do it again and again; he should find pleasure therein: blissful is the accumulation of merit. (The Dhammapada, Papavagga)
Yes, this Vesak, all Buddhists must be determined to engage in meritorious acts. Remember, there are many of us who are less fortunate, less privileged than we are. It is our obligation to help them. Moreover, there are many Buddhist places of worship in remote areas which are in a neglected state. Our attention should also be drawn to these Viharas which render a yeoman service to the Sasana amidst great difficulties.
It is not difficult to lead a pious life even in these times. If all Buddhists, young and old, at least follow the Five Precepts (Pansil), the country will be a much better place. The same applies to followers of other religions, who can follow the tenets in their respective religions. Religious leaders must play a major role in this regard. This will pave the way for a society that adheres to religious values and reduce social blemishes such as crime. Moral uplift is the need of the hour.