Mushrooming public vehicle parks:
Reduce parking levy, say vehicle owners
Public vehicle parks are in plenty around the city of Colombo. The Colombo Municipal Council (CMC) has categorised them as off street and on street vehicle parks. Off street vehicle parks are generally large and located several metres away from the main road, while on street vehicle parks are located in close proximity to main roads.
According to the CMC, nearly 3,000 off street vehicle parks are established in the city and suburbs and there are over 5,000 vehicle parks.
Some of these car parks are maintained by employees attached to the CMC, while others are run by the private sector under the purview of the CMC.
The CMC has leased these vehicle parks to private companies or individuals.The CMC says that some individuals in Colombo also run parks in their own gardens without paying taxes.
The Sunday Observer last week spoke to the CMC Deputy Traffic Director, Jayantha Guruge on the mushrooming vehicle parks in the city and also about the exorbitant levy charged by vehicle owners even for a short period.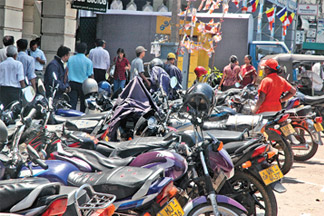 Motor cycles being parked in the city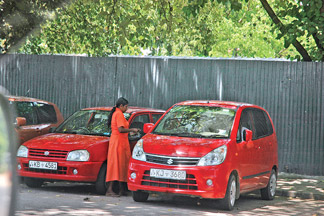 A car park in Colombo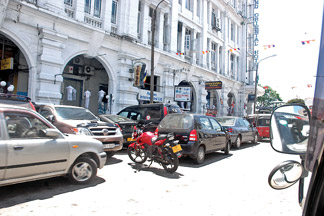 A car park in Fort
Some park owners charge Rs. 30 for a single hour, while others charge Rs. 40 for the first hour and Rs. 50 each for additional hours. Accordingly they charge over Rs. 400 from vehicle owners for parking vehicles for just eight hours.
The CMC, Deputy Traffic Director said over 200,000 vehicles of all types were entering the Colombo city everyday and existing parks are not sufficient to provide space to all.
"The prime objective of charging a levy from parks are to discourage vehicle owners coming to Colombo everyday,".
However, vehicle owners complain that charging a fee for parking vehicles even for a few minutes is unfair. Vehicle owners charge that the authority were turning a blind eye on such unfair charges.
Even if a vehicle owner parks his vehicle by the roadside for a few minutes, traffic wardens demand around Rs. 30.
Although some vehicle owners give money to traffic wardens, some others do not comply with the demand and refuse to pay. They say that these charges were unfair.
A Banker Gihan Samarasiri, who travels to Colombo in his car everyday requested the CMC not to charge from roadside parks, as it is inconvenient for people to park vehicles for just a few minutes.
Mohan Perera of Ragama showed his displeasure over the demanding of money by traffic wardens at every nook and corner in the city. He said such collections were similar to people engaged in taking `Kappam' at the Peliyagoda fish market.
A company Director who drives daily to Colombo said vehicle parks are normally constructed with all infrastructure facilities in foreign countries.
"But in our country the intention of the authorities was only to earn a fast buck from vehicle owners and not focus any attention towards providing infrastructure facilities. They have just established car parks and allow drivers to park vehicles at their own risk," A leading lawyer, S. Ranasinghe said charging money by traffic wardens from motorists for parking vehicles by the roadside which does not cause any inconvenience to others is wrong.
The revenue licence obtained by motorists from the Motor Traffic Department (MTD) clearly states that the driver has a right to travel on the road and park the vehicle at any point near the road without causing inconvenience to pedestrians or vehicles.
"No one can charge any parking levy as the tax is already paid to the MTD,".
A teacher, Gamini Peiris who parks his vehicle at the park near Lake House lamented over the poor state of the park.
"The park is full of dust and mud when it rains, we have to spend additional money to wash our vehicles because of the poor state of the car park," he said.
He said the CMC must visit these place and give a hearing to motorists about their grievances. Following are some proposals made by a retired Motor Traffic Department Commissioner to make vehicle parks tidy and clean.
Clean the entire land and remove garbage every weekend. Remove all unnecessary trees around the land.Flatten the land and tar it.
Do not allow any private sector institution to collect money, since their main target is to earn money and not to provide a service. (Like private companies do presently at Bambalapitiya, opposite Lake House, Slave Island and Pettah.)
The fee should be nominal, not exceeding Rs. 20 from each car for the first two hours.
Additional hours should be charged Rs. 10 each. Charge Rs. 30 from lorries and Rs. 10 from three wheelers and motor bikes.
The service of a motor mechanic should be provided to attend to emergency repairs.
A food outlet and a snack bar should be set up within the premises. Construct galvanise sheds around the park and Rs. 100 could be taxed from each vehicle owner who prefer to use sheds.School Principal, Renganathan of Panadura said there were many state owned lands in and around the city of Colombo and urged the authorities to convert them into vehicle parks.
"Then they can charge a reasonable amount from vehicle owners and also protect them from private vehicle parks,".
A businessman, S. Wijesinghe said majority vehicle owners who come to the city everyday are aware that most private vehicle parks earn exorbitant levy from vehicle parking. They say that this is very unfair and the Colombo Municipal Council (CMC) or any other authority should immediately look into this.