ADB assisted project brings prosperity:
Lanka ranks high in region for safe drinking water
Some South Asian countries have nuclear capacity, war heads and even launch space shuttles to outer space while Sri Lanka lags far behind in these areas. Yet, the country has praiseworthy initiatives none other South Asian country can match, like providing safe drinking water to almost 90 percent of its population.
Sri Lanka is positioned to provide safe drinking water to its entire population in a few years. In a bid to achieve this goal the government has intensified investments to the Water supply and sanitation projects with the Asian Development Bank playing a major role in providing assistance.
Sri Lankans are more educated than other South Asians so they look for
better sanitation and the government on its part is providing the necessary infrastructure by initiating major water supply development projects all over the country. Attitudes and culture of Sri Lankans also play a role towards the country being a nation with better health standards.
However, drinking water was always a grey area especially in the North East, Puttalam, Polonnaruwa, Anuradhapura and Hambantota. Nearly 60 percent of the northern rural population lacks access to safe drinking water and sanitation. In a bid to overcome this the Jaffna area would get a two million dollar grant from Japan and the Asian Development Bank.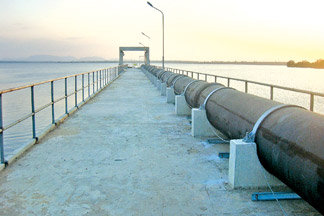 A water project in Batticaloa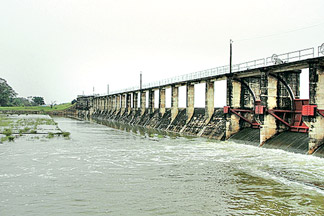 The Iranamadu tank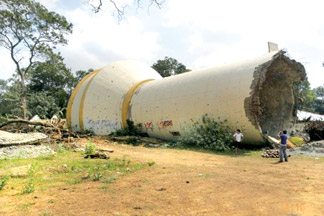 The Kilinochchi tank destroyed by the LTTE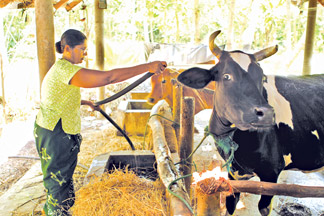 M. Gnanawathi with her cattle in Chandana Pokuna
Along with the ADB-administered grant, the Government of Sri Lanka will provide nearly $261,000, with in-kind community contributions of over $157,000, to a total investment cost of over $2.4 million. The Ministry of Water Supply and Drainage is the executing agency for the project which will run for two years with an expected completion date of December 2013.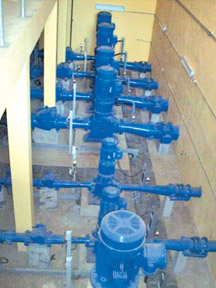 A water project in Tangalle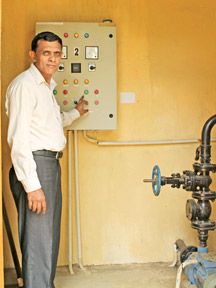 Deputy Director M. T. M Fazil at a project in Thalpota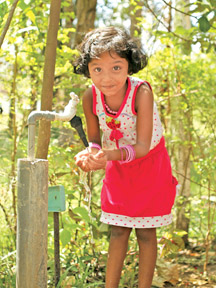 A child quenching her thirst in Thalpota
"In the 1,400 villages of the Jaffna Peninsula, just 13 water supply schemes exist, providing only around one hour of water a day," the ADB said. "A key feature of this assistance will be the involvement of communities in the construction, operation and maintenance of facilities, to ensure sustainability of the project, while providing income and livelihood opportunities to the beneficiaries," said ADB's Urban Development Specialist Ron Slangen.
About 1,000 people in target communities will benefit from cash-for-work programs that will build and rehabilitate infrastructure.
One of the biggest projects to be undertaken by the government in providing continued drinking water to Jaffna Peninsula is the Iranamadu Project which would take pipe water to Jaffna, 90 km away.
Another project, the sixth to be assisted by the ADB will cover areas in Vavuniya, Mannar Chilaw and Puttalam.
Though Polonnaruwa boasts of the world's oldest irrigation system which is still up and running, the area lacked access to safe drinking water resulting in water borne diseases.
Several projects were implemented but they were all failures.
It was to overcome this that the fourth ADB assisted project was conducted in Polonnaruwa which is a major success with many now having access to safe drinking water.
Deputy Director Water Supply and Sanitation Project Polonnaruwa M.T.M. Razil said the project is aimed at providing safe drinking water to 969, 000 and sanitation to 171,500 people in the North Central Province.
Today Polonnaruwa's rural areas benefit from this scheme.
Safe drinking water
People in Chandana Pokuna, a remote village in Polonnaruwa had to carry utensils to over two kilometres to get drinking water.
However, today these villagers have built their own wells with some having access to tap water too. Safe drinking water provided by donor organisations has helped transform villages and increase the income level of people. Mini lending organisations play a vital role in improving the lifestyle of people.
President of the newly formed Chandana Pokuna Community Development Society, Indrani Perera said that they received Rs. 20,000 to increase sanitation facilities in the area and this in turn was given on credit to four families on a five percent interest rate.
After almost two years the money has increased to nearly one hundred thousand and this loan scheme has been raised to Rs. 15,000.
She said that she started a mini dairy and earns around Rs. 10,000 a month while other loan recipients have opened garment shops, vegetable sale outlets, flower pots manufacturing, poultry and even building material stores to cater to the needs of the area. "We had to spend hours to get water but today we have easy access to it and as a result we save plenty of time to spend on our occupations", she said.
The community has also built their own toilets and this has helped improve sanitation.
In the neighbouring Thalpota area two wells have been built along with a pumphouse, office and stores. This scheme provides pipe water to nearly 200 families and they have also devised their own metre and billing system where each household pays around Rs. 200 for their monthly water bill.
M. Sheela Herath representing this Randiya Community Society said that they were forced to use hard water and now they have water which is purified. "We now have time to devote to several self-employment projects which bring an additional revenue to us", she said.
History
Sri Lanka first had its first drinking water project in 1881 with the commissioning of the Labugama project. In 1958 Kalatuwawa was built which was followed by several projects.
During the past two years the government focused on providing safe drinking water, sanitation and development projects such as the
Moragahakanda and Rambakan Oya projects. Projects have been launched in Ambalangoda and Tangalle to provide safe drinking water to the areas.
The ADB assisted in several development projects and their third Water Supply and Sanitation Project was implemented from 1998-2007 in six districts: Anuradhapura, Kalutara, Kegalle, Hambantota, Puttalam and Moneragala.
People had depended on shallow ground water for their daily needs for thousands of years. Since the first piped water supply system has been constructed for Colombo city in 1895, many cities and semi urban areas have access to pipe-borne water.
There were a large number of small scale gravity water supply systems especially in the estate sector. However, majority of the rural population continued to rely on shallow well water even up to the 1970s. A large number of hand pump tube wells were constructed from 1970 to 1980.
Participatory rural water supply systems were introduced in the 1980s by few donor-funded water supply projects. Many governmental and non governmental organisations provided small scale rural water supply projects during the past two decades.
The population in Sri Lanka was around 19.6 million according to census carried out in 2001. Approximately 60 percent of the population live in rural areas of which only a small part is covered by large and medium scale water supply schemes operated by the National Water Supply and Drainage Board or by the Local Authorities. Majority of people living in rural areas will have to depend on domestic sources for their water needs.
Around 34 percent of the population has access to pipe-borne water. The Government has taken steps to increase pipe-borne water supply through the Ministry of Water Supply and Drainage Board.
The Government expects to provide pipe-borne water to around 45 percent of the population by 2015.