MAS Intimates, Marks & Spencer launch Autograph Leaves
British retailer Marks & Spencer plc (M&S) and MAS Intimates launched the world's first carbon neutral lingerie range, taking another step towards sustainable apparel production.
This project is part of M&S' sustainability initiative, Plan A, launched in 2007 to become the world's most sustainable retailer by 2015.
The Autograph Leaves Lingerie range is inspired by nature and includes six bras, three briefs and one suspender.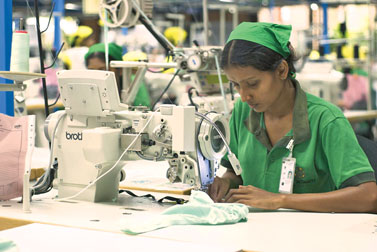 MAS Intimates along with M&S calculated the lifecycle carbon footprint of the complete product range identifying emissions related to each component raw material, manufacturing, shipping and distribution, customer use (washing and drying) and final disposal.
The calculated footprint was independently verified and certified by the UK's Carbon Trust Footprinting Certification Company.
This is the first time a complex garment such as a bra has been footprinted and certified globally. The footprinting exercise helped MAS and M&S understand how different elements in the supply chain and product lifecycle influence the final footprint.
Head of Technology at M&S Paschal Little said, "As the UK's lingerie market leader, we think it's right that we should lead the way in exploring new, more sustainable manufacturing options.
As a result of this project we know that raw material production, such as lace manufacture, is a major contributing factor to the bra's footprint, so we're now working with our suppliers to find better alternatives for the future."
Under its extended Plan A commitments, M&S has pledged that each of its 2.7 billion individual products will have a Plan A attribute by 2020, with a target of 50 percent by 2015.
Head of Sustainable Business M&S Mike Barry said: "The complexity of a bra's supply chain makes it the ideal product to learn about the practicalities of carbon footprinting, as it contains 21 component parts from 12 different suppliers.
"We're already applying the lessons we've learned to other product areas and have taken an important step towards our goal of giving every single M&S product a Plan A attribute."
The range is manufactured at MAS Intimates Thurulie, the eco-manufacturing plant of MAS Intimates which supplies lingerie exclusively to M&S. Compared to typical factory production, manufacturing the product at Thurulie helped reduce the carbon intensity by an estimated 33 percent, due to its low-carbon innovations and use of renewable energy.
In 2010, MAS Holdings launched a group-wide initiative to make its operations more sustainable. The company plans to spend Rs 400 million in 2011 as part of its strategy to reduce carbon, energy and water intensities of its operations.
The measured footprints - between 1.7 kg - 2.4 kg of CO2 for bras and 1.3kg - 1.5kg of CO2 for briefs are offset with carbon credits to make the product carbon neutral.
The credits, which are certified by Plan Vivo, were purchased from Conservation Carbon Company (CCC) from their forestry biolink project.
Working with Rainforest Rescue International, CCC planted over 6,500 trees between Polgahakanda and Kinneliya Forest Reserves creating a link between these two patches of indigenous rainforests for species to move between the two.
The credits help farmers sustain their livelihoods by introducing revenue generating plant species as well as providing an allowance to take care of the trees for 20 years.
The project also marks another step by MAS Intimates into the sustainable product space, following its success with the Burkina Faso organic cotton project for Victoria's Secret. "To become more sustainable, we need to look at more than our own operations to the total lifecycle impact of the products that we make.
That helps us leverage the supply chain to create products that have a lower overall impact to the world that we live in," said Director European Brands MAS Intimates Suren Fernando.
MAS Intimates and Marks & Spencer are currently talking about the follow-up products to the Leaves collection, looking at more sustainable raw material options and other methods to reduce the carbon footprint of the products they sell.
Not all the changes are special product ranges like Leaves, the learnings permeate across all activities of the company.
The Autograph Leaves collection was launched in M&S stores recently.