TECHNOLOGY
Several offers from Etisalat to improve ICT sector
A key driver of Sri Lanka's socio-economic development, the ICT sector will be given a boost via an innovating e-learning platform, a program envisioned by President Mahinda Rajapaksa with the joint efforts of the Ministry of Education, Ministry of Co-operatives and Internal Trade, Sri Lanka's leading telecommunication rovider Etisalat and the State Trading Corporation (STC).
Etisalat will provide several offers to Sri Lankan schools, at an affordable price as well as through loan schemes.
A Notebook PC, a high speed Internet connection with a 3.75G mobile broadband connectivity, educational e-learning content which compromises the school curriculum content on an e-learning platform and a HSPA+ modem unit which are unmatched on uplink and downloads.
Easy payment schemes from government and non-governmental financial institutions will be given by STC to students and teachers.
"Mobile users in Sri Lanka are 100 percent but internet use is around eight percent.
Our team conducted a research program and according to the findings the main barriers for internet growth is that parents are cautious due to the misuse of the service," said Etisalat CEO Dumindra Ratnayaka.
He said, "To prevent the misuse of the internet we have introduced a parental control software known as NetNanny.
This software protects students from misusing the internet while making valuable internet resources available to them."
As a CSR initiative in partnership with STC, Etisalat is donating this education system to all Sri Lankan schools.
Education Minister, Bandula Gunawardena said, "National IT literacy has increased from five percent to 30 percent due to the initiatives such as the e-Sri Lanka program and Nenasala wisdom outlets. We are targeting to reach 75 per cent in ICT literacy by 2016."
"President Rajapaksa named an IT year and as a result IT knowledge has increased 28-30 percent from five percent and our target is to increase it."
"Today a student starts learning IT from grade 10 but from next January a student will start learning IT from Grade 6," said the minister.
"For the 1,000 schools that will be opened across the country within the next year we are planning to have an IT laboratory with at least 50 computers, a language laboratory and a mathematical laboratory in the first stage."
Every principal will get a laptop, a dongle and free access to the internet during school timeunder this project .
It is a service provided free by Etisalat and will cost the company around Rs one million.
Under this project 340 schools will be covered this year while the 1000 schools project will get the opportunity next year.
During the next three years all small schools will be given free internet access. Under the second stage of the project teachers will be given easy payment loans to purchase laptops.
---
Nanotechnology plants:
Private sector participation encouraged
One of the main drawbacks encountered in going forward with the establishing of nanotechnology plants is the lack of funds. However, the high initial investment to put up nanotechnology plants could be justified by the high economic benefits and shorter pay back periods. Therefore, private sector participation is largely encouraged to make correct and timely investments, states the Central Bank Report of 2010.
The formation of public-private partnerships may help minimise the burden on the government budget and expedite commercialisation of research findings in going forward with this venture.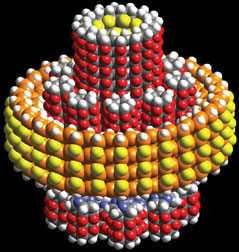 The government considering the importance of nanotechnology in industrial development, decided to build a nanotechnology park in 2007.
The initiative is aimed at facilitating research to take advantage of the nanotechnology that was creating a revolutionary breakthrough around the world.
In 2008, the private sector, having identified the potential benefits of early exploitation of this technology showed a keen interest in investing in this field and as a result, partnered with the government to establish the Sri Lanka Institute of Nanotechnology (SLINTec).
The SLINTec as a public-private partnership is committed to undertake sustainable research focusing on projects that are economically, environmentally and socially sustainable.
In its first year of operations, SLINTec has been able to acquire five international patents compared with Sri Lanka's past record rate of 1-1.5 international patents per year.
International patents acquired in 2010 include carbon nanotubes, nano fertiliser and nano rubber while field testing has already commenced as the first step to commercialising some of these products.
The areas of research and development carried out were in the sectors of textile and apparel products, rubber based products, fertiliser and mineral products such as graphite and ilmenite.
The textile and apparel sector, which is the major export oriented factory industry, promise immense potential in making revolutionary gains with the use of nanotechnology in its products as well as in the production mechanism.
Accordingly, research and development was carried out on nano textiles to be manufactured in Sri Lanka, where some products are currently being developed to the commercialisation stage.
The use of nanotechnology in reducing the carbon footprint of garment manufacturing and also in garment's dyeing processes are also currently in the stage of development for commercialisation, which promise considerable value addition to the 'Green Garments' attached to Sri Lankan apparel exports.
Another typical use of nanotechnology that demonstrates a favourable economic impact to Sri Lanka is nano fertiliser which is currently being used in commercial crops.
Nano fertiliser which is currently being field tested has a unique characteristic of high absorption efficiency which would result in lower fertiliser quantities required per arable unit of land.
Similarly the exportation of nano carbon tubes and nano titanium dioxide in place of the raw minerals that are exported currently, promise a notable increase on our export earnings.
Rubber based products industry, which is Sri Lanka's second largest export oriented factory industry, also has immense potential to increase its foreign exchange earnings by inculcating nano rubber to its products such as solid tyres and rubber gloves.
Many countries use nanotechnology in the development of the industrial sector to manufacture new and innovative products in a cost effective manner.
For example, with the use of nanotechnology, ordinary textile and fabric are converted to textiles that do not absorb liquids and other substances giving it the unique feature of resistance from spills and stains.
Similarly the very high water repellency found on the lotus flower, known as the lotus effect is seen developed in paints with the use of nanotechnology ensuring dust and water repellent properties in keeping walls of buildings clean for longer periods.
Likewise, the difficulty of cleaning windows of sky scrapers is solved by using nanotechnology to produce glass with self cleaning coating surfaces that do not accumulate dust and other tiny particles.
These are only a few examples of how nanotechnology can be applied in the industrial sector. Nanotechnology is a new invention, which has the ability to produce unique products with new features by changing the existing form of such products.
This involves the manipulation of matter on the scale of atoms and molecules by changing the inherent features of material through re-engineering the composition at the molecular level.
Likewise, nanotechnology applications can be found in many areas in the industrial sector.
---
Sony chief Howard Stringer says firm acted quickly
Sony has begun offering PlayStation gamers incentives to return to the network The boss of Sony has fired back at critics, insisting it did act quickly enough to tell users about a security breach of its PlayStation network.
Sony chief executive Howard Stringer said most security breaches go unreported, and that only 43% of firms "notify victims within a month".
"We reported in a week. You are telling me my week wasn't fast enough?" Last month, account information of more than 100 million customers was compromised in a massive cyber attack.
On April 20, the Japanese electronics giant was forced to shut down its PlayStation network and other services.
Some gaming analysts have criticised Sony for not being quick enough to alert customers about the breach.
"This was an unprecedented situation," Stringer said, publicly for the first time since the security breach.
The attack is considered the biggest in internet history.
Stringer's remarks are a change in tune from two weeks ago when senior executives bowed to apologise to the company's customers. Sony is still assessing how much the breach might cost the company.
"There's a charge for system being down, a charge for identity theft insurance," said Stringer.
"The charges mount up but they don't add to a number we can quantify just yet." Sony will report its full year results on May 26. AFP
---
A-Z Electronics appointed authorised distributor for Philips, Toshiba
A-Z Electronics (Pvt) Ltd. has been appointed authorised distributors in Sri Lanka for two of the world's most trusted brands of electronic products - Toshiba, Japan's leading brand of LCD and LED and Philips, the leading player in audio and video entertainment systems in Europe.
Philips and Toshiba are synonymous with high-end, quality products, exclusively for discerning and quality conscious enthusiasts for which A-Z Electronics provide an equally matching high quality level of product guarantee and after-sales-service to customers islandwide.
The Japanese say "You can't beat Toshiba". That's because Toshiba's innovative technology and outstanding design capability has surpassed its rivals and made it the leader not only in Japan but almost all over the world where consumers look for quality products.
Toshiba 46 and 52 inch (high definition) LED large screen televisions come with Power Meta Brain Pro Technology which projects smooth motion, sharp detail and vivid colours for ultra-pleasure viewing.
Another product from Toshiba is the Regza Power TV, with built-in rechargeable batteries, automatically switches to its battery power whenever there is a breakdown in the main power supply.
This enables the viewer to enjoy favourite programs in full HD without interruption.
Toshiba's Computer Division, recently entered the Smartbook market with the Toshiba AS100 and AC100, designed with a slate and traditional clamshell format.
Their slimness and light weight coupled with always-on capability make them ideal devices for consuming media, browsing the Internet, viewing and editing documents, emails and other messages while out and about.
The slim and light-weight Toshiba AS100, portable, with its always-on capability, offers a high definition, rich multimedia experience.
Toshiba's Protege R700 is the thinnest and lightest (only 1.3kg) full performance ultraportable Notebook which includes the world's first Honeycomb Structure and Fresh Air Cooling Technology in a Notebook.
It provides consumers and business professionals with unprecedented performance in a highly mobile form factor at mainstream prices.
The Android AS 100, on the other hand, is the ultimate for High Definition Multimedia experience.
You can now experience surround sound from all angles, like in the cinema. Start enjoying the original cinema experience, no matter where you are in the room.
The Philips HD Home Theatre System is equipped with innovative 360Sound Speakers which are designed with sound drivers in the front and on the sides to fill your room evenly with surround sound for the ultimate listening experience.
When you go to the cinema, you don't just watch a movie.
You experience the thrill of the big screen and the booming stereophonic sound which makes it a special night out and a treat for all your senses.
The Philips 2011 range of LCD and LED Televisions take you as close to the experience you'll enjoy at the cinema, in your own home.
The Philips range of portable products are luxuries that frequent travellers cannot afford to miss.
Enjoy your favourite movies and music wherever you are with Philips Portable DVD Players and Hi-Fi Systems.
---
Google chairman promises privacy controls
Google chairman Eric Schmidt has promised that the firm will simplify the process by which Android phone users agree to share their data.
It follows questions in the US Senate about how much location information is stored by mobile handsets.
Speaking in the UK at a conference on privacy, he also revealed that Google plans to offer web users more control over their online profile.
Schmidt said that the company took the matter "very seriously".
He told the Big Tent debate in Hertfordshire that his firm was working on "a series of projects" aimed at increasing transparency.
Those include a revised Google Dashboard, where users can see what data they have shared with the search giant.
"It is worth stressing that we can only do this with data you have shared with Google.
We can't be a vacuum-cleaner for the whole internet," he said.
Schmidt stressed that Google was on the side of consumers when it came to privacy. "In general we take the position that you own your data and should be able to opt in or out of a service," he said adding, that if users gave consent for sharing data, it would help Google improve its services.
There is this myth that privacy stifles innovation. It helps to reassure consumers, therefore encourages innovation? End Quote Simon Davis Privacy International. "If you choose to give us that information we can do a better job. If we know a little bit more about you we can offer better targeted search," he said.
Super injunctions revealed A recent hearing in the US Senate quizzed Google on the amount of data stored on Android handsets. The company argued that it allows people to opt out of location-based services.
But Schmidt conceded that the terms and conditions whereby users sign up to services needs to be simplified.
"We intent to do that," he said.
He said that such services would be more heavily regulated in the future.
During a lively debate on the issue of privacy, it was revealed to the Big Tent audience, alongside several names of current super-injunction holders, that more data has been collected in the past seven years than in the whole of previous human history.
Head of Privacy International Simon Davies said, it was a mistake to see privacy and the needs of corporations as conflicting.
"There is this myth that privacy stifles innovation. It helps to reassure consumers, therefore encourages innovation," he said.
Meanwhile, media executive Peter Bazalgette said that people should have the right to delete data to give them a clean slate from, for instance, compromising pictures on social networks.
At the same time, some would choose to share more information. "Individuals will sell personal data in return for content," he said.
Not everyone felt that Google Dashboard went far enough when it came to protecting personal data.
What people really need is a "dashboard for their lives", said David Alexander, Director of Mydex, a social enterprise that is designing a platform where people can manage all the data they share with others.
Creating such a "personal data eco-system" would allow people "to stand on an equal footing with government and big corporations", when it comes to data sharing, he said.
Alexander suggested that Google would be very welcome to sign up to it but that it would have to agree not to share information with advertisers.
BBC