TRAVEL
Tourism at Arugam Bay should be sustainable
The surfing season in Arugam Bay starts in May and the thousands of people who are dependant on the tourism industry in this Eastern coastal village in Sri Lanka eagerly await the arrival of the highest number of tourists this year. The tourism industry in the country is booming after the end of terrorism in 2009 and Arugam Bay is now ready to regain its full potential.
Arugam Bay is one of the world's top 10 surf locations, known for its fantastic waves, which attract surfers from all over the world. The best time for surfing here is between May and November when strong winds are offshore for at least the first half of the day.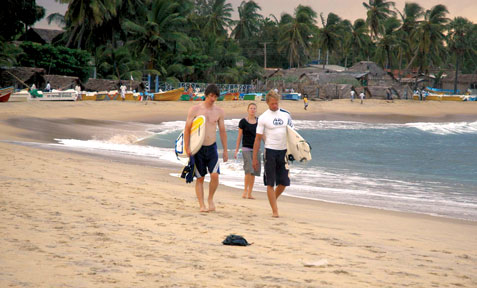 However, some small scale hoteliers, tour guides and shop owners are disappointed because still there are only a few tourists at Arugam Bay. They have several reasons for the delay in tourist arrivals. Some of them believe that the IPL cricket series in India is one reason and that tourist arrivals will increase after the games are over.
A lodge owner said that a large number of local tourists visiting here has caused various issues and as a result the beach is now less attractive to foreign tourists. He said that some drunken local visitors harass foreigners and as a result foreign tourists are reluctant to come to the beach during the weekends. The officer in-charge of the police post at Arugam Bay beach said there were no complaints. However, the police regularly patrol the area and is vigilant on such developments.
A. Dixcey, a teacher from the Isle of Wight in England was ready to leave for surfing in the early morning. The only thing she is worried about is the difficulty she faces while travelling by public transport. Hospitality of the locals, quality of the service in hotels she stays in is excellent and cost affordable, she said.
The basic infrastructure in the area has improved making access to this remote coastal fishing village easy.
Reduction in travel time is unbelievable. It took only 40 minutes to travel from Siyambalanduwa to Arugam Bay and one-and a half-hours from Moneragala town.
The longest STF check point at Siyambalanduwa junction during the conflict era is no more and there are no obstacles for travellers other than traffic police whoare vigilant on high speed drivers.
Water supply and electricity are also restored but some hoteliers said the frequent interruption to the supply caused issues for them. They said these issues affect their service and they cannot keep their clients happy. As the number of tourists visiting here increases, environment issues emerge. Hoteliers said that the local authority is not efficient to keep the area clean and garbage collection does not take place properly.
To make Arugam Bay an attractive tourist destination the local authority needs to do something more than what the ordinary Municipal Council or Pradeshiya Sabha does.
There are no facilities for the large number of local tourists visiting. Most of them visit for a sea bath. Public toilets, fresh water and houses are needed for them, because they cannot afford hotels and lodges. Most of them do not stay the night over.
K.H. Chandrasena, the owner of the Sashini Beach Resort said that foreign tourists who come here for surfing usually stay for a long period of time. Some of them look for low cost lodgings and therefore cabanas at his resort are fully occupied during the season. He runs the hotel without professional staff.
He said that most of the small hoteliers are reluctant to invest money to improve their hotels due to construction restriction limits enforced by the government.
The government has banned construction in 50m limit from the shore, but this is not yet enforced. There are hundreds of small lodges in the area but only a few high end hotels.
Accommodation facilities have to be developed and there should be regulations and standards for these small hotels and lodges as the quality of the rooms, meals and services are extremely poor.
To meet the government's targets in tourism special attention has to be paid to the many opportunities and issues in each tourist destination. Arugam Bay is a unique place and issues highlighted by stakeholders should be taken seriously by the authorities to make tourism at Arugam Bay sustainable.
---
Lufthansa and Austrian Cargo merge
Lufthansa Cargo held its Regional Meeting in Sri Lanka recently, at Paradise Beach Hotel Negombo.
Lufthansa Cargo is represented in Sri Lanka and Maldives by Lewis Brown Air Services (Pvt) Ltd, a member of the Delmege Group of companies.
The meeting was presided over by General Manager Lufthansa Cargo Matthias Brazel who is based in Dubai and is responsible for sales and handling services of Lufthansa Cargo in the Middle East, Bangladesh and Sri Lanka.
The Lufthansa Cargo regional team representing Dubai, Sharjah, Abu Dhabi, Bahrain, Dammam, Doha, Riyadh, Jeddah, Amman, Kuwait and Colombo numbering 15 participated in the meeting which concluded with a memorable trip to the Pinnawala Elephant Orphanage.
In Sri Lanka, Lufthansa Cargo operated as an online carrier with MD-11 freighters thrice a week until early 2005.
Currently it operates as an offline carrier. Lewis Brown Air Services (Pvt) Ltd, the GSA for Lufthansa Cargo, transports cargo via Lufthansa gateways in the Middle East, India and the Far East.
At present Lufthansa Cargo uplifts a significant tonnage being an offline operator, that comprises general cargo, garments, live ornamental fish, perishables, dangerous goods and highdensity cargo such as tyres and machinery parts.
In a time when price pressures and volatility continue, the Lufthansa Cargo brand, quality and network are the reason for strong and loyal customer support.
Lewis Brown Air Services (Pvt) Limited is the General Sales Agent for Lufthansa Cargo since July 1993.
Lufthansa Cargo and Austrian Airlines Cargo have merged their global activities and Lufthansa Cargo now handles all Austrian Airlines Cargo Capacity Worldwide.
The merger between Lufthansa Cargo and Austrian Cargo will strengthen an already extensive global network.
Being an exclusive GSA for Lufthansa Cargo, Lewis Brown Air Services (Pvt) Ltd, offer their customers an unprecedented degree of service to destinations all over the world. As a result of new international markets rapidly opening to Sri Lankan exporters, this merger between two established European Airlines, gives Lewis Brown Air Services (Pvt) Ltd, the opportunity to offer their customers a more extensive range of destinations.
---
SLITHM survey on manpower development
The Sri Lanka Institute of Tourism and Hotel Management (SLITHM), the premier national institute of manpower training for travel, tourism and hospitality industry, is planning to redesign ongoing training programs and also introduce new training programs to meet the growing requirements of the tourism industry in Sri Lanka.
For this purpose SLITHM will to explore possibilities of obtaining constructive inputs and suggestions from experts and industry practitioners. Such a collective effort would pave the way to develop Sri Lanka into a leading tourist destination of the world, said Director General SLITHM Dr Suranga Silva.
Areas to be covered are:
* The most useful training programs for the industry that SLITHM should to conduct.
* How you/your organisation will cooperate in this endeavour.
* Suggestions to develop training programs for the following service areas of the industry: - Front Office Operations - Professional Cookery and Culinary Arts - Food and Beverage Operations - Housekeeping - Tourism Management - Travel and Tour Management - Pastry Production - Tour Guide Training - MICE and Event Management - Community based Tourism Management - Spa Operations - Training for SME sector tourism SLITHM said that experts representing world class universities and institutes such as the University of Salzburg in Austria; Ritsumeikan Asia Pacific University in Japan; The Hong Kong Polytechnic University and William Angliss Institute in Australia are collaborating with SLITHM in this effort.
Besides providing nearly 2000 graduates per year, SLITHM also makes a significant contribution to the hotel industry by providing its students twice a year for industrial training.
---
SIA signs MoU with SLTPB to promote Sri Lanka
Singapore Airlines (SIA) and Sri Lanka Tourism Promotion Bureau (SLTPB) have signed a Memorandum of Understanding (MoU) to jointly promote tourism to Sri Lanka through the Airline's services to Colombo.
The one-year agreement, which took effect April 1, will see SIA and SLTPB jointly funding tourism promotion activities such as familiarisation trips targeting trade partners, international media and overseas markets.
Key markets in the agreement include Australia, Singapore, Japan, New Zealand, Korea, Indonesia, the Philippines and China.
Under the partnership, both parties will also provide each other with branding opportunities in their proprietary marketing channels.
The longest-serving foreign airline operating to Colombo, SIA has been providing air services between Sri Lanka and Singapore for more than 40 years.
Last year, SIA celebrated its 40th year in Sri Lanka and introduced the new Airbus A330-300 on the route. The Airline currently operates daily services between Singapore and Colombo.
"Sri Lanka was named the 'Number 1 Travel Destination in 2010' by The New York Times and offers visitors a wealth of attractions. The forming of this strategic partnership with SLTPB is testament to our strong commitment to the Sri Lankan market.
With Singapore Airlines' extensive network, I am confident that more travellers will explore and experience what Sri Lanka has to offer, such as its pristine beaches, beautiful national parks and mountains," said Singapore Airlines' Executive Vice President Commercial Mak Swee Wah.
Acting Managing Director, Sri Lanka Tourism Promotions Bureau Malraj Kiriella said, "By entering into this agreement, SIA and SLTPB hope to work on a common platform to promote product offerings for travellers around the world.
It is a win-win situation for both SIA and SLTPB, especially when we look at the benefits we can reap in the long run."