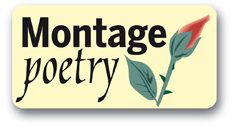 A moment in our apartment
we couldn't see the dark outside
the lamp layered yellow light against the glass of our window
gifting us with a reflection of our hand-crafted home
we lay beside one another
barely touching
as I carelessly listed names and questions
scattering them over our walls
scared that they might someday bring change to this
your long body and wide eyes shift between the lamp and me
so you rise to turn off our light
my mind stills to meditate on your outline as you return to me
bringing my head to your chest
you lean back slightly, to catch my gaze
you follow my eyes as they turn upwards to meet yours
your face is so warm
finally you have carried me back to here
your steady palm erases worry from my brow, both knowing
we fall away to sleep.
Kerri LINDSTROM
The poet has craftily portrayed an intimate moment in his life with vividly realised images recreating the memorable moment in the minds of readers. The poem is noted for its apt use of imagery and short and sharp lines.
---
Derangement of my lonely heart....
Upon the old wooden bastian, I stand
gazing at the golden southern sky
searching for room within my heart to expand
to let go of my fears I cry....
I see the sun craving for a kiss
to say adieu to its darling bride
I see people embracing the evening bliss
but, me and my lonely heart trapped in a tide.....
I say hello to many people all day
but none I have found to say they are mine
I melt my pain into tears and pray
soaking my soul in sadness wine
Tania Logan-Smith
The poem is about cultural otherness. It is obvious that the poem is either in a strange land or in an alien culture where her contacts with the people at large virtually remain to greetings. Apparently, none of them has entered her life. The poet has used simple diction and plain words to convey the idea of cultural otherness and diasporic existence.
---
Is this life enjoyable or hateful?
Wondering and gazing in my dark lonely room
My mind is running with
Some unknown feelings and thoughts.
Days and nights are passing up and down
Without any thrilling expectations.
My mind without anyone is agonizing
Out of fear 'What life will be?'
Keep silent throughout the time
Fearing, crying, trembling and soothing.
But.....
Outwardly, I pretend myself as the
Happiest and the strongest one
Though the shadow of loneliness
Reflects in my Blank face.
All inquire me about the secret of my
Happiness?
But myself with a chuckle of delight tells
Everyone wear mask whenever he leaves home.....
Arivarasy MUTULINGAM
The poem is about wearing masks when one leaves home. It is the mask of happiness and contentment which would give the impression of a cheerful personality. The poet has used apt language.
---
Is nature's crying incessant ?
Oh! Nature!
Why are you crying incessantly?
With tears flowing every where
Causing terrific floods
In almost all the low lying parts of
Sri Lanka
The worst is the plight of the innocent people
Living in the eastern lands where the flood
Has hit the dwellers of the houses near the sea shore
What they lost during the merciless attack of tsunami
Could not be recovered before this flood disaster
Gripped them
Oh! The crying rain! Will you stop for a while
Till the victims of food recover a little?
I think you are crying over the inhuman activities of
The beastlike rogues and terrorists
I know you are bitterly crying over the persecution of
Innocent women by rapists
All your tears swell like terrific waves
Drowning the perpetrators of sins
On the orders of your creator- god Almighty
M.Y.M Meeadh
The poem is a plea for nature. The poet has used a long narrative to convey the message. A significant characteristic of the poem is personification of nature.
---
Impermanence
With age
How it changed
Making you self-conscious first
Proud and happy then
As you could draw
Countless eyes to that
Heaven for lovers
A pillow
At night
After long hard days
For the one who won your heart
A pacifier
A miracle
That turned blood in to milk
To feed the newborn
All in disarray now
Uncontrolled
Uninhibited
A growth from within
As wild fire
Burning her life
Ending it
Today or tomorrow
Sad
Unjust
Outrageous
Unkind.
Ananda P Dasanayake
With the aid of a pleasing object, the poet ably describes the concept of impermanence and how time will devour the beauty of all reducing them to dust. The poem has used down-to-earth language with apt metaphors.
---
Lamp of love
Pearl, misty clouds veiled
Silvery moon and star sapphires
Flitting fireflies dimmed
Their elusive golden tints
Piercing amber love tints
Lighted a lamp of dancing gleams
Ruby brimmed fiery glints
Sifted saffron hued dreams
A sighing wind quenched
Warm crystalline flickers
A violet gloom flecked
Ethereal marigold glimmers
A shattered heart dappled
With translucent recollections
Dreams of a lamp fluttered
With tremulous reflections
Punya SAMANTHAPALI
With full of imagery of light the poet tries to allude moonlit night to love making. Though the poet has attempted to create a picture with excessive use of imagery of light, it has , to a certain extent, obliterated the meaning central to the theme. The poem is noted for use of imagery of light. It would have been more effective if the poet has used imagery sparingly.
---
Lonely star
When the darkness hugs the sky
Thou begin to spread thy bright
No any other near by
Thine beauty is in my sight
In the so gloomy universe
Thou are the only light
My heart then fills with joys
Tries to catch thy bright
To thou the moon strolls
Oh! thy light fades away
My heart then weeps with pains
From me thou don't go away
Moon light is brighter
But no joy I can get
Thou are the only little star
Who can light my heart
' I will find it in the universe,
I will make it mine forever'
Told I my mind with joys
My mind then mocked at me 'never'
Sanoji RUVINIKA PERERA
The poet compares her lover to a lonely star. The poet has used simple diction and short lines
---
You
Will you be
a star and not the sun
that rises everyday without a fail
to enliven me with your light...
Will you be
a fountain without being the sea
which over flows with water,
never getting dry
to stay with me
in times of both prosperity and adversity...
Will you be
a balmy breeze never a tonado
which will be a healing power
letting me feel its comfort
to bare my soul to you...
Will you be
a rainbow just with seven colours
reminding me of a charming life
to live in compassion
without merely being over-indulgent
Imali BANDARANAYAKE
The poet has addressed her lover. The poet has stressed on each point she seeks to make by repeating the line 'will you be'. The poet has used simple diction and the poem is noted for short and sharp lines.