Financial supermarket opens at PB's Golden Anniversary branch
People's Bank opened the first financial supermarket in Colombo to mark the golden anniversary of the Bank. The Borella City Branch in a state-of-the art building named the Golden Anniversary Branch and was opened by Minister of Economic Development Basil Rajapaksa recently.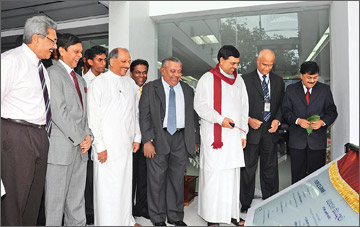 The Borella City Branch in a state-of-the art building named the Golden Anniversary Branch was opened by Minister of Economic Development Basil Rajapaksa. It was graced by Minister Dinesh Gunawardena, Deputy Minister Githanjana Gunawardena, MP Tilanga Sumathipala, Defence Secretary Gotabaya Rajapaksa, Central Bank Governor Ajith Nivard Cabraal and Chairman of the People's Bank W. Karunajeewa.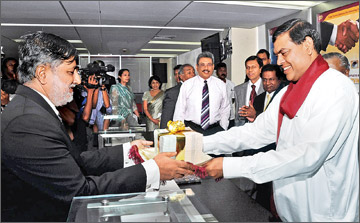 CEO People's Leasing Company (Pvt) Ltd D. P. kumarage presents a
memento to Minister of Economic Development Basil Rajapaksa
The 12 storeyed building is also the head office of the Peoples Leasing Company, a fully owned subsidiary of the People's Bank. The Rs. 1.6 billion building's infrastructure includes the most up-to-date computer network, communication facilities and customer conveniences in modern banking.
Acting CEO and General Manager of the People's Bank K.U. Pushpakumara said that this is the first bank in Sri Lanka with modern facilities built on the modern concept of a financial supermarket. The bank is open from 8.00 am to 8.00 pm 365 days of the year. Pushpakumara said that this new initiative will lead the banking industry in Sri Lanka to a new level of sophistication.
The branch will be the model for all branch development programs.
Pushpakumara said that another two or three branches will be upgraded under this concept. It is a new generation bank that provides customers fast, efficient and convenient banking services, he said.
The branch is ready to provide all facilities to exporters and this facility is in line with the Bank's vision to be the exporters' bank by 2016. Facilities available for exporters include export credit, support to search for suppliers and buyers, project financing and investment banking. The 8-8 X 365 days banking service is on line with real time service.
Internet facilities have been provided for customers to search for information they need. The VIP lounge of the branch is a wi-fi zone and customers can browse the internet with their laptops or mobile devices.
The branch provides all banking products and services. safety lockers are offered to customers for their valuables. The staff has been trained to cater to customer needs accepted by the financial supermarket concept. The car park can accommodate 50 vehicles.
The financial supermarket concept envisages to provide individuals and businesses the tools to manage their resources through a single provider, rather than from a multiplicity of sources. In some instances, a financial supermarket may offer incentives that encourage customers to enrol in all applicable programs offered at the store, a measure that may save the client money and possibly increase the return that is earned off investments and other financial accounts.
The typical financial supermarket will provide all essential services of a commercial bank. Customers may establish checking and savings accounts with ease, set up a certificate of deposit, obtain loans, and even establish a line of credit. In addition, the supermarket will also allow the consumer to secure life insurance coverage, and participate in various types of investing activity, such as purchasing bonds or buying and selling stocks.
The services are available as stand-alone services, but some supermarkets also offer bundled packages that allow consumers to establish three or more related accounts for a discounted fee.
(GW)