Massive crowds throng Agri Exhibition in Vavuniya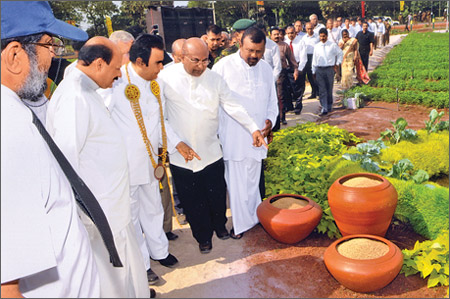 Prime Minister D.M. Jayaratne views some of the exhibits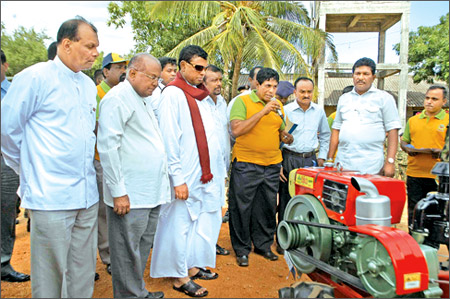 Economic Development Minister Basil Rajapaksa inspects the Agri Exhibition
A large crowd of over one hundred thousand including farmers schoolchildren, teachers, workers visited the National Farmers Week 2011 and Agri Exhibition held at Vavuniya Seed Farm recently.
It was organised by the Agriculture Ministry and opened by Prime Minister D.M. Jayaratne on the invitation of Agriculture Minister Mahinda Yapa Abeywardena.
Delivering the inaugural address the Prime Minister said that the country can be easily self sufficient in food, if the Agriculture sector uses traditional methods and modern technology.
In the past our grandfathers paid no heed to caste, creed, or religion and they worked hard. That was how Sri Lanka became the Granary of the East, the prime Minister said.
He said that he was against food imports since all food crops could be produced locally.
The five-day National Farmer Week and Agri Exhibition was held under five themes, Farmer Felicitation Day, Youth and Entrepreneurship, Agri Education, Agri Technologies and Local Food Production.
The final day of the week was held yesterday under the patronage of Economic Development Minister Basil Rajapaksa. Addressing the large gathering the Minister emphasised the importance of consuming local food such as rice, maize, kurakkan and fruit and vegetables.
The main objective of the Divinaguma program is to achieve self sufficiency in food, the Minister said.
The chief guest on the Youth and Entrepreneurship day Parliamentarian Namal Rajapaksa said that the young generation in the areas should make use of the opportunity to expand their knowledge in agriculture . As future leaders they should give priority to develop the agriculture sector.
Agriculture Minister Mahinda Yapa Abeywardena said that the exhibition was a step towards a long-term plan for self-sufficiency.
He said that the people in the area need to work hard to make the North the most agriculturally developed province in the island.
Among the events organised by the Agriculture Ministry was the mini marathon for schoolchildren. The awards and prizes were distributed to the winners. A seminars on Food preservation and value addition, processing food crops was also held at the Vavuniya Agriculture school.
A workshop was conducted by the National Food Promotion Board (NFPB) on the importance of growing traditional rice varieties and using organic methods. Over 500 women from all community societies in the area attended the workshop.
NFPB's second workshop on soil conservation and methodologies of using organic methods in crop farming was held yesterday.
The Exhibition was the biggest agri-event held in the North after 30 long years of LTTE terrorism. Over 100 public and private sector exhibition centres exhibited their produce, machinery, equipment, fertilizer, organic insecticides and other agriculture related products.
The National Farmers Week and Agri Exhibition which was organised by Agriculture Minister Mahinda Yapa Abeywardena and Agriculture Ministry Secretary K.E. Karunatileka was a highly successful educational agri-event.