'Celeb Chat' with Jacqueline Fernandez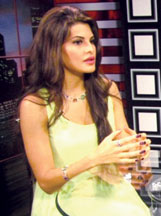 Birthday girl Jacqueline Fernandez who turns 26 on Thursday August 11 brings her simply charm and warm personality to Prime TV's 'Celeb Chat' at 09.00 pm on Monday August 08 on CSN.
Miss Sri Lanka 2006 for Miss Universe, Jacquie is possibly Sri Lanka's best known export to Bollywood and has hit the top in a relatively short period time with an array of contrasting character portrayals from "Aladin" and "Jaane Kahan Se Aayi Hai" to "Housefull' and "Murder 02" and more.
Listen to Jacquie indulge in a long and relaxed chat with host Kumar de Silva …. climbing trees at her grandparents' home in Pannipitiya, her 'accidental' entry into filmdom, the 'alone-time' she finds so important, nudity on screen, working alongside Amitabh, the travails of learning Hindi, survival in Bollywood.
---
Suddek Oba Amathai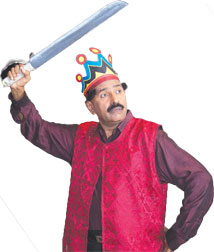 One of the most critically-acclaimed Sinhala dramas in recent times, Suddek Oba Amathai will go on stage at the Elphinstone Theatre in Maradana at 3.30pm and 6.30pm on August 14 (Sunday) for the 50th time.
The play is written and directed by well-known author and columnist, Udayasiri Wickramaratne, and features stellar performances by some of our most well-known and much-loved actors and actresses. The cast includes, Jayalath Manoratne, Nalin Pradeep Udawelage and Madani Malwattage..
The musical score is composed by Lalith Wickramaratne. Rohan Samaradiwakara is the man behind the set, while Ranga Samarakoon handles lighting.
Susil Wickramasinghe is the production manager.
---
Indian Kathak exponents in Colombo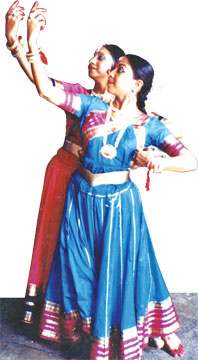 On the occasion of the 65th Independence Day of India A Kathak performance by renowned Kathak exponents Nalini-Kamalini and their Guru Jitendra Maharaj will perform in Sri Lanka
Indian Cultural Centre, Colombo is organising a Kathak dance performance titled "Melody & Rhythm" by renowned Kathak exponents Nalini-Kamalini and their Guru Jitendra Maharaj on the occasion of 65th Independence Day of India. The performance will take place at 6.30 p.m. at the Bishop's College Auditorium, Perahera Mw., Colombo 03 0n Monday, August 15.
Nalini and Kamalini are devoted disciples of Guru Jitendra Maharaj of Beneras Gharana of classical Kathak tradition. The Kathak maestros will also perform in various parts of Sri Lanka including Jaffna, Kandy and Hambantota in their 10 days long programme.
Their performances will be accompanied on the Tabla by Akbar Latif Khan, on the Violin by Afzaal Zahoor. Nalini Nigam will be the vocalist.