Isle of Agnes to open next year
The Isle of Agnes, the three suite hotel designed by architect Anton Jacob will open next year.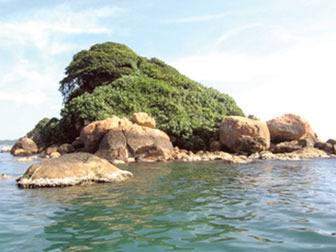 Situated in an island in Weligama, the seven star hotel will sell a suite between $ 5,000-10,000 a day.
It is the ideal location to clinch a business deal or a hideaway for honeymooners, Chairman Prasanna Jayewardena said.
He said that there will be a staff of 25 who are either experienced or young.
They must be guest-oriented which will be the main qualification.
They will be paid above industry standards, and will be given basic guidance but will be fully empowered to set norms and sell innovatively.
Jayewardena said that the staff need not be taught hospitality as "We are a caring and loving nation. I just want my staff to apply what they learnt from their mothers and they will never go wrong".
He said that the furniture will be antique and will be in ebony and guests will be treated like royalty.
"I will buy land but will not make any further investment in hotels, until I see an increase in demand. Present arrivals show that there is a demand for high networth hotels." Elephant Corridor sold between $ 800-1,000 and was never discounted, even during the conflict.
"If the right clients are attracted and looked after, there need not be any discounting as we have a world class product", he said.
He wants the Isle of Agnes to be a monument to his ancestors and to all Sri Lankans. (SG)