Post harvest handling must be improved - IPHT Director
Post harvest handling of Sri Lanka's fruits and vegetable sector is still at a primitive stage and improvement is needed to make agriculture a commercially profitable venture, said the director of the Post Harvest Technology Institute (IPHT) Dr. Swarnashika Thilakaratne.
Plastic crates introduced recently to transport fruits and vegetables are only a basic method of post harvest handling. The pilot project of IPHT to promote plastic crates was successful but it is not being used by farmers or traders in the wholesale business of fruit and vegetables.
At the Dambulla Economic Centre, not a single supplier uses them though the Ministry of Internal Trade and Consumer Affairs has mandated it. Plastic crates were provided at a 50 percent subsidised price and farmers and traders were educated about its advantages under this project.
According to research over 20 percent of the post harvest loss of fruits and vegetables takes place during transportation. It can be reduced to eight percent by using crates instead of polysacks. The total post harvest loss of fruit and vegetables is estimated at around 30 to 40 percent and this is a huge loss to the national economy", Dr. Thilakaratne said.
Traders resist using plastic crates because it reduces the quantity they can transport in a lorry load from 4,000 kg to 2500 kg. However, they ignore the savings, quality improvements and the resulting higher price they can earn. Small scale farmers too don't like to use plastic crates.
Difficulties
Their grouse is that they face difficulties while transporting products by bus or public transport and carrying empty crates back was another burden. Another issue is the high cost of crates. The Ministry of Internal Trade is ready to strictly enforce the rule and has informed all traders to use plastic crates to transport fruits and vegetables.
Dr. Thilakaratne said that modern post harvest handling practices of perishable items such as fruits and vegetables are very advanced. If we are to improve the system more collection centres should be established in the farming areas. Farmers need to be educated on correct harvesting practices. Harvesting at the right maturity stage of fruits and vegetables is essential to maintain quality and reduce post harvest losses. Most farmers collect the harvest, looking at the market price and not maturity of the fruits.
For instance mango farmers lease the tree and traders pluck all the fruits in a whole tree without considering the maturity of the fruits.
As a result mangoes in the market are of low quality while artificial methods are used to ripen them. If we further improve the supply chain, we can set up pack house with cold stores in collection centres, introduce sorting and grading of the harvest, use refrigerated trucks for transportation and establish cold stores at transit points of the supply chain. These methods can significantly reduce post harvest losses. However, these methods are not realistic at present because even the introduction of primary methods such as plastic crates is difficult. IPHT carries out continuous education and awareness programs for farmers and traders.
Transport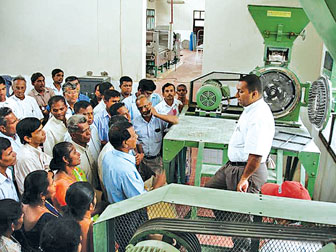 If refrigerated trucks are not used to transport perishable commodities, they should be transported in the night. Loss due to heat and sunlight are higher when they are transported during the day. Our fruits and vegetables have a export demand but the quality issue is the main barrier in capturing the market, she said. IPHT has made a great contribution to the agricultural sector since its establishment in 2000. The Rice Processing Development Centre (RPDC) established in 1976 under the Paddy Marketing Board (PMB) is the predecessor of IPHT. It was set up to improve the quality of rice and other grains produced in the country, by introducing modern technology and post harvest handling practices. In 2000, the PMB was abolished and the IPHT was established as a separate statutory board under the Ministry of agriculture with a broader scope to carry out research and provide solutions for post harvest handling of grain, perishable commodities and spices. The institute does research to invent new technology, products and machinery to address issues in the supply chain of agro products and improve the quality. The knowledge is disseminated to stakeholders while programs are held to continuously educate them. Dr. Thilakaratne said that technology introduced by IPHT has considerably improved the quality of rice produced in the country. Our innovations are cost effective, simple technologies that can be used at household level by small and large scale producers.
Harvesting practices
We educate farmers on correct harvesting practices, threshing and storage practices of paddy that are essential to produce quality rice. The new technology introduced to produce parboiled rice is another success story. In the method we introduced, paddy should be washed and soaked before boiling. We introduced a small parboiling vessel that can boil 35 kg at a time using steam.
It reduced boiling time from 1.5-2 hours in the traditional method to 20 minutes. Later we did research to address practical issues encountered by producers and improved it. Our efforts were successful and can proudly say that we have contributed to improve the quality of rice.
There are over 6,000 small scale rice producers in the country using this technology. We do research on real problems faced by our stakeholders and work closely with the farmer community, she said.
Senior Research Officer D.P.C. Swarnasiri said that IPHT has studied the quality of rice in the market on three occasions. In our first study in 1984 it was found that fungi called aflatoxin, caused due to high moisture content, in 35 percent of the rice sold in the market while none of the rice in the market were in the premium or grade 1-3.
This does not mean they are not suitable for consumption, but all parameters that measure the quality were not met.
In 2000 we did research and found that the fungi was not available in rice and 15 percent of raw rice and 24 percent of parboiled rice were in grade 2 and 3.
Research in 2008, found that 41 percent of raw rice and 35 percent of parboiled rice were in grade 1, 2 and 3 and fungi was also not found. Rice available in supermarkets was of better quality and 64 percent of raw rice and 83 percent of parboiled rice were in grade 1, 2 and 3.