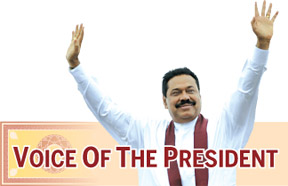 Expatriates should counter false propaganda

They 'hit' Sri Lanka again. Even after briniging peace, reconciliation and development to the doorstep of the terror-stricken North, they still endorse the terror of one of the world's ruthless terrorist outfits - the LTTE-, chasing behind the government and its leadership to tie them with unfounded allegations. While overlooking the acts of the blood stained LTTE, they either funded or influenced LTTE remnants to strike against a nation which had the legitimate right to save its people from the decades long blood bath.
The international community, which takes a double acting stance, wanted to see this tiny nation and its people divided and those who 'invested' their knowledge, money, time, influential international links and all their energy- to prevent the LTTE's defeat- have cropped up in the post conflict era through various means - by issuing statements, through influence, filing Court cases, releasing videos and so on.
It is now the 'battle' against the pro-LTTE international threat that the government is engaged in.
The same leader, who committed and believed that destroying the LTTE was possible has to put his energy to defeat these external threats. President Mahinda Rajapaksa is committed to the cause and positive, that those who try to fix him and his men on false allegations would soon be shown the door.
He believes that an effective pro-Sri Lankan campaign is among several steps towards defeating pro-LTTE international 'residuals'.
This was highlighted by the President when he met a group of Sri Lankan expatriates from Europe and Australia at Temple Tress last week. Emphasising an effective pro-Sri Lanka campaign through a strong communication network to counter false publicity generated overseas by the LTTE against the country, he said expats could play a lead role in such a mechanism.
"It is the duty of our expatriates to counter this disinformation and build healthy public opinion in the West for Sri Lanka," the President appreciating the contribution made by Sri Lankans living abroad during the period of the conflict and urged them to use their knowledge, entrepreneurship and financial support to rebuild the country.
Sudden appearance
President Mahinda Rajapaksa made a sudden appearance wearing track bottoms, took regular visitors at Independence Square, by surprise, last Sunday. 'Oh my God that's President", many joggers who were stupefied whispered to one another.
The most protected citizen of the country walked leisurely, without his large security contingent which is armed with sophisticated weapons, along Independence Avenue, which was crowded with joggers on Sunday. This sent the message that the country was safe after many decades.
The President, after completing a meeting had suddenly suggested that he should take a stroll to enjoy and have a first hand experience of the freedom that he brought to the country after defeating the LTTE. Having a half-an-hour walk, with his warm smile, President Rajapaksa stopped for a few minutes to talk to other joggers who frequent Independence Square and posed for photographs with them.
They thanked the President for bringing peace and freeing the country from the clutches of LTTE terrorism.
Three-days after his walk at Independence Square, President Rajapaksa, announced the lifting of emergency regulations in a special announcement in Parliament.
"From the time when terrorist activities ended in May 2009 until today there have been no reports of any terrorist activities, We have also introduced internationally recognised laws and regulations to avoid malpractice in monetary activities, exchange of goods, drug trafficking, banking and financial risks carried out by terrorists engaged in further nurturing terrorism. In addition to strengthening national security we have through these laws and regulations worked towards pre-empting opportunities for terrorism to emerge. We are proud to mention that our government has succeeded in protecting law and order and peace through rules and regulations approved by Parliament based on the Constitution. Therefore, it is our responsibility to protect the democratic freedom achieved after many years".
It is under normal law that state administration, police and the judiciary takes action against those who take the law into their own hands and disturb peace and stability. This is a great victory achieved by the people.
This success was possible because our heroic soldiers accomplished the humanitarian operation with dedication and in an exemplary manner, and the people of this country extended their generosity and patience. We laid the foundation to strengthen our county as a rising democracy in Asia.
For several years this Parliament has extended emergency regulations every month. Some voted against it while some abstained. This august assembly is enriched by representing all political parties in the country.
Through this representation we can consider the Speaker and members of this House numbering 225, as a great asset that bring together the multiplicity of views in the country. It is nurtured by all ethnicities and religions as well as those who hold liberal and progressive views.
Experience
All of them have gained wide experience in the recent past. Among these representatives are about 40 young members. We have for the first time an opportunity to find solutions to problems in our country within a democratic framework, without any influence from terrorists. Therefore, on behalf of the people of this country, I request Parliament to grant this opportunity to them, through Parliament.
I would like to present to this august assembly, the proposal to do away with the Emergency Regulations for administrative activities to function democratically under ordinary law. This is because I am satisfied that there is no longer a need for extending emergency regulations for the administration of the country now.
Therefore, I propose not to extend emergency regulations", he told Parliament.
President Rajapaksa met heads of State banks last week at Temple Trees to get their ideas and suggestions to prepare the Budget 2012.
The chairmen of state banks presented information on the economic progress achieved by each bank by middle of this year to the President and had discussed as to how the country's State banks should adapt themselves in line with structural changes in the country expected by the Government by 2015. The UPFA Candidates including mayoral Candidate, Milinda Moragoda pledged before the President to launch election propaganda activities peacefully and cordially, in accordance with law and order.
The President requested candidates to work together to secure victory of the Colombo Municipal Council which has been an opposition party stronghold for the last 50 years.
Meanwhile, several Judges who alleged that they lost their positions unjustifiably during 1999 to 2009 also met President Rajapaksa. They informed him that over 42 judges were compelled to retire on the influence of former Chief Justice Sarath N. Silva and some of the retired judges had even committed suicide. They also informed President Rajapaksa that some others suffered mental and physical shock following their ignominious retirement.
They requested the President to initiate an inquiry into the situation of the judiciary between 1999 and 2009 under the then chief justice and take action to redress their grievances.