Move to help displaced people in the North:
UN-HABITAT launches $ 28 m housing program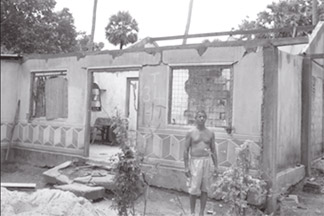 A house destroyed due to terrorism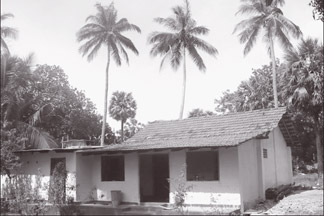 After renovation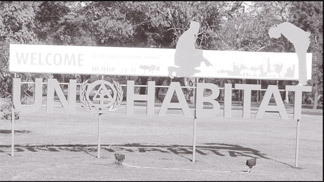 UN-HABITAT in Sri Lanka is successfully implementing its USD 28 million housing program to help people in the North who have been displaced due to terrorism. The program is funded by the European Union, AusAid, and Swiss Development Corporation.
UN-HABITAT is helping to build 4,400 new houses in the North to be presented to civilians who were rescued during the 2006-2009 humanitarian operation. Its Sri Lanka office is making every effort to find better living conditions for displaced Northerners following an invitation by the Presidential Task Force for Resettlement, Development and Security in the Northern Province to assist in the permanent shelter and infrastructure recovery in the province.
Permanent housing is the basic foundation for those displaced to rebuild their lives. To achieve these goals, UN-HABITAT has launched an "owner-driven" housing program where which the families themselves will have the main say and role in building their new homes. The program is due to be fully completed in two-and-a-half years.
A conducive environment now exists in the North for people to live in peace and the families will be resettled in their original places of residence after the Security Forces eradicated the three-decade scourge of terrorism. More than 50 villages have been identified for assistance under the new program which would see complete reconstruction of 2,200 houses which were destroyed. This is apart from their undertaking major repairs of another 2,200 damaged homes.
According to the United Nations, Sri Lanka has an opportunity for long-term peace and sustainable development, and timely assistance in re-establishing these families in sustainable settlements through permanent reconstruction of their houses will provide them with a sense of safety, security and dignity.
Technical assistance
Inspired by its previous experience in providing over 10,000 houses for the survivors of the 2004 tsunami devastation, UN-HABITAT seeks to empower the beneficiaries to be in charge of their own recovery process.
Field-based UN-HABITAT teams will provide technical assistance and guidance for reconstruction to all beneficiaries. Vulnerable groups such as women-headed households and those physically handicapped will be given priority assistance to ensure their safety and welfare.
Many families are grappling to prove their ownership of land due to documents being destroyed during the period of terror unleashed by the LTTE, the now defunct terror outfit which was at one-time considered the most ruthless terrorist group in the world.
It is anticipated that over 1,000 families will benefit from the assistance to establish security of tenure. Over 600 youth from the beneficiary communities will receive training in construction skills with technical support under a Swiss Development Corporation initiative.
Acknowledging the generous financial contribution from the EU, AusAID and SDC, UN-HABITAT said that it comes at a critical moment in the recovery process in the northern part of the country.
The program was introduced to three Municipal Councils of the Colombo Core Area (CCA) in 1997 covering an area of around 75sq km with a total population of nearly 1.2 million. The area is the nerve centre of the country's economic activities and the Municipal areas are faced with the challenge of how best to respond to priority service issues such as solid waste management, water supply, environmental health, flooding and unauthorised construction.
The project will develop a sector-specific demonstration project in one Municipality area in Sri Lanka. It will focus on the involvement and ownership of the community in organising, delivering and maintaining basic urban services related to water and sanitation.
The project will serve as a basis for preparing a Municipal strategy on basic urban services and will be replicated in other cities in Sri Lanka.
Main activities
The main activities include selection of the municipalities, profiling, consultation, preparation of the project document for the demonstration project, implementation of the demonstration project, preparation of Municipal basic urban services strategy and a bankable scaling-up project.
UN-HABITAT Executive Director Dr. Joan Clos has hailed the agency's humanitarian staff and their colleagues working in disaster zone in many countries.
In a statement to mark the World Humanitarian Day recently, he said that disasters, wars and other crises affect millions of people every year in the Horn of Africa alone. Over 12 million people are in urgent need of humanitarian support and this figure is multiplied many times around the globe.
UN-HABITAT and the rest of the UN System last month commended the work of thousands of aid workers from every country, and in every affected country, doing their best to meet the needs ofthose affected by these emergencies. World Humanitarian Day also paid tribute to those who had lost their lives or injured while providing support to vulnerable populations in dangerous situations.
"I wish to take this opportunity to express my deep appreciation for the work of those of my staff who are part of this community of aid workers in all countries affected by conflict or disasters, while also recognising the many thousands of colleagues from other United Nations, Red-Cross and Red Crescent Societies, and Non-Governmental Organizations worldwide. On behalf of UN-HABITAT, I also reiterate our commitment to continue to work alongside our partners; adding value where we can by bringing our own expertise assist in the recovery of the villages, towns and cities impacted by these events," Dr. Clos was quoted as saying.