NCCSL changes Constitution
The National Chamber of Commerce of Sri Lanka (NCCSL), headed by Asoka Hettigoda changed the constitution of the Chamber to accommodate small and medium enterprises.
Hettigoda said that the constitution was changed to accommodate SMEs. He said they are given many concessions on their membership fees and on eligibility criteria for the National Business Excellence awards, the comprehensive awards scheme organised by the NCCSL to recognise and reward entrepreneurs.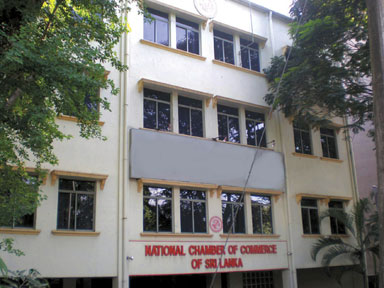 He said the chamber consists of 250 corporate bodies and 2000 SMEs and this combination is unparalleled for any chamber.
Hettigoda is taking the Chamber forward based on the themes of moving Sri Lanka from a production country to a medium technology country that will act as a hub for skills development and analyse the future of the country's trading partners.
The Chamber with more than 2,000 members is in a position to educate the entrepreneurs to elevate them from basic production to value added form. He said people should be sent abroad to acquire latest knowledge. He said that tax relief is necessary for high-tech research and development. He said that this is the way forward for Sri Lanka.
At present the country exports a lot of raw material but we should now try to move to at least a semi process stage which will earn us the extra foreign exchange.
With peace in the North and the East and a surge in cultivation there will be an abundance of rice and there should be technology to preserve it to reduce post harvest losses and this knowledge is required by SMEs as it will open opportunities.
The Chamber focuses on promoting local industries and when Sri Lanka becomes a middle income country, the SME contribution will increase to 80 percent while in other developed countries the SME contribution is over 90 percent.
Hettigoda said that they are initiating a program together with the Colombo University for entrepreneurship development. He said that they plan to be the hub for skills development as it is a must to be a middle income country and also be a knowledge hub to the region. In addition the NCCSL will launch a annual training calendar.
Traditionally, our trading partners were the West but now it has to shift to the giants of South East Asia and Asia. He said that the West is experiencing difficulties which has made them thrifty buyers while the Asian giants as well as the countries in the SEA is experiencing robust growth. He said the Chamber is Organising trade delegations and exhibitions to woo investors from other countries. He said the Chamber is planning to take two trade delegations to Bangladesh and Vietnam. The Chamber has a monthly meeting with an Ambassador or High Commissioner to educate members on regulations and the potential for exports in those countries. SG