Moratuwa Municipal Council :
Poverty allevation to be given top priority - Samanlal Fernando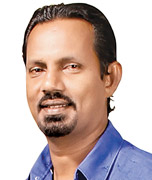 Moratuwa Municipal Council former Mayor Samanlal Fernando, with his 25 years of political experience confident of the UPFA's victory says that dedication is essential to extend a better service to the people. In an interview with the Sunday Observer he highlighted that poverty alleviation is a crucial factor in his locality. Following are excerpts of the interview:
Q: What is your strategy in conducting your election campaign?
A: We always promoted meeting people face-to-face and discussing their problems at their doorstep. It helps us to understand ground realities, rather than meeting a large group of people. So from the very first day, we carried our door-to-door campaign, met people and had discussions from dawn to dusk. It is the best method to understand the people's wants. Following the door-to-door visits every evening, we meet groups of people at village level too.
Q: What about the competition?
A: As far as I am concerned, I have no competition. The People of Moratuwa know what I did during my tenure and how practical the solutions were. We as the UPFA team in the Municipal Council can be proud of all the steps we have taken to upgrade the lives of residents in Moratuwa.
Not just in the past I will continue to serve the people in my humble way as I did in the past. In my tenure the Moratuwa MC became the best Municipal Council in the Colombo District in 2008 and 2009.
Q: What are your proposals to develop Moratuwa?
A: There are a few areas that need to be addressed in this locality.
Garbage disposal is a crucial factor which needs an organised solution. During my tenure the Municipal Council planned setting up facilities for generating bio gas and compost using garbage.
There are a few more steps to complete and it will be done if we are elected. We need to support traditional craftsmen of the area.
I represent this community as I am born and bred here. There are so many carpenters and craftsmen who need support to develop their industry. On the other hand, to develop the fishing industry we are discussing with the Ministry of Fisheries.
Temporary shelters people have built as their homes in this area need to be turned into permanent houses.
Through personal contacts I will get the monetary and technical support of the developed countries for this program.
I will get the support of international organisations that support developing the living standards of people living in such conditions. The completed Lunawa Lagoon development program has many benefits. Today the area does not get flooded due to the slightest rain. A similar project was started in Weresgama and it will be completed if I am elected.
Q: What is your pledge to the people?
A: I will continue to serve them and as a leader with a proper vision and dedication to make the people happy to live in Moratuwa.
---
People's involvement vital for development - Chandranath Fernando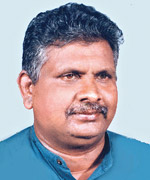 The United National Party Candidate for the local Government Election from the Moratuwa area, Dhammika Chandranath Fernando, Moratuwa UNP Leader, highlights the importance of a transparent administration in the Moratuwa Municipal Council. "Above all I believe that people will vote in a fair manner", Fernando said speaking to the Sunday Observer. Following are excerpts of the interview:
Q: How is the present election campaign going?
A: We focus on meeting people directly and discussing their problems to bring a sustainable solution.
Q: What is the response from the people?
A: So far it has been fine. I hope people will be more open in expressing their views.
I strongly believe people will vote in a just and fair manner.
Q: What needs to be done to develop the Municipal Council?
A: Before I became the Opposition leader of the Moratuwa Municipal Council I served as Deputy Mayor as well. When the SLFP won the MC there was a monetary deposit of Rs. 2 million. Today the entire Municipal Council is indebted by loans. Corruption needs to be curbed giving priority to services people need.
Q: What are your suggestions?
A: More people's involvement is needed to carry out development activities. If we give prominence to people's needs the community will participate in development activities. All activities need to be transparent.
Q: What do you propose for development work for Moratuwa?
A: Garbage disposal is the biggest problem for the people of Moratuwa. There should be an organised system. Garbage should be bought from the people and distributed to relevant industries to use in production. Community halls, and libraries need to be re-constructed making them available for the betterment of the people.
Q: What is your pledge to the people ?
A: I will deliver a 100 percent transparent service to the people with their compulsory participation.
I need the people to be with the development of the area.