Ex LTTEer reborn in Selvam:
Gokulan takes to acting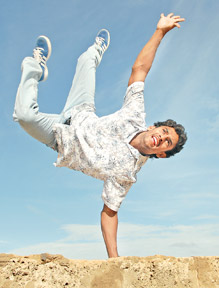 He held her soft hands. A chill ran down his spine and he started to shiver. He was transfixed for a moment and she was reluctant to believe that the young man in front of her wasn't 'dangerous', and surveyed him with suspicion.
The rough hands, which only held deadly T-56 weapons and was only used to killing whoever who crossed their path, had never felt the softness of a woman's hand. Brainwashed to hate people, the young man was unaware of the magic of love and care.
After much persuasion and guidance, 'Pushparaja' gradually transformed into his innate youthful nature, which was hidden, when he was made to become a killing machine. Ask him... he will reply saying "Ovu mama kotiyek' ( Yes... I was a Tiger cadre)".
But the truth is that Pushparaja is not a Kotiyek any more. Without covering his past, he has several reasons to be proud today. Yes ... he was a Tiger cadre but let's call him a 'rehabilitated Tiger', who is now a completely changed youth due to warmth, love, care and respect that was shown to him by the people of the South, whom he hated barely three years back.
What is common in Pushparaja and Gokularajan is that both were terrorists and were rehabilitated to be non violent. Pushparaja is the ex-LTTEer in the film 'Selvam' and Gokularajan is the ex-LTTE cadre, who acts as Pushparaja and most probably the only terrorist in the world who has turned out to be an actor.
"Mage dream eka lankawe honda naluwek venna (My dream is to become a good actor in Sri Lanka)" Shanthalingam Gokularaja (24) fondly called Gokulan by his friends said in fluent Sinhala. For youth like Gokulan and over 12,000 Tamil youth whom were brainwashed to kill and bomb and virtually lived in a blood soaked land, all their dreams were distant dreams as they were living on the edge of death since childhood.
Though Gokulan's father, Shanthan, the famous Singer in the North, was Prabhakaran's favourite singer, who sang at LTTE functions, the teenager didn't have any escape, when the terror outfit ran out of manpower. One day, when Gokulan was returning from school - Mankulum Maha Vidyalam - he was dragged by the LTTE Police and trucked away into a thick jungle training camp for weapons training. The boy who just started attending Advanced Level classes, was then attached to the political wing of the terror outfit after a one-month military training. While working in the political unit as he was singing well he was assigned to the 'Vidarshana' Unit which is the LTTE's musical unit which wrote songs and films to boost the morale of cadres. He also formed a band.
His two older brothers - one was a LTTE captain known as Praviraj- were killed in previous battles with the Army and his younger sister was among the teenagers whom the LTTE conscripted during the final stages of the end battle.
"I had no hope for life. I always thought I would die soon. Lots of my friends died while fighting and the LTTE had taught us that there was no value in our lives. They always said that those who sacrificed their lives for Eelam would be venerated", Gokulan, who learnt 'Karnataka music upto his Ordinary Level, said.
Until he met soldiers at the Rehabilitation Centre, the picture about the Sinhalese and the Army that was painted in his mind by the LTTE, was scary. " From my infancy I heard that the Sinhalese were our enemies and they are trying to wipe out Tamils. The LTTE taught us to take revenge from the Sinhalese. They told us that half of this country belong to Tamils and the LTTE would create Eelam for us", he said.
But.... it didn't take years for him to realise the truth - that the Sinhalese are there for the Tamils to share their happiness and sorrow as well. Gokulan who was recruited to the LTTE's baby brigade and ended up as a well-experienced LTTEer dreamt of becoming a popular and gifted singer like his appa.
Those dreams were shattered due to LTTE terror but are now surfacing in Gokulan's mind.
His sister who was given only five-days training also surrendered to the Army was rehabilitated at the Poonthottam centre for female ex-LTTE cadres. Now, united with his family in Mankulam, Mullaithivu, he dreams of building his house and earning a decent salary to help his 53-year-old father who still sings to make a living while being a diabetic. Working as an assistant at the Abinawa Academy run by the veteran film actress, Anoja Weerasinghe, it's amazing how fluently he speaks in Sinhala, which he learnt during his stay for one and a half years at the rehabilitation centre.
Not only was he able to change his life but thousands of youth like Gokulan are moulded to be valuable assets to the country through the well-designed rehabilitation process. " Instead of enemies, we found our parents .... brothers .... friends and true human beings at the rehabilitation centre. They tapped our skills and talents and always guided us on the correct path. We should pay our gratitude to the soldiers at the Rehabilitation authority for directing us in the correct path. If not for Lt. Col. Manjula Gurusinghe, there would be no actor known as Gokulan", he said.
Gokulan said he wants to do his best for the country and bring honour to Sri Lanka with his acting. " I want to learn music and acting. Anoja madam is the one who taught us to improve our talent in dancing and acting during the course where we were given voice training, meditation and yoga to improve our self confidence.
I am lucky to be guided by her and Sanjaya Sir. We all must thank army officers such as Lt. Col Manjula who filled the void of a father, guided and tapped our talent from the beginning and directed us to suitable paths to brush up our skills", Gokulan said.
He said he was surprised that he was selected for the film. Gokulan sought his father's advice before taking to acting and his father was in favoaur.
"I was so scared of the Sinhalese and thought they would harass me. But I met people who loved and took care of me during filming", Gokulan, was inspired to read more about Mahathma Gandhi.
Gokulan is one good story that goes to prove how uniformed men taught ex-terrorists to be non-violent by teaching them human values.... giving them respect and erasing their bitter past while tapping their hidden talent.
Gokulan, who sang and danced at the ceremony held to reintegrate 1,000 ex-LTTE cadres at Temple Trees in the presence of President Mahinda Rajapaksa two months ago, said he had a sleepless night as he had to perform before the leader who gave them the opportunity to surrender and secured for them a better future. Among his dreams now is to talk to the President to thank him for saving their lives.
" I found my life and I feel how lucky I am to see this beautiful world", Gokulan smiled.
How many gifted youth like Gokulan had breathed their last without ever blooming ?
---
Lt.Col Manjula Gurusinghe
Rehabilitation co-ordinator for Vavuniya: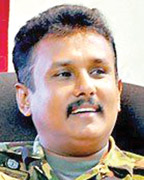 "In this rehabilitation process, where nearly 12,000 ex-terrorists were rehabilitated, we didn't have barriers but we had strong bonds with them. We never asked them about their past, unless they came up with their stories under the LTTE and their involvements. Except the initial inquiries about their involvements with the outfit at the stage of profiling them, we never interrogated them.
When the first Commissioner General of Rehabilitation Maj. Gen. Daya Ratnayake designing the process we found all the categories of cadres from fighters to cooks to barbers. First we categorised them according to their skills and designed the programs to brush up those skills so that they could stand on their own feet once they are reintegrated.When they surrendered and were brought to us, they never trusted the soldiers and the Government. Everyone of them thought they would be killed the next day. It was a daunting task for us to convince them that they would be taken care of by soldiers. We wanted to create bonds within us and we tried to become their parents, friends and treat them like our own sisters and brothers. Basically we created a home for them. We ate... played and learned together.
It was very hard to erase their past as the terrible incidents were haunted them. They pleaded with us to help them to forget their past. We started religious programs, meditation and yoga and also lots of recreational activities to keep them active to forget their past.
We always reminded them that they were assets to the country though they mistakenly took up arms.
We found some talent in each and every one. There are many who excel in their fields. Gokulan is the best example of Lanka's success story on rehabilitation of former terrorists
---
Sanjaya Leelaratne, Director of Selvam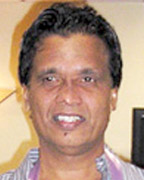 'Selvam' has won two awards at the Kuala Lumpur U.D.C Film Festival in Malaysia and bagged the awards for the best Asian film for 2011 and also the award for Best Upcoming Director.
'Selvam' in Tamil means prosperity and that is what our country, which suffered and was backward for decades long terrorism needs. LTTE terrorism caused untold damage to human lives, unity among communities and also the future of the country. I wanted to direct a film to do a post mortem of that deadly terror.
'Selvam' is all about that", Leelaratne said." There were over 40 youth who were undergoing rehabilitation, who were selected and out of which had to be chosen the actor for 'Selvam' to do the role of a rehabilitated ex-LTTE cadre.
These groups were trained by Anoja and at that time they had undergone a good training on how to adjust their lives and also their talents in singing and dancing. We selected Gokulan to be the actor and he is a talented youth.
"At the beginning feared to face the outside world as he was a former LTTE cadre. The day he was to commence acting he was warmly welcomed by the film crew. The very first moment when he was to hold the hands of actress Shalini Tharaka who plays the role of 'Medhavi' he was frightened and had a pale pallor.
I had to 'brainwash' him saying the past is over but that he was someone who had talent. We had to inspire self confidence to face the outside world. We were able to bring him back to normal in three-days. Gokulan is just one talented youth whose future would have been shattered with Prabhakaran's terror.
For the last three decades the unique talent of thousands of youth in the North and East were buried under the terror-filled regime.
The only 'award' they got was the cyanide capsule hung on their necks.
Gokulan was a talented guy and we honed that talent. A lump of clay will not make a sculpture unless the sculptor carves and reshapes it carefully to make it unique. That's what these talented youth, who were made to be rough, needed to brush up their skills"
"I am fortunate to be able to direct a terrorist to become maybe the first terrorist to take to acting.", he said.