Lankan Embassy promotes cookbook in US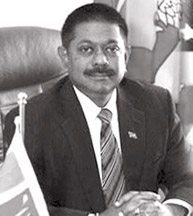 Sri Lanka's Ambassador to the USA Jaliya Wickramasuriya joined Washington-area guests last week to celebrate the release of Rice and Curry, a new cookbook by Sarath Fernando, a Sri Lankan-American author who has worked to popularise Sri Lankan cuisine in the United States.
The cookbook, was recently honoured in The New York Times 2011 List of Notable Cookbooks as part of the Times' Holiday Gift Guide.
Fernando attended Harvard and Colombia Universities, and today lives in Baltimore, but travels frequently, including many trips back to Sri Lanka. His cookbook fuses both worlds, updating old-world recipes that call for exotic Sri Lankan ingredients.