Four wheels, not two or three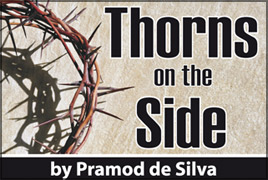 If Man's greatest invention was the wheel, his next greatest invention was perhaps the motor car. Invented over 125 years ago by the founder of the Mercedes Benz marque, the motor vehicle has literally travelled a long way since then.
Sri Lanka imported its first motor vehicle in 1905, when the macadamised road network was still taking shape. Today, there are more than three million motor vehicles of all shapes and sizes on our roads. In fact, the latest statistics reveal that every one in five Lankans owns or has access to, a motor vehicle, at least a motorcycle.
The Motor Traffic Department last week revealed that 412,225 new motor cars, three wheelers and motor cycles have been registered up to November this year. This was an increase of 31.7 per cent from 281,523 vehicles registered during the same period last year.
Vehicle registrations hit a new high with the number of motor cars registered with the department crossing the 53,848 mark up to November this year, up 65.7 per cent from 18,489 cars during the same period last year. More than 127,000 three wheelers have been registered. Motorcycle registrations had shot up to 232,120 units this year.
Encouraging
These are encouraging numbers that paint a healthy picture of the local transport sector. More people are becoming vehicle owners, which is a sign of personal prosperity. The Government has made it happen by sharply reducing taxes and duties on a range of vehicles including hybrid and electric vehicles, though we believe that the authorities could do more to popularise the purchase of brand new cars and other vehicles.
The tax cut on hybrids was one such move and the proposed decision not to allow imports of cars used abroad for over one year can be cited in this respect. We hope that the import of reconditioned cars would eventually be stopped altogether.
However, it is still difficult for most people to buy a motor car as their first vehicle, because even a small-engined car (sub 1000 CC or 1 litre) is priced between Rs.925,000-Rs.1.7 million. This is why most people opt for motorcycles and three wheelers, which carry a 'price' in terms of safety.
Specification
The authorities should therefore look at lowering duties further at least for sub 800 CC cars that conform to a certain size and specification. India already has similar laws in place, whereby lower excise duties are imposed on smaller cars. There is huge potential here for an affordable small-engined, small car, judging by the success of the Tata Nano, even at a price that is much higher than in India.
The goal should be the migration of motorcycle and three wheeler owners to very small cars initially. It is human nature to desire better things.
If you have a motorcycle or scooter, the next step is obviously a car. Every time I see a motorcycle with a father, mother and around three kids hanging on for dear life, I shudder and think how good if they can have a car, even a small one. Let's be frank, a small car (even with no airbags or ABS) is safer than a two-wheeler or a three-wheeler.
With India's Bajaj also entering the small car segment with the all-new RE60 unveiled this week at a very affordable price point, the writing is surely on the wall especially for the three wheelers.
The fact that the world's leading three wheeler maker is spearheading this move is especially portentous. Moreover, the new small car taxis are already doing well here. The authorities should consider granting duty concessions to taxi companies that wish to buy say, 50 or more cars to be used as taxis.
Trouble
Twenty years from now, I frankly do not want to see any three wheelers on our roads. They have caused enough trouble already and are not consistent with the image of a country that aspires to become a leading Asian economic hub. The latest move by Bajaj has come at the right time.
There are many people who can afford the Rs.400,000 needed to buy a three wheeler, but in most urban areas there is a certain stigma attached to three wheelers. They do not wish to buy a motorcycle either, but they would welcome the opportunity to buy an ultra-cheap car. This is another untapped market that a small car manufacturer or importer could exploit, given the availability of more concessions.
Although a record number of three wheelers had been sold, it is doubtful whether most of them are used as 'personal' vehicles per se. Most owners employ another person to use the three wheeler purely as a taxi, which takes away its value as a personal transport option in the strict sense of the word. There is no doubt that this generates employment and helps the economy, but the factor of ownership is not properly reflected in the end. However, there are people who use it for both purposes.
Advanced
We have said this before and it is worth repeating – a country should have a very advanced public transport system regardless of the number of personal vehicles in operation. People are not going to stop buying vehicles even if we have a metro, air-conditioned buses, elevated skytrain, electric trains etc.
But a very good public transport can make you leave your car at home, because the former could be more convenient. This may seem a contradiction of terms, but just think of the hassle called driving and you will be grateful for a ride that takes you out of the driving equation.
A case in point - I am already tempted to use the new luxury expressway bus service the next time I travel to Galle. Instead of driving, I can just sit back and relax as the world goes by.
A two-pronged approach is needed in this case. The Government needs to encourage more people to buy safer, better vehicles at their price points, while investing heavily in a better public transport system. Both are needed for a vibrant, fast moving economy that shows no signs of slowing down.