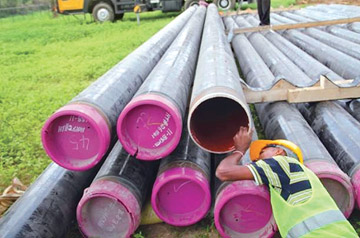 Inauguration planned for this year :
Mattala int'l airport on track
With Sri Lanka aiming for a golden double of one million tourists and one million US dollars in revenue from tourism, and the country targeting nearly two billion US dollars in foreign direct investments and many developments taking place in Hambantota, a second airport was a crying need for almost a decade. Several new airlines too want to include Sri Lanka in their radar while the existing operators want to add capacity; hence, a second airport was a long-felt need.
Though a second airport was discussed for many years, lack of finances and proper planning was a gray area. Finally, President Mahinda Rajapaksa secured a loan of US$ 190 million from the Chinese government to get the project off the ground.
Realising the importance of this project and its financial viability, Airport and Aviation Services of Sri Lanka, motivated by its Chairman Prasanna Wickramasuriya, also invested US$ 19 million for the project to get off the ground.
The construction of Sri Lanka's second international airport at Mattala is right on track and would be ready by the end of this year. Aviation Minister Priyankara Jayaratne is also keen that this project is completed on schedule and is monitoring the progress and wooing investors and airlines.
The biggest advantage this airport has is sea and air cargo transshipment with the Hambantota Port a few kilometres away. The proposed International Container Terminal with all modern facilities is another advantage to develop Hambantota as a cargo hub, opening many opportunities to investors.
Investment opportunities also exist in direct aviation related ventures such as aircraft MROs, aircraft painting, and flying schools as well as in related trades such as hospitality, tourism, freight forwarding and courier services.
The Mattala airport will also stress on having 60 percent of flights for cargo and 40 percent for passengers; these ratios will also be increased with the passage of time.
Hence, the airport will be used as a principal cargo hub where vegetable and fruit exporters in southern Sri Lanka will get an opportunity to export their perishable produce to the Gulf with the minimum transit times. Tourists who will arrive in Mattala will also have minimum transit times to holiday destinations such as Nuwara Eliya and Arugam Bay.
Environment friendly
Chairman Wickramasuriya said the airport would be the only environment friendly airport in South Asia and the Government would be targeting "Green Status" as well.
The airport, in the first stage, would have an 800-hectare block of land while the second phase will be built on the remaining 1,200 hectares. The new airport will target the arrival of a million passengers annually and the runway will accommodate even the state-of-the-art A-380 aircraft, which will be 3,500 feet in length and 75 metres in width.
The main areas that are included for the airport are passenger terminal building and control tower, cargo building, fire and rescue facility, navigational and landing aids, visual aids and airfield lighting, meterological equipment, water supply and fire fighting system, power supply, waste disposal, car park and access roads, telecommunication and landscaping.
Construction of external access roads, external water supply pipe lines, two power sub-stations, a main station and fire service pumping station is now in progress. The construction of a sewerage treatment plant is also progressing. The construction work is carried out in accordance with international standards in the airport and aviation industry such as ICAO specifications for Code 4F.
Under the second phase, airport and aviation sector related facilities will be established.
Luxury hotel
Accordingly, a servicing and repairing centre for aircraft, hotel and recreational facilities, a pilot training centre, aircraft maintenance hub, a private jet parking hub, technical training centres, a full length parallel taxiway and other facilities will be established. The construction work of a 200-room luxury hotel near second international airport in Mattala was launched under the patronage of Speaker Chamal Rajapaksa, Minister Priyankara Jayaratne and Parliamentarian Namal Rajapaksa. This is the first star-class hotel to be constructed in the area and is to be followed by more hotels to cater to the tourists and visitors to the other projects in the district.
Officials of Uva Leisure Resorts said the four-star hotel will be built as an 'eco-friendly paradise', focusing special attention on the environment during the planning of construction. The hotel will be completed with modern amenities and will include a rooftop swimming-pool, gymnasiums, auditoriums, squash and tennis courts, mini golf area, kiddies play area and a coffee shop.
"After the construction of the airport, one million passenger transactions are expected annually through the airport. The expected air cargo transaction rate per annum is 45,000 mt. while the expected aircraft movements rate will be 30,000 per annum. The airport will provide around 2,000 direct employment and a considerable number of indirect employment opportunities, Minister Jayaratne said.
He said in a bid to make Mattala more viable, they have already accepted proposals to set up pilot training schools and aircraft maintenance and repair facilities. SriLankan Airlines Chairman Nishantha Wickramasinghe said they would establish an aircraft maintenance centre along with an international player. Minister Jayaratne said they have already received many positive inquiries from local investors about launching more domestic flights to Jaffna and Trincomalee. "We are currently evaluating these proposals," he said.
The Minister said Mahinda Chinthana clearly spells out that Sri Lanka would be made a regional aviation hub and that the airport was a key to achieving this target. He said their aim, as spelt Mahinda Chinthana, is to make Sri Lanka an aviation hub and the opening of the second international airport in Mattala would take the country closer towards this goal.