Cobbler, cobbler mend my shoe...
Cobbler, Cobbler mend my shoe Get it done by half past two Stitch it up and stitch it down Then I'll walk around the town...
This is the refrain of a well-known nursery rhyme, now we need these cobblers to mend our shoes but with police clearing the pavements of vagrants, they are rarely to be seen. It is a well-known fact that cobblers render a yeoman service but of late they have no proper place to ply their trade.
The Sunday Observer spoke to a cross section of cobblers and they were all lamenting that they were carrying out a trade which causes no hindrance to anyone but the state does not recognise this, they say. All cobblers they say are self-employed with no assistance ever-being given to them from the state.
Their only plea to the state is to permit them to ply their trade without any hindrance and if the government could locate them in a permanent spot like in the case of pavement hawkers , then they say this will solve their problems to a very great extent.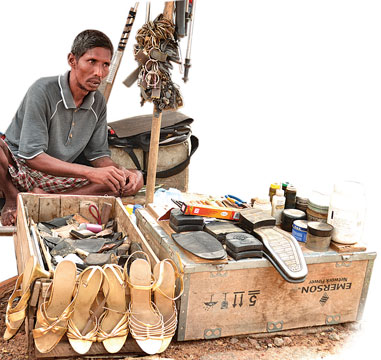 The `Oxford Advanced Learner's Dictionary' describes the word `Cobbler' as a person who repairs shoes and slippers, but other dictionaries refer to shoemaker as being the person who mends shoes.
Cobblers lead a pathetic life. They do not have permanent places to carry out their business, and are not protected by rain or by the sun. They have no insurance, medical or accident coverage. Cobblers repair not only shoes and slippers, but umbrellas and bags as well.
Cobblers are engaged in their trade at bus stands, near hospitals, schools, market places, railway stations, at junctions and under shady trees.
Legend has it that shoes of soldiers in the American Army were repaired by the elders of an American tribe , called ' Cobblers'. The tribe 'Cobblers' was living in the Southern part of America during the early part of the 19th century. They killed animals for their livelihood. The hard skin, they removed from animals was used to produce clothes and slippers. A platoon of the American army during their routine in this tribal village had spotted old men mending clothes out of hard skin of animals.
The legend further says that cobblers thereafter gradually practiced the 200 year-old art of mending shoes and had done a tremendous service to people by repairing shoes, leather belts, bags and hats.
The Sunday Observer last week met cobblers in Colombo and the suburbs. Although a large number of cobblers were seen in the recent past at main junctions in Colombo, only a few of them are now engaged in this trade.
According to several cobblers, they were asked to vacate by the Police. As a result, it is difficult to see a cobbler mending shoes in the city.
A 53- year old resident of Rajagiriya, H.D. Lesli said he has been in the shoe repairing business for the past ten years.
"I was hiring a trishaw later I had to give up that job since the income was insufficient to support my wife and two children ," He said unlike many other jobs, shoe repairing could be done independently without others help as no one interferes in their work other than for harassments from the police.
He requested the authorities to instruct Police not to harass shoe makers, since they are engaged in a silent and valuable job.
A father of three, 65-year old, James Fernando who repairs shoes near Sampath Bank, Rajagiriya said Local Government authorities should give them protection to carry out their shoe repairing business.
He requested the authorities to instruct Police to allow cobblers to do their business as not only Police but security personnel too chase them.
He also said not a single cobbler is now seen in the city and many people, especially office workers found it difficult to get shoes and slippers repaired.
S. Muthu Lingam of Dematagoda said he has been in the shoe repairing business for the past 26 years and had no permanent place to carry out the trade. He requested Police to allow them to carry out their business activities without harming them.
He also proposed authorities to allocate a spot for cobblers, so that they could do their business without any hindrance.
S. Ananda of Rajagiriya said cobblers are self employed.
He blamed Police personnel for their arrogant attitude towards cobblers who were doing a peaceful job.
A 53-year old shoe maker Mauran Kandasami who repairs shoes for students studying at the Colombo University and Royal College said he earns about Rs. 900 a day and it was more than enough to buy food and medicine for his family of four members.
He said the daily income drops during rainy days and during school vacation and they do an alternative business such as collecting old newspapers and used bottles.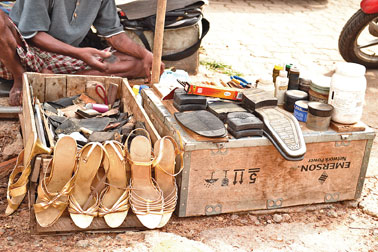 When asked to relate any unforgettable incident while being engaged in the shoe making trade, he said a group of foreign tourists recently had their leather sports gear and shoes repaired and offered him a Rs. Five thousand note.
A 31-year old shoe maker Aruna Priyantha of Bambalapitiya said he earns money not only from mending only shoes , but also polishing shoes of office workers.
He said the Colombo CMC had several occasions promised to provide places to carry out their business peacefully, but so far these promises have not been fulfilled.
He said he visited Tamil Nadu state recently and said the Government had allocated a separate town at K-Nagar for cobblers to do their business peacefully.
He also requested the CMC to allocate them with suitable spot for over 400 cobblers living in the city and suburban areas..
A shoe maker, G.P Ranasinghe who has a mobile shoe repairing shop said he travels from places to place in Colombo and repairs shoes.
He said he earns about Rs. 2000 a day and said his mobile shop helps him to carry out the business without any harassment of the police.
He also requested the Colombo MC to listen to their grievances, so that the authorities could understand their problems. A 59- year old shoe maker, P. R. Sirisena near Thotalanga Junction in Colombo said a group of cobblers in Colombo had planned to meet President Mahinda Rajapaksa to apprise him of their grievances.
"I wish the President will help us like he helped pavement hawkers to carry out their business at the newly constructed shopping complex near the Bo-tree junction in Pettah.