Waters Edge flood retention tank development :
Creating a new waterfront culture
* Restaurants and high end shopping malls
* Landing dock for Sri Jayawardenapura
*Cruise dining opportunities
*Amphitheatre near Parliament drive
The lush greenery and the serene waters of Diyawanna by the side of the parliament drive between Rajagiriya and Battaramulla has become a captivating sight for many people who are passing this way daily to and from work in the hustle and bustle of the Colombo city.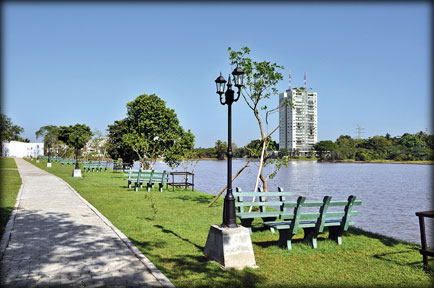 For many months people saw how that narrow strip of Diyawanna oya spreading its presence to the nearby greenery with heavy machinery engaged in a 24 hour job in all seven days of the week uninterrupted to make a big difference in the surrounding. Now exactly one year after the commencement of that work people see a vast difference in the surrounding giving them a soothing effect to their eyes to think afresh of their daily affairs. So that project which was initiated as a quick solution for the flooding in Colombo and suburbs with the creation of retention tanks are slowly turning into one of the major attraction in the city now.
Sri Lanka Land Reclamation and Development Corporation (LRDC) now operating under the Ministry of Defence and Urban Development Authority has completed the water retention and flood control under the phase one of the project by December 31 as scheduled.
"With the completion of the water retention and flood control which we did with the man power and all the facilities made available we baked a rich cake. That cost us a lot. Now what we are doing is the icing part of it. That gives more impact which doesn't cost that much", explaining what is going on at Waters Edge retention area development project at Battaramulla, Harshan de Silva Chairman of the Sri Lanka Land Reclamation and Development Corporation said.
It was a concept of the Secretary to the Defence and Urban Development, Gotabaya Rajapaksa to keep all these dredged and developed, unattended the LRDC along with the Sri Lanka Navy continued with beautification or the icing part of it. "Secretary Defence continuously and categorically told us not to simply dredge and leave water fronts but to give something for the community also through that waterfront by making it an attractive and useful one", he added.
An amphitheatre by the side of the parliament drive facing this water body was created under this concept to cater to the common masses.
"Amphitheatre is open for anybody who wants to perform something or use for some public activity. They can meet us and get permission to use it. There will be a nominal fee for the electricity and other facilities. But it is as good as free", he added.
Through this project the LRDC is focusing on the ordinary people and, people can have their function or during New Year, Christmas, Vesak, 31st night or any other function. It also can be used to have giant TV screens during cricket matches or any other event.
The lawn by the side of the amphitheatre is also open for the common people to come at any time and stay till any time with their families or for self relaxation. .
"But the users should not take undue advantage by creating chaos and making other men suffer. For that we have created a few guidelines for the betterment of the common masses making use of the place. Accordingly there should not be mobile stalls there", he added.
The walkways created has also facilitated the people specially in an urban context to jog, walk, run cycle and or do whatever they like making use of the facility.
"You can come with your family members or friends or with your pets and spend time at the lovely water front. The soggy green area across the water front will provide a fresh and eye soothing environment for the users", he added.
Apart from that, steps have been taken to put some sails on the water just to please the eyes of the people visiting there.
"When you see nice things you can refresh your mind and the tense and disturbing ideas also slowly disappear. For that, in a very subtle way a slow message is sent across through architecture through, town planning, through urban designing , into the society at large", Harshan de Silva who is an architect by profession said.
While the major part of the area is set for the human being a few islands have been kept for the wild life at the centre of the lake.
But to keep the area intact from encroachers living adjoining the LRDC steps have been taken to cut peripheral canals.
"If you leave a piece of land people come and encroach on it. Therefore we always cut peripheral canals in all these retention areas", he added.
When developing the Waters Edge retention tank, the LRDC also came across a problematic situation due to the presence of a garbage dumping site and land fills which have not been managed properly.
The filling of these lands has not been done properly and when Waters Edge dredging continued, a water quality test proved that the quality of water was poor. Though people used to bathe in the upstream, in the downstream the water quality was getting deteriorated and it was becoming worse.
"So when we checked on it we detected a huge garbage dumping yard which had been there for a couple of decades as the cause for the water contamination", he added.
Then steps were taken to avoid water being contaminated as an additional project.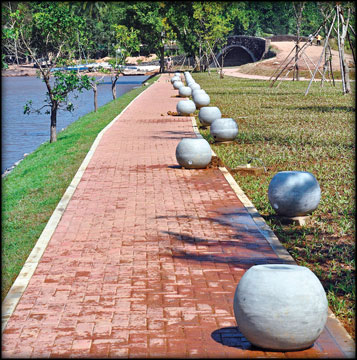 "We had to do that. It was not possible for us to clean the entire area as it was a vast area. So what we did was what we had lost from our retention from that side we dredged it from the side where the lake is. Now we are putting good solid earth where garbage was earlier and trying to utilize that space at least for some development", de Silva added.
"That was the phase one of the Waters Edge project which we started in 2011. Our target was to finish it by December 31, 2011 which we managed to do and we held the first musical show on December 31 night and that part of the project was open for the public", he added.
"This project was on time and within the budget. That was something I thought was very good. I never left any room for error. All the work what we did were monitored by us our engineers, supervisors. We also should thank the Sri Lanka Navy. They did all the external part of the project with the beautification of the area", he added.
"This is the government sector attitude now. This is a very clear message given in a very subtle way. This is how we should work. Those who engage in the project are government servants. We also have Trade Unions in this organisation. But I am very happy to say that when there is a good leader, there is very clear cut directives from top to bottom. All the trade unions get the message and every body irrespective of their political affiliations got together and did this job. It was a trend setter for the Government sector", he added.
With the completion of the phase one of the Waters Edge project was on schedule, the phase two of the project also commenced with the dawn of the year 2012
"Now we have won our race at the first phase and we found the reasons for any mistakes and our drawbacks. We know our strengths and we are working on those strengths in the year 2012 to complete the second phase", he added.
"At the next stage what we have to do is to interconnect our work with other organisations like SriLankan Airlines", he added.
SriLankan is looking for places to land sea planes and at the moment they are landing at Kelani river as the LRDC finished the 1.3 long and 60 metres wide Dadugam Oya strip for them in Gampaha district.
That was the starting point and SriLankan is looking at bringing overseas tourists to Katunayake and to Dadugam oya. From there they are being airlifted to wherever the destination they like. It can be either Sigiriya, Hambantota, Iranamadu. Koggala wherever the areas where water bodies are.
But, Colombo the commercial capital, and Sri Jayawardenapura, the administrative capital did not have two landing strips.
"Therefore we thought of East Beira as our runway for the Colombo area and Waters Edge as the runway for the Sri Jayawardenapura. That runway will be dredged perpendicular to what we have done", de Silva added.
Accordingly, all hillocks in the waters edge lake will be removed as they take most valuable space where water can be retained. When they are removed water will flow into that area.
"So flooding is controlled and we are getting additional support services to have a runway for the SriLankan and a helipad for the Air Force for their helicopters", he added.
Along with this program the bridge across Diyawanna oya on the Parliament drive will also be widened.
"The bridge that we have here is very small and a huge amount of obstacles creats huge bottlenecks for the flow of water. Water from the upstream in the parliament side doesn't flow because of this. So we are going to widen this bridge three times to what we have now. So it will be a huge, slightly elevated unobstructed bridge where even boats can go underneath", he added.
With these developments the area will further open up for some restaurants and boutiques where you have lots of high end shopping and restaurants.
The huge water front to be created at the second phase of the project will also include some villas which are going to be built on water, giving a new concept for tourism.
"We know that we are short of room for tourists. When we say room, Villas can also be rooms. When we have operators like Waters Edge which is run by the UDA and outsourced to some other organisation or any other party, we can manage these villas", he added.
"We will create a new water front culture, when developing these water bodies. For this, we are not pumping money.
What we are doing is we give the concept, we give the planning and designing and monitor it. Private sector also come in and participate and build these kind of villas and small restaurants", he added.
"We are the authority and we will never let sewer or waste water into the water body", he added.
The concept of having villas enable people who want to spend a weekend leisurely beside water, just five minutes drive from Colombo and can have the opportunity to watch sea planes land and take off from the windows fronting the runway.
In addition, camp sites will also be created over looking the runway and for the children to come and learn about the environment."Similarly we create some eco-parks for the children to come and study at campsites. Now people go either to Kukuleganga or Boossa or places like. We are going to have this in the heart of Sri Jayawardenapura", he added.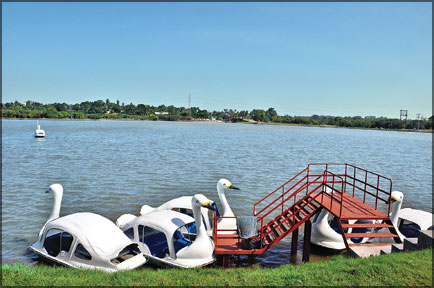 "It will be a kind of waterfront campsite which you will see in any other country, but not here earlier. So whatever we lacked in the form of experience we are creating here. Of course we are not spending state funds for all these things.
We are spending for the development of the water body, the rest of it has to be a joint venture with private entities and we will give them the guideline and the design of that and they can be a part of it on profit sharing basis", he added.
"We also get money to maintain this place, because everyday this won't be under the Ministry of Defence and military personnel won't be there to do all these things. This has to be self sustaining and a maintenance mechanism has to be evolved for the corporation to survive", he added.
"Therefore we will be giving various kinds of licenses for boats and it will be for a fee for using this water body, like the way people pay a toll when they are using the highway. Similarly a private sector company can come and place their boats paying a fee to the LRDC", he added.On certain areas motor boats are allowed and on certain areas only non-motor boats are allowed because of the pollution factors.
"Then we will have cruise dining where people can come and dine on these boats. There will also be opportunities for tours creating water bodies all around and connecting them each other for water related activities.
In Thalawathugoda we are creating such place for the people to go like in Madu ganga creating islands all over, for the children to study the fauna and flora", he added.
"There will be quite a lot to offer. This is just a start and may be five percent of the total water front development", de Silva added.
Through the development of these water bodies environmental impact will be positive. "When you are filling land there may be an environmental impact. But we are not going to create this entire city with only water.
The area will consist of water and greenery both. We are doing a balance in the water bodies and wherever we can maximise water retention we will get only those areas leaving natural beauty. We are not going to touch the greenery", he added.
Therefore in keeping with all these factors the LRDC is determined to complete the second phase of the Waters Edge development in one year.
For the infrastructure it will need one year but for the villas and others we will have to get investors and it will take another one year. By 2013 we will see the Secretary Defence realise his dream, he added.