Indo-Lanka trade talks in March
India and Sri Lanka are keen to resume talks on the Indo- Sri Lanka Free Trade Agreement (ISFTA) and Comprehensive Economic Partnership Agreement (CEPA) in March, said Ministry of Trade and Commerce sources.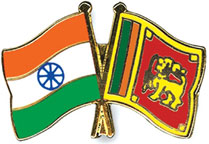 Indian Trade and CommerceMinister Anand Sharma said that he is likely to lead the high level Indian business and official delegation to the Sri Lanka Expo 2012 in March. Both countries agreed to dedicate the forthcoming session to pending matters pertaining to the Indo-Lanka FTA and Indo-Lanka CEPA.
Being the first FTA for India and Sri Lanka, the 1998 Indo – Sri Lanka Free Trade Agreement carries substantial sentimental value for Sri Lanka.
"Both countries can play a major role in elevating Indo-Sri Lanka economic relations from the current level to a much higher level" Trade and Commerce Ministry sources said.
The private sector is upbeat over the successful outcome on Sri Lanka's show at Partnership Summit 2012, in Hyderabad.
The 18th Partnership Summit 2012, was attended by high-profile ministers from several countries and a large number of industry leaders, representing 47 countries.
Minister Bathiudeen led the Sri Lanka delegation to the Summit. Apart from officials of the Ministry, the Department of Commerce, the Lankan delegation included representatives from Sri Lanka's private sector (those engaged in imports, exports and investments with India) as top apparel maker Brandix Lanka Ltd (which has garment manufacturing facilities in Andra Pradesh providing employment to 14,000 Indian nationals), International Foodstuffs Co (Pvt) Ltd, Mushan International, a top Lankan gem exporter to India and elsewhere, and E-W Information Systems (EWIS).
Trade relations between Sri Lanka and India marked a historic milestone with the signing of the Indo–Sri Lanka Free Trade Agreement or the ISFTA in 1998, being the first FTA for India and Sri Lanka, the ISFTA also carries substantial sentimental value for Sri Lanka.
Following the ISFTA, which became operational in 2000, trade between the two countries increased in an unprecedented manner. The value of two-way trade had grown from about 650 million US dollars in 2000 to over three billion dollars by 2010. It will reach four billion dollars very soon. The Indian FDI started moving into Sri Lanka in 1982, when Ashok Leyland decided to set up a bus assembling plant in collaboration with the Government of Sri Lanka.
Substantial Indian investments began flowing in from the mid-1990s. They included investments in construction materials such as steel, cement, paint industries and roofing sheets. The third wave of Indian investment followed the Indo-Lanka FTA and the developments in air traffic and relaxation of visas for Indian nationals. The cumulative Indian investment in Sri Lanka, which stood around a mere 24 million US dollars in 2000, has increased to a staggering 600 million dollars by 2011.
Today, India ranks within the top five foreign investors in Sri Lanka. Several Indian companies such as Indian oil, Bharti Airtel, ICICI bank, Asian Paints and Ashok Leyland, have benefited immensely by investing in Sri Lanka.
Meanwhile, companies such as Taj Hotels and CEAT have become household brands among Sri Lankans. Indian investors have also been enjoying the benefits of the constitutional guarantee of investments, duty-free market access under the ISFTA, Double Taxation and Investment protection treaties. The conquest of Indian investors further triggered in the recent past, when major firms such as Primal Glass, Fortis Healthcare, Mphasis, TATA communication, First Source IT, Dabur consumer products and Axis Bank, expanded operations into the island.
Sri Lanka and India have recorded an impressive performance on the tourism front as well. 250,000 Sri Lankans visited India during 2010, while India topped the list of tourist arrivals in Sri Lanka in the same year. India continued to be at the top in 2011 recording 138,000 tourist arrivals from January – October 2011. This registers a spectacular growth of 45% compared to the corresponding period in 2010.