Nestlé Lanka to invest Rs 250m
Nestle Lanka PLC will invest Rs. 250 million on the expansion of the Ultra Heat Treated milk line within the next two months, said Nestle Lanka PLC Managing Director Alois Hofbauer.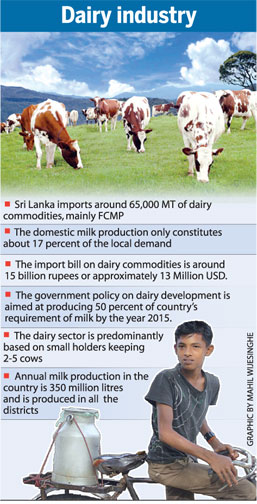 Nestle Lanka committed Rs. 10b last year for a period of five years to expand the dairy, food and beverage and culinary sectors in keeping with the company's mission to create shared value.
The company invested Rs. 800m on the noodle brand drier last year under the first phase of the investment plan.
In another groundbreaking move the company committed Rs. 1.1b on the state-of-the-art noodle plant at the Kurunegala factory recently.
Hofbauer said the new plant is the first investment for 2012 and added that it will revolutionise the food and beverage sector in Sri Lanka which is growing at a pace.
The Nestlé Lanka procures an average of 104 tonnes of milk daily from around 15,000 local dairy farmers and has been supporting the Sri Lankan dairy sector since 1982.
Rural milk collecting points and chilling centres were first established close to the Kurunegala factory.
The number of collection points has doubled since 2009 to 1200.
A Company official said that even during the conflict, Nestlé remained active in northern Sri Lanka , operating four chilling centres at the edge of the government-controlled areas which are supplied by collection points further north.
In 2010, Nestlé Sri Lanka was able to extend its milk collection to resettlement areas, providing a stable market and much-needed income for dairy farmers returning to the area.
Four new chilling centres have been set up in the war-ravaged north of the country since June 2010, reflecting our on-going commitment to developing the country's dairy sector and accelerating economic development and prosperity in rural communities.
Under traditional dairy farming practice in this region, cattle are free to graze on what they can find naturally, but as many dairy farmers had to leave their livestock behind when they fled, the area has a lot of free-roaming cattle. Productivity is extremely low – an average of 1.5 litres of marketable milk per cow per day – so not surprisingly, despite possessing an estimated 40 percent of the country's cattle, the north and east together produce only 22 percent of the nation's milk.
In addition to milk collection and chilling facilities, Nestlé is helping farmers to improve the quality of their herds through breeding with stud bulls, artificial insemination and the cultivation of green fodder.