Leonard Woolf and his friends in Hambantota
In 1904, F. Maur, the British Colonial Secretary appointed Leonard Woolf as the deputy to Thomas Southern who was the chief officer in Jaffna Kachcheri. Leonard Woolf had volunteered to come to Sri Lanka to work under British colonial service. An under-current of strong enthusiasm to make a thorough study of Sri Lanka was governing Woolf's mind as soon as he set foot on Sri Lanka's shores. He became a social explorer while he was dealing formally and informally with the people in Jaffna and observing their struggle for life in the peninsula.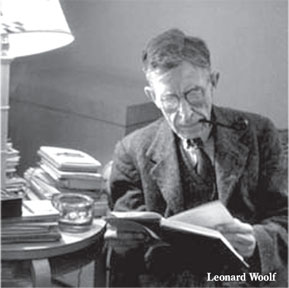 Thus Woolf made a broad survey of the lifestyle of people in Jaffna simply to satisfy his natural curiosity about the new Asian country. Subsequently Woolf studied the traditions and social customs of Mahanuwara and marital traditions and typical dance forms in Sri Lanka.
John Jouis, the AGA for Jaffna used to entrust all his duties and responsibilities to Woolf and Thomas Southern and pass time in freedom with his wife in the quarters. Leonard Woolf and Thomas Southern frequently visited John Louis who treated them well and entertained them with friendly chat-ups and humorous tales.
However, John Louis was a short middle aged man who noticeably ignored his duties and preferred reading books in his study.
Together to Kandy
Was John Louis transferred to Kandy on a promotion as the AGA for the Central Province and Thomas Southern was appointed the director of Botanical Gardens of Peradeniya.
wwLater Woolf too arrived in Kandy to assume duties as the chief officer at 'Mahanuwara Kachcheri'. The three friends, together with Woolf's personal servant 'Sinnathambi' (from Jaffna) stayed in a bungalow in the picturesque surroundings at the base of Udawattakele hills.
Woolf made arrangements to have with him his sister Bella Woolf who was in England and propose her to his friend Thomas. Sinnathambi was ever prepared to take care of her when Woolf had to attend to official matters in remote regions in the vast central province.
Clifford, the inspirational figure
Hugh Clifford during this period was the acting Governor for Sri Lanka and was living in isolation in his governor's mansion in Kandy. His wife's tragic death made it impossible for him to reconcile himself to life in Colombo and he seemed to be bent on becoming a virtual recluse for the remainder of his life.
Before long, Clifford Changed his moods and attitude as Woolf's company and frequent functions at Woolf's quarters dismissed all disorientations from his mind. However, Clifford was Woolf's superior.
So much did Clifford count on Woolf's trustworthiness, efficiency and friendship that he did not hesitate to appoint Leonard Woolf as the AGA for Hambantota District (which subsequently provided much for writing Village in the Jungle). Said Woolf on Hugh Clifford in one of his writings.
"He (Hugh Clifford) elevated me to an unimaginable status that is only a dream for an officer inferior in rank like me.
The post of AGA for a bigger district such as Hambantota is too much for me and this decision by Hugh Clifford surprised my superiors. In short he placed me above the heads of my superiors.
"I am a junior officer - too junior in comparison with the Governor. He is above all, a man full of erotic feelings and aesthetic earnings.
"He loved women and had a wonderful ability to steal their hearts. But most important, he had a surprising penchant for arts and culture. Apart from that it is a pleasure to note that my friend Thomas Southern has come to my district (Hambantota) as the District Judge for Tangalle and Hambantota."
Life in Hambantota
However, Leonard Woolf sometimes expressed his bitter cynicism over his own contribution towards safeguarding the interests of British imperialism. This is most evident in the later chapters of his novel Village in the Jungle which is a classic exposition of the colonialism which undermined innocent, uneducated people in Sri Lanka. He travelled to almost every village in Hambantota on foot, on cart, on bicycle and sometimes on horseback. Leonard Woolf penned his impressions on the general atmosphere and set up of Hambantota district.
"My residence (quarters) overlooks the vast expanse of the virgin forest which extends upto four horizon. The ruins of the ancient kingdom of 'Magama' lie scattered in profusion in this forest.
"The great monuments of the history of Hambantota district lie within the wilderness... The whole environment is dry and a greater part of 'Magam Pattu' is occupied by dense forest teeming with wild animals. Tissamaharama which has a considerably developed look and Katharagama is not far from here.
"The stone pillars, demolished ceityas, stone statues in inscribed caves, the temple walls with artistic frescoes are all legacies of a proud history. All these are being destroyed by the forests being set ablaze for chena cultivation.
More than half of my district is covered by Yala wildlife park and as Englebreck, the director of the park claims ruined tanks and Buddhist temples of Yala wildlife park."
Clifford back to England
Back in England, Hugh Clifford entered into a remarriage with Rodbell who was a promising young writer there. Above all, Hugh Clifford himself was an author who had centered his chief interest in oriental arts and religious ruins.
Here Leonard Woolf requested Clifford to appoint an officer to explore and conserve the archaeological ruins which lay scattered throughout the Hambantota district. Accordingly, the Archaeological Department, under on order issued by Clifford informed Woolf that the newly appointed Archaeological Commissioner Russel Ireton would deal with the project. Leonard Woolf recorded.
"I primarily instructed Russel Ireton, my friend, about the nature and locations of archaeological remains in Hambantota and about the steps to be taken to conserve them.
"In 1911, I accompanied by my sister Bella her husband (Robert Lock) and Thomas Southern left for our motherland. The new Governor informed me that E. T. Millinton who had come to Sri Lanka with me would be appointed the AGA for Hambantota district".
Death in Tissawewa
Following Leonard Woolf's departure from Sri Lanka, Russel Ireton launched the project of delving into the archaeological legacy of Hambantota in response to Woolf's earnest request.
First, Russel Ireton arrived at Maduwanwela Walauwa in Kolonna using the route which lay through Ratnapura. After a few days, James William Maduwanwela the chief, accompanied him to Embilipitiya and Russel Ireton managed to arrive in Hambantota after a day's travelling on a cart.
Russel Ireton was the first archaeologist to have made a systematic research into the ruins and Buddhist rock temples in the South.
The remains of historical monuments on the valley of Walawe river were the first to be studied by Ireton with the official support and friendly cooperation offered by the new AGA, E. T. Millinton.
Staying in the abodes of provincial chiefs, Russel Ireton succeeded in investigating the sites of archaeological value such as Tissamaharama, Yodha Kandiya, Karandu lena, Bandagiriya, Sandagiriya Yatala and so forth.
Tragedy
However, tragedy touched the lives of Ireton and Millinton. Ireton was eager to shoot birds which used to take shelter among the trees on a small island in the middle of Tissa Wewa, when twilight hovered over the expanse of water.
One moonlit night, Russel Ireton wallowed neck deep in the tank with his gun pointed towards the trees on the island while Millinton was watching on the shore.
Ireton swam towards the island to collect the hunted birds but he drowned in the deep tank. Millinton, who jumped into the water to rescue his friend, too sank to the bottom of Tissawewa.
A mission to preserve the archaeological legacy in Hambantota was thus discontinued.