Tourism in Sri Lanka
Tourism is a very popular industry in the entire world. Today tourism is a fast developing industry even in Sri Lanka.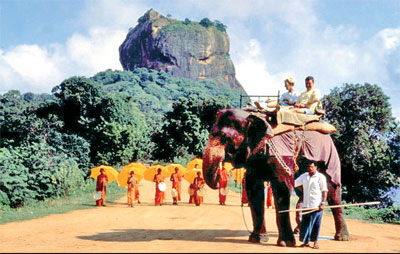 Our country has an abundance of naturally attractive places to lure tourists. These places enhance the scenic beauty of our country.
There are many picturesque waterfalls and mountains, golden sandy beaches, forests, botanical gardens and wildlife sanctuaries that are frequented by tourists.
Historical places such as Anuradhapura, Polonnaruwa, Yapahuwa, Dambulla, Dambadeniya and Sigiriya attract tourists from various parts of the world to visit Sri Lanka.
They appreciate the beauty of these places. It's a pride when foreigners appreciate the beauty of our Motherland.
When many foreigners visit our country throughout the year, it is economically beneficial to the country.
We can derive lots of benefits from tourism and we must promote it for the development of our country. We can earn foreign exchange for the country. Hotels, restaurants, guides and comfortable transportation facilities in the country help to promote tourism.
Sri Lankan people can also learn languages and improve their knowledge about different cultures, food, lifestyles and many more things around the world via tourism.
Tourism is also a good way to display our skills to the world. Sri Lankan handicrafts and traditional food can be easily promoted.
However, tourism also has a negative impact on Sri Lanka because many youth are influenced by the cultures of some countries which are not suitable for our country.
Some people try to imitate cultures of these tourists. But, we must not do so. We must protect our traditions. Sometimes tourists try to give drugs to our youth and influence them to do wrong things.
Tourism has some disadvantages too, so we must take necessary steps to avoid them and promote only the good things it brings.
---
My favourite book series
My favourite book series is St. Clares written by Enid Blyton. She is a great author and is world famous. St. Clares is about a school but it is not just another school. It's a place full of adventure. The main characters in these books are Patricia and Isabel; they are twins. My favourite character is Janet because she is so mischievous. Enid Blyton has written this book series as different and exciting stories. There are twelve books in this series and I have read all of them.
There are many translations of this book too. The old, the youth and little children in society can read this book as it is good for all ages. The lesson we can learn from the series of books is about the value of true friendships. I like these books very much.
---
Honesty - the best policy
We are all social beings. Our life depends on trusting other people. We trust our teachers to guide us and educate us. We trust our banks to keep our money safe. We also trust our religious leaders to show us the right path. Trust and honesty play a keyrole in leading a good life. However, most problems in life occur due to dishonesty among people.
Some people are very dishonest. When they see something which belongs to another person fallen on the floor, they steal it without returning it to the owner. Some people rob money and valuable things from their neighbours. Sometimes these actions lead to murder and revenge. People get angry and many disputes occur among people due to dishonesty.
Even at school, some students act in a dishonest manner.They copy answers from other students even during important examinations. The future of such students are bleak because they are not properly educated or truly qualified.
Some stoop to telling lies. It is easy to tell a lie to another person. But the most difficult thing is to solve the problems that occur due to that lie. Even in Buddhism telling a lie is considered a sin. It is included in the five precepts of Buddhism.
You can say many false things to people and no one will know about it. But one day you will realise that you have only lied to yourself.
Dishonesty in any form is not good. What we should try to do mostly in this new year is to avoid lying to others and also not to indulge in any form of dishonest acts.
---
My ambition
My ambition is to be a doctor because then, I can do many things for the benefit of my country. I can be of great service to society. In addition to looking after the patients, I can educate the people about the many diseases in the world. Therefore, I want to be a doctor and help poor and innocent people. I like to treat them kindly. I have seen many doctors treat patients very kindly.
By curing their various ailments I can be happy. However, to achieve my ambition I have to work hard at school.
---
Justin Bieber's rise to fame
Justin Bieber is a Canadian pop star who is the most popular singer among youngsters. God gave this talented boy as a gift to the world on March 1, 1994. Justin Bieber is a singer, song writer and actor.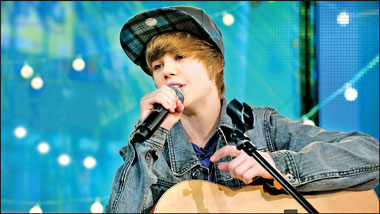 Justin Bieber was first discovered in 2008 by Scooter Braun, who came across Bieber's videos on 'You Tube'. Braun arranged for him to meet with Usher and sing with him. Bieber's debut single, "One Time" was released in 2009 and peaked in the top ten in Canada. His debut album, "My World" followed in November 2009 and was later certified in the United States. He kept a record by becoming the first artist to have seven songs from a debut album on the Billboard Hot 100.
His top ten single Baby, the music video currently ranks as the most viewed and most discussed You Tube Video. His fans increased following the release of the video "Baby". Justin Bieber also performed for the American President Barrack Obama and his wife at USA and it is said that the President also appreciated his song.
Bieber also released his second studio album, "Under the Mistletoe" in November 2011, a video especially for Christmas, which debuted at number one on the Billboard 200.
Justin Bieber has a melodious, magical voice and a fantastic rhythm in his songs.
He has received numerous awards, including "Artist of the Year" at the 2010 American Music Awards. He has also been nominated for numerous awards, including Best New Artist and Best Pop Vocal Album at the 53rd Grammy Awards.
We must appreciate his dedication and commitment to music. I hope that all his fans will keep Justin Bieber in their hearts, forever.
---
Animals with colourful feathers
Birds are the only animal group with colourful feathers. There are about 9000 species of birds in different shapes and sizes sporting feathers of varying hues living in most every part of the world. Some birds can fly but others cannot do so.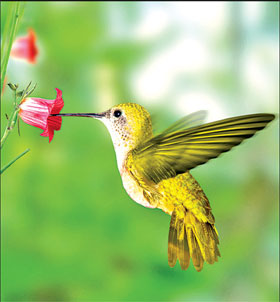 The birds that cannot fly are the ostrich, the emu, rhea, cassowary,kiwi and the penguin. The ostrich is also the largest living bird while the humming bird is the smallest avian in the world.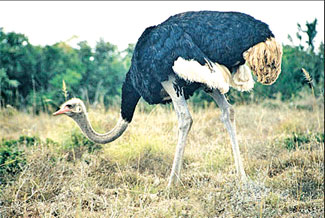 Birds are unique because of their feathers. They have over 10,000 feather which are divided as down feathers, contour (body) feathers, flight feathers and so on depending on their function.
A bird's feathers not only assist the bird to fly but they also help the bird to keep warm. Birds take good care of their feathers but they do not last forever. Some of them fall off and new ones grow.
Many male birds use their attractive feathers to attract mates.
Birds have different types of beaks instead of teeth. The beaks differ in shape according to the food they eat.
They eat many kinds of food such as fruits, seeds, insects, small reptiles and fish .Birds also have claws instead of hands and these are ideally suited to their eating habits and lifestyles.
Birds are the world's greatest travelers. Many species migrate from one country to another ,sometimes very long distances in the winter. Many spend winter and summer in two different places.
They fly away in the winter and return to their native countries in the summer.
Birds build nests to lay eggs which are of different colours and shapes according to the species. Birds are attractive creatures that add beauty to the environment.
However, due to deforestation many birds have lost their natural habitats. As a result most invade farms and paddy field in search of food and destroy crops. Many farmers spray insecticides to protect their crops from insects and when birds eat these insects the poison enters their bodies too.
Marine birds suffer when there are oil spills and some even die as a result of them. Today many bird species are threatened with extinction due to deforestation,poaching and other careless activities of man. Organizations such as Green Peace, the WWF and the IUCN campaign to protect these birds and other wildlife.
We also must protect the biosphere comprising fauna and flora.
---
I am a tree
I have a very strong trunk, thick branches, green leaves, roots, beautiful flowers and nuts. I am very useful to everybody on the Earth. People use my body parts for various things. All living beings on this Earth depend on air, water and food. These three main resources are provided mostly by trees.
I produce oxygen during a chemical process called photosynthesis. Not only humans but also those in the animal kingdom depend on trees for their food.
You get rain because of us trees because we also protect the water springs. You can also get medicines, fuel, shelter, shade and timber from us. I protect the soil from erosion and I also protect the ozone layer.
Some heartless people destroy my whole body. Therefore if this green umbrella is destroyed, the Earth will become a desert.
I invite all humans to live in peace and harmony with us. All of you must grow trees and save our world, so that the future generation will get to see what a beautiful world God has given you.