Discipline in party is vital - Deputy Opposition Whip, Ajith Perera
The United National Party, which had been a formidable political force in the country since its inception has sustained innumerable problems during the recent past, mainly due to remaining bogged down in the Opposition for a long period of time. It is quite evident that there has been a gradual deterioration of the party since the 2004 general election when the UNP was comprehensively defeated by the UPFA.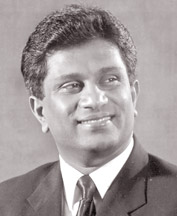 A large number of stalwarts left the party and joined the Government during the past few years, claiming that there is no democracy in the party. Ranil Wickremesinghe ascended to the leadership of the party after the untimely demise of many UNP leaders including Gamini Dissanayake and under his leadership the party managed to win only the 2001 general election.
With the series of defeats suffered by the party, Wickremesinghe's leadership was challenged by Hambantota district young Parliamentarian Sajith Premadasa who clamoured for amendments to the party Constitution, His campaign gathered momentum with the support of some of the sitting members.
They were branded 'reformists' by the membership. Dayasiri Jayasekera, the Deputy Opposition Whip of the party was one of the vociferous speakers of the reformists group who agitated for a change in the party leadership.
Finally, the party top brass decided to have an election for all top positions at the party Headquarters 'Sri Kotha' for the first time in its long history of over six decades.
The dissident group promoted Karu Jayasuriya for the top post while Sajith Premadasa and Dayasiri Jayasekera contested the Deputy Leader's and National Organiser's posts respectively.
The Election for the top posts was held and only Premadasa scraped through to the Deputy Leader's post with a marginal majority while Jayasuriya and Jayasekera were comprehensively defeated by Wickremesinghe and Daya Gamage.
The reformist groups claims were found to be null and void among the working committee members.
The unfortunate incident which occurred at the party headquarters with the promulgation of election results was vehemently condemned by the entire membership irrespective of any differences.
Press conferences were held by the reformist group after the election and some derogatory remarks made, which were detrimental to the democratic existence of the party and had also antagonised the new office-bearers.
The party Working Committee decided to take stern disciplinary action against those who act in an arbitrary manner.
As an initial step, some of their party membership were, suspended. Dayasiri Jayasekera was removed from the Deputy Opposition Whip position and replaced with Kalutara District Parliamentarian Ajith P. Perera.
The Sunday Observer had an exclusive interview with the newly appointed Deputy Opposition Whip Ajith P. Perera to ascertain the present position of the party, its activities and the future course of action with regard to the burning issues of the country.
Excerpts of the interview:
Q: You are an eminent lawyer enjoying a lucrative practice. What made you take to politics?
A: Well, I was interested in politics from my young days. I remember the first meeting I attended when I was barely 10 years old.
That was in April 16, 1977. J.R. Jayewardene came for a rally accompanied by R. Premadasa. J.R.J.'s majestic appearance and Premadasa's fiery speech moved me and I decided to become a politician one day.
Q: Who is your political mentor?
A: No doubt, It's J.R. Jayewardene's vision and stature which prompted me to become a politician. However, during the latter stages, I had some reservations on certain issues with J.R.J. Still, one cannot deny the fact that he was a great visionary born in our country since Independence.
We are still on par with the rest of the countries in South East Asia thanks to his initiatives which some people have now forgotten.
Q: What is your political background? Were any of your family members involved in politics?
A: Absolutely not. I am from an ordinary family in Bandaragama. I studied at a village school upto Grade 5. After winning the Grade-5 scholarship, I came to Ananda College. I entered University and Law College and became a lawyer.
Q: Now you are an eminent lawyer with a lucrative practice and also a legal educationalist with your private enterprise. How do you find the time for politics and invariably social service. In addition to all that now you are vested with an additional responsibility, as the Deputy Opposition Whip of the party. How do you manage all these?
A: I am very good at time management. I have delegated my personal enterprises to my subordinates. I am fully involved in Parliamentary affairs and procedures and other functions of our party at present.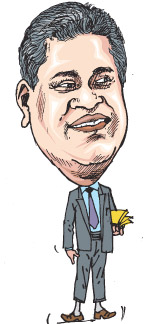 I work under John Amaratunga and I am sure that I possess all requirements and the aptitude to discharge my duties efferently and to the satisfaction of my party top braas.
Q: How is your relationship with other party members?
A: Well, I treat them all as my Parliamentary colleagues and work very cordially with everybody.
However as far as party policies are concerned, I have no friends in the Government Party or for that matter in any of the parties.
My firm desire is to form a government of our own under Ranil Wickremesinghe's leadership as soon as possible.
Q: With constant infighting among the top leaders of the party, now are you going to project a good image of the party to win a future election?
A: Well, now everybody has realised the importance of working as a single unit to muster the support of everybody in the country.
There cannot be divisions or factions in the party.
I know some leaders have their personal programs and agendas. But everybody will have to work under the umbrella of the United National Party and its policies and principles to restore the lost glory of the party.
No penalising
Q: Instead of penalising the dissenting voices of the party, don't you think it is time that everybody got together and strengthened the party fabric?
A: Intra-party discipline is an integral part of any democratic party, especially when you are in the Opposition.
What the party leadership is trying to do right now is to take all measures to completely establish intra-party discipline.
I don't think Ranil Wickremesinghe has personal grudges against anybody. What he say is that discipline has to be maintained even at the cost of some political losses.
Q: Flexibility is a vital component for the progress of any party, why doesn't each member compromise their stand and iron out their differences?
A: We always discuss matters and try to arrive at collective and unanimous decisions. Everybody will realise their shortcomings and will work as a single team in future.
Q: Your new assignment requires flexibility, fact and a sense of proportion to unite disintegrated factions. This will not be an easy task. How do you hope to iron out the differences among your members?
A: I always try to establish trust and coordinate with an exchange the different views of our members on all matters.
It is quite common in any democratic political party to have problems when in the Opposition. Some unscrupulous media institutions have launched an aggressive campaign to destroy our party.
We do not have insoluble problems which cannot be solved among our members, certain media organisations paint a gloomy picture for vested interests.
Don't you remember the internal party problems of the SLFP from 1977 to the early ninetees? How many groups were there in the SLFP? They even went to Courts to sort out internal matters. We do not have such grave problems within our party.
Q: Your party's vote base had been gradually reduced to abysmal levels over the years. What are your plans to resurrect it from the present position?
A: Let me put the facts straight. Our party's vote base has not reduced to abysmal level as you say. We still maintain about 30-35 percent.
We have to improve by about 20 percent, which is not difficult with the correct approach and an effective plan and program.
We have drawn out a two-year program to achieve the desired results.
Some of the actions of the Government would help us achieve our goal, even earlier than we expect. We only have to mobilise the disgruntle elements for us to form a stable government.
LLRC recommendations
Q: What is you party's stand on the LLRC recommendations?
A: I am unable to comment on it since we have not taken a final decision on that.
Q: Do you believe in devolution of power? Could you agree to the transfer of Police and land powers to the now liberated North and the East?
A: We believe in the devolution of power with some reservations. There is nothing wrong in granting land powers to the people in the area, but not police powers.
Sri Lanka is too small a country to have different police forces. It can invariably lead to severe complications and implications.
Q: There is international pressure to dismantle security camps in the North and the East. Since defence is the top priority of any sovereign state, can anybody agree to such demands?
A: You have to analyse the situation based on the prevalent context. After a long drawn battle against terrorism, it takes time to fully normalise the attitudes and temperament of the people.
It is necessary to gradually reduce military enforcements in the area.
Q: Instances of Parliamentarians taking the law into their own hands are being reported very often. Will your party enforce a strict code of conduct for your people to ensure a decent Parliament?
A: I don't think any party leaders would endorse the indecent behaviour of some of their members. Unfortunately, it constantly happens at present.
I shall assure you that we will have decent and admirable Parliamentarians in future under the able and far-sighted leadership of Ranil Wickremesinghe.