Psychotics can't destroy university education
Public Management Reforms Minister Navin Dissanayake said that the Government would not permit a few psychotics to destroy the university education system and use university students as pawns to realise their narrow political objectives.
"There is a clear political hand behind the current incidents in universities.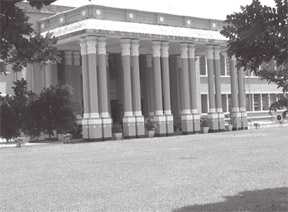 The JVP backed Inter University Students Federation is mainly behind these incidents, as this is the last battleground for the JVP in universities. Therefore, they don't want to let go," the Minister told the Sunday Observer .
The JVP backed students union is all out to harass youth and politicise them. They provide a propaganda and use them as bart.
This is what is happening in universities at present. However, the vast majority of university students are against it and reject it, he said. Of the total number of nearly 20,000 university students, the students union has around 10 percent, about 2,000 students.
However, they attempt to show that all university students are involved. The Government is well aware of it and President Mahinda Rajapaksa is successfully meeting this challenge.
The Government's university system caters to the youth in the country.
Of the total number of students who sit the GCE (Advanced Level) examination, only 10 percent qualify to enter universities. This is the cream of the society.
The cream of our intellectual base is in the universities. The Government has a responsibility on behalf of the university students and educates their parents too.
The Government will not leave any room for psychotics to destroy the university system. At present, the students are taken into the JVP union by force. The students also face various forms of inhuman ragging.
President Rajapaksa has assigned Higher Education Minister S.B. Dissanayake a task to put an end to ragging.
When steps are being taken to prevent these unruly incidents, certain elements may reacted.
When the Government does something, they react and become more extreme.