Agenda 14 Short Film Festival at Goethe Institut:
New avenues for short film-makers to enter mainstream cinema
Short film is a medium of art which has been popular in our country for the past few decades, especially among the youth who used this art form as a medium of expression. With the digital technology revolution across the world, short film has evolved to be one of the mediums that benefited and today, anybody can do a short film as long as there's a script and a basic handycam.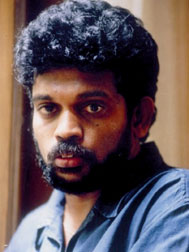 Ashoka Handagama
Q: As a member of the jury, can you explain the overview of Agenda 14 Film Festival?
A: The collection consisted of short films ranging from 'very good to very bad'. All most all the film-makers were relatively young. The good thing is that everybody has a significant knowledge of cinema. Also it appears that they have had easy access to the necessary technology. What was disturbing for us was that most of these young film-makers were not responsive to what is happening around them. Either they don't care and are ignorant or they are not sensitive enough of the surrounding. Cinema is the most powerful medium to explore and express themselves and the society that they belong to. Hope they will come up with more explosive themes in the next chapter of the festival. That is very important for a young film-maker to build his/her own identity.
Q: There is an upcoming trend for short films among the youth in the country. What is your comment?
A: This is very good. A short film is not an abbreviated version or truncated version of a regular movie. It is a different and independent medium. If someone tries to do a single episodic tele-drama as a short film I think it is just a waste. We saw such practices in this collection. Though it is short, a good short film has depth. It has its own narrative. Young film-makers need to experiment this medium to express themselves effectively.
Q: Most of the short films are very much issue-oriented, rather their own self expressions. Why is it so?
A: That is true. Very often they are made on 'given topics'. For example, Tsunami, Domestic Violence, Ethnic Harmony, Reconciliation, AIDS etc. These are funded by various organisations under their awareness programs. And when there is a call for entries for a short film festival, they submit them. That is why you find issue-oriented works in (short) film festivals. A short movie can be used as a tool of creating awareness on an issue. It is not a bad idea. But a short film is a very strong, sensitive and powerful form of art. We should encourage those who make short films for their self-expression.
Q: Most film festival juries are limited to Ashoka Handagama, Prasanna Vithanage and Vimukthi Jayasundara and it was common with Agenda 14 Film Festival too. In Anoma's interview she too confirmed that this is the best combination when it comes to film festival juries. What is your opinion?
A: I think we are a representative sample of different styles of cinema. We have distinct ways of handling the medium. Although we have our own likings, we are flexible enough to appreciate others own styles. It is a known understanding in the discourse that Prasanna is an extension of Lester, while I am an extension of Pathiraja. I don't totally agree with this sort of categorization, but that is how 'critics' see it. Vimukthi is considered as a hybrid of us. So, the festival organizers may have thought that having us included in the jury, it would help them getting a fair selection.
Q: Are there any differences (philosophically/culturally etc) that you see when comparing the creations of your generation with the existing one?
A: In our days, we did not have such an opportunity to showcase our cinematic thoughts. I made a short film when I was 18 years. But could not edit and complete it. The dreams that we have are kind of short films. Now you can get others to watch your dreams easily via various platforms such as YouTube. Isn't it good? When it comes to feature films, dramas and any other forms of arts I always believe that the new generation is ahead of the older generation. That is how human societies evolve. Citizen Cane is a good movie irrespective of time and it is considered a textbook of cinema. But that doesn't mean that there are no better movies produced after that. If someone says that the past is better than the present, it is just an illusion. We may be insensitive to new expressions. They should be given freedom to express themselves freely, whatever they say.
Though we are familiar with foreign short film festivals that are continuously exhibited in German, Russian or Indian Cultural Centres in our country, Agenda 14 Short Film Festival is the first short film festival in the country which opens a new avenue for local young film-makers to showcase their creative work.
Agenda 14 Short Film Festival 2011 was held in December 2011 at Goethe Institut Colombo and below is a discussion that Sunday Observer had with the founder of the Agenda 14 film festival Anoma Rajakaruna, a jury member Ashoka Handagama and a few award winning film-makers.
"Agenda 14 is the publisher of '14 - Space for Expression' a serious cinema journal which is published quarterly. In the magazine we have created a platform for the short film-makers in Sri Lanka to talk about the short films and express their viewpoint about their productions and the international short film productions as well. As we wanted to move forward with that, we decided to organise an annual short film festival and as a result we were able to hold the Agenda 14 Short Film Festival last month in collaboration with the European Film Academy," said the editor of 14 - Space for Expression film magazine and the Agenda 14 film festival director, Anoma Rajakaruna.
"Another good reason that we wanted to initiate Agenda 14 Short Film Festival was that, even though there are talented youth who have shown their creativity through short film medium for ages, they have not been recognised properly so far, and in our country short film is not identified as a strong medium of expression in the mainstream cinema.
However, Agenda 14 is trying to bridge the gap on this unrecognised talent in Sri Lankan mainstream of cinema which is anyway not an easy task," she said.
"When considering the short films we received for the festival, the common issue that we realised was that most of the films are very much issue-oriented or propagandist rather than being their own self-expression. However, the jury was very much particular when selecting the films and we could select the best film out of 99 short films, which was created in a very sensitive manner without being propagandist.
"If we talked about the jury of Agenda 14 Film Festival, there were five jury members namely Prasanna Vithanage, Ashoka Handagama, Vimukthi Jayasundara, Professor Sitralega Managuru from Eastern University and Dr. Shermal Wijewardene from Colombo University.
The main reason to appoint these five professionals as the jury was, the ability that each of them had shown - understanding what a short film is and especially the three film-akers who were in the jury was international award winning film-akers who had participated as jury members at international film festivals too. Therefore, we could conclude the film festival successfully by selecting the best six films under six categories," she said.
European Union, Goethe Institut, Bonsoir, CPA, IMADR were the sponsors of the awards. As the prizes for the winners of the Best Short Film and Jury Award, provided professional production and post production facilities by Asian Film Location Services and Frames Film & TV productions to produce their next short films in 2012.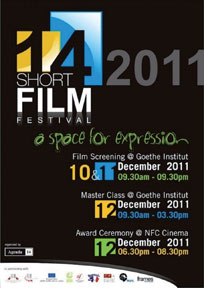 The award of the Best Short Film was won by Jagath Manuwarna for his film 'Water Lily' and his film also succeeded in winning the Human Rights Award too. The Jury Award was won by Shameera Rangana for his film 6 mile and the Most Gender Sensitive Short Film was won by Amila Galappatthi for the film 'Dream Theatre'.
The Best Animated Short Film was won by Namal Amarasinghe's 'Bugs'. In addition to the above main awards, there was a special award dedicated for the Most Promising Film-maker who is under 24 years of age and this award was won by Lakshitha Prasad for his film 'I Love Him - I Love Her'.
Jagath Manuwarna
Jagath Manuwarna is a multi-skilled talented youth who blazed the trail on alternative theatre, teledramas and cinema equally. He won the best upcoming actor award last year in both Sumathi and Raigam Tele Awards. His short film - 'Water Lily' won the best short film award as well as the human rights award in Agenda 14 Film Festival 2011. "Agenda 14 Film Festival is a good effort to lend a hand for the upcoming film-makers to showcase their creativity in short film medium. Short film is an effective medium of expressing creator's idea in a strong way.
Many have recognised short film as a preparation work which every film-maker has to undergo before their feature film which I think is a myth. Even though you are successful in short film making, it doesn't mean that you can be successful as a feature film-maker too," Jagath said.
"The biggest difficulty that the upcoming film-makers like us, are experience is to find a producer who is willing to invest their money without interfering with the creation. As a solution even though short film is one good medium which costs a very limited amount of money and resources, it is restricted to conveying the message to the mass audience, since short film is still not a popular art form in the mainstream cinema in our country. It is always good to have this type of film festivals to recognise the talents and at the same time it would be even meaningful if this may open up new paths for the short film makers to get into the mainstream cinema in the country, which is a dream of every short film-maker, including myself," he said.
Namal Amarasinghe
Animation is a technology that can do wonders and magic on the screen because it is a medium with zero limitations which completely depends on the artistes' creativity. In the Agenda 14 Film Festival there was a separate category for animated short films which has been recognised as an upcoming film trend in the country.
"I did this film 'Bugs' as one of the projects for my degree at the University of Moratuwa. I studied and researched about animation technology for some years and I love to do experiments through animations," said Namal Amarasinghe who is the director of the film 'Bugs', which won the Best Animated Film Award in the festival.
"This is my first animated film and also this is the first time that I participated in a competition. There were around ten animated films screened at the festival and six of them were done by my friends who are in the University of Moratuwa. I am happy my work was recognised in the Agenda 14 Film Festival as the Best Animated Film," he said.
"I understand that short film is a unique medium of conveying the artiste's inner feelings in a strong and steady manner. Especially when it comes to animation, it is a very strong medium, and the artiste can use his or her imagination in a way it was created in their mind. That is the beauty of it.
"I got to know about the Agenda 14 Film Festival through the university and it was a great opportunity to present my very first creation in the festival. It also honed my skills and helped to learn a lot of about filming. I hope to continue my studies and career in film making and agenda 14 Film Festival was a great encouragement to continue in future," he said.
Shameera Rangana
My film is '6 mile' which won the Jury Award in Agenda 14 Film Festival 2011. It is a story about people who belongs to different ethnic groups which I wanted to show in my film. We all are equally victims of the war, irrespective of any differences. I am involved in the field of art as an assistant director and I like to do experimental productions. My dream is to become a film director and the award I won at the Agenda 14 Film Festival was a great and unforgettable experience.
The six award winning short films of Agenda 14 Film Festival will be screened on February 1, 2012 at Goethe Institut from 5.30 pm.