Self-reliance, a top priority
Addressing a press conference, Economic Development Minister Basil Rajapaksa said that Sri Lanka has experienced rapid economic development during the past few years. Sri Lanka's paced progress is significant when compared to the developed countries plagued with economic problems.
The original economic prognosis of the International Monetary Fund took a different turn when most countries failed to achieve their set development targets. Significantly in this context, Sri Lanka and only one other Asian country have become exceptions when their economies continued to be on a rapid pace of progress.
Economic Development Ministry Secretary Dr. P.B. Jayasundera drew a comprehensive picture of economic success registered by the Ministry last year and its future blueprint formulated on the basis of discussions held with President Mahinda Rajapaksa.
President Rajapaksa has provided the budgetary funds to ensure the completion of all development priorities.
"Our prime target is to herald a new economic era through meticulous planning and completing all development projects. After Independence, for the first time, we have brought down the poverty level to its minimum while enjoying appreciable results in the field of investment.
"We have also succeeded in courting foreign investment worth over one billion US dollars. Tourism has again become an integral part of the country's economy. There is also a considerable influx of foreign tourists to our botanical and zoological gardens and the Pinnawala Elephant Orphanage after they were vastly refurbished and extra amenities provided.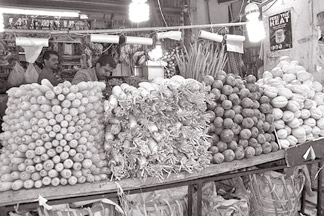 Vegetable prices have come down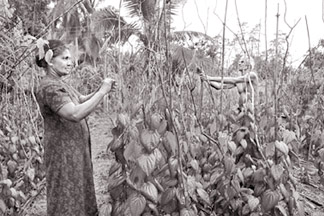 Vegetable cultivation under Divi Neguma
Here are some of the questions posed by the media to Minister Rajapaksa:
Media: Despite the efforts to paint an attractive picture of the economy, supported by statistics, the actual situation is quite different. Prices have escalated on a daily basis. The people badly feel the brunt of inflation.
Minister: Despite your assertion, one could clearly see the difference when one compares this year's prices with last year's. Despite a coconut fetching 80 rupees, on the whole, prices have largely dropped. The price of rice too has dropped along with a number of consumer items.
During the recent Christmas festivities, prices of commodities posed no problem to the people. They were within their reach. There is a daily saving of Rs. 200-Rs. 300 to a family of four members.
For all these we should be thankful to our farmer community. Vegetable prices have greatly dropped in view of the launch of 'Divi Neguma'.
This has helped boost the vegetable cultivation too. Today we are prepared to export chicken. Earlier we imported rice, but our harvest was so bountiful that our President had exported 7,500 tonnes of rice to famine-stricken Somalia. Today we have a rice surplus.
Economic dividends
Media: Most people claim that despite the economic success, they have not been able to enjoy its dividends.
Minister: There could be many economic indices. There could also be palpable differences. We should clearly understand the current economic phenomenon. There is a considerable improvement in the income levels of farmers, fishermen and the self-employed whose interests the Government has always safeguarded. The provision of public utilities such as electricity and water has ameliorated. Telephone and banking facilities, the cadre of doctors and nurses and the number of university admissions have been greatly expanded. Our principal aim is to ensure speedy economic development which will certainly improve the quality of life.
Media: The tourist industry is of course, a success story. Yet what benefit does it bring to the people?
Minister: One newspaper reported that tourists travelled in a buggy-cart, when another highlighted that they were eating rotti! Both the buggy-cart and rotti form a source of income to the people. The demand for handicraft, curios, Ayurvedic treatment, textiles, lace, food varieties and artistic creations has tremendously increased.
The income from these sources is enjoyed by the ordinary people; they are the direct recipients.
Peace and freedom
Media: Terrorism is now over. Yet, the people have not received any benefits.
Minister: With the elimination of terrorism, there is security of life, peace of mind and freedom to move about and for the people to engage in their daily tasks.
It is because terrorism has been annihilated that there is a rapid influx of tourists and investors. Please keep in mind that former war-ravaged countries such as Germany and Japan took years for post-war reconstruction. However, within a mere two years since the elimination of terror, our economy has soared to dizzy heights.
Media: The business community as well as the people have to bear the brunt of taxes.
Minister: The Government has effectively changed the basic tax structure of the country. Our tax ratio is still at a very low level compared to countries where it is on the high side.
Media: Certain regulations have become a stumbling block to investors.
Minister: Yes, Certain impalatable and obsolete regulations have posed difficulties to both the foreigners and the countrymen. In seeking approval for housing loans, the average man always encounters a lot of problems. We should ease such situations and introduce new systems to ensure efficiency.
However, it is my view that laws relating to the protection of the environment should not be relaxed or changed.
Media: the Tamil National Alliance demands Police powers. The TNA is not the sole representative of the Tamil community. The Government has its majority in Parliament. Is there any shift in the Government's stand on the political situation? Or is there an alternative move?
Minister: Our position is well explained in the Mahinda Chinthana.
The President had time and again stated his clear stand as Head of State, Head of the SLFP and Head of the UPFA on this issue.
The President and all of us hold the view that this issue has to be studied by a Select Committee appointed by the Parliament. Therefore, we need the support of all political parties to make this a reality.
I should also express my personal views on the question of devolution of power.
I have an understanding of the aspirations and feelings of the Tamil people in the North and the East since I had close contact and first-hand experience with those people.
As I was involved in such vital matters as their relocation, dispatch of medicine, food and other requirements and when they were under the jackboot of LTTE terrorists as helpless victims.
The Northern people demand land for the landless and not "land powers". They also do not ask for police powers. What they really need is security by the police to live a free life without being terrorised and also protection against extortion.
My view is that the Government could provide the security for them. Those political parties and certain individuals demand other things.
I feel that we should provide police security to those who are in need of it and also provide land to the needy landless. That is my view.
Media: Has not the extortion game between two factions in Kelaniya aggravated?
Minister: This is something important in every field and not to the business sector alone. Extortion is something universal and it has existed throughout. It has its fluctuations as well.
There is the Yakusa gang in Japan. Mafia godfathers are there in New York and Italy. They all come and go. The media too has a greater responsibility in this matter. If you allege that rivalry between the two factions let the cat out of the bag, I would say that the Kappan business came to an end because there were two factions.
Media: What are your future economic policies?
Minister: Our basic aim is to make every individual and family self-reliant- immune to starvation. Every family should have a decent house of its own provided with water and electricity and a nutritious meal for its members. Our economic policy is based on that premise. Our target is the creation of a developed Sri Lanka with pride of place being given to the individual, family and village.