Apparel exports, a leading foreign exchange earner
Revenue from apparel exports last year was $3.8 b which shows that Sri Lanka has not only sustained but also maintained growth in the United States and European markets and increase market share by 57percent in other countries, said Orit Group Chairman and Image Building Committee-Joint Apparel Association Forum (JAAF) Chaiman, Channa Palansuriya.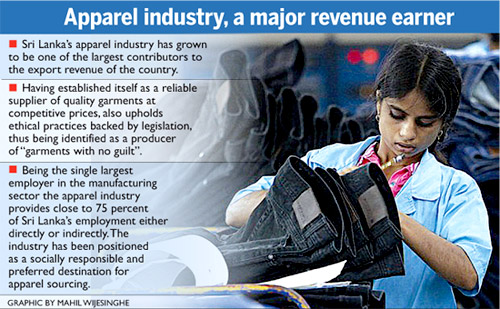 He said during the last financial year apparel exports had increased by 34 percent to European countries and 22 percent to the United States. Other than US and European markets, countries such as Russia, Australia and those in Asia have imported Sri Lankan apparel which generated over $340 m from January to November 2011.
Apparel export revenue has superseded income from tea, rubber and other agribased products to be a leading foreign exchange earner to the country.
With over one million people directly benefiting from the sector theapparel industry is one of the largest contributors to the GDP. Palansuriya said that apparel export revenue will be around $ four billion by the end of this year despite the global economic crisis, he said"
The decade- long relationships built with our customers have helped move us from mere transactional to more strategic partnerships.
By adding more value we are likely to grow with existing customers and attract more customers. H & M the largest and fastest growing European apparel retain chain has over 2,300 stores in 43 countries and has an annual revenue of 127 billion Euros.
This year H & M has set up a sourcing office in Sri Lanka in addition to current large buyers such as M & S and NEXT which emphasizes the level of confidence placed in our industry.
Sri Lanka's exports to Europe continued to grow in spite of the recession and the withdrawal of GSP + benefits in August 2010 in 2005, when the country gained duty-free status to Europe, apparel exports posted US$1billion revenues in the year.
In 2009 at the height of the recession, Sri Lanka's exports to the EU stood at US$1.65 billion and in 2010, despite the negative sentiment created with the removal of the duty free concession, our exports maintained a higher growth level of 34% in the 1st 12 months of 2011, compared with the previous year.
"The main challenge is to retain people while attracting people to the industry. To do this we have implemented special programs to educate people about the importance and benefits of the apparel industry.
The Small and Medium sector has huge potential to cater to speed, flexibility and cost", Palansuriya said. With regard to the Erozone crisis he said that the turmoil in the region will affect exports toa certain extent though not on a large scale..
There could be drop in the buying power due to low sales in Europe. However, there will be a slight growth in the US sector from sales which will immensely help us to balance our exports. The euro zone economy would contract 0.5 percent this year before returning to meager growth of 0.8 percent in 2013.
Growth in developing economies was also expected to moderate due to "the worsening external environment and a weakening of internal demand., the International Monetary Fund (IMF) said.
"The global recovery is threatened by intensifying strains in the euro area and fragilities elsewhere." the IMF said in an update of its World Economic Outlook (WEO) report.