Satellite navigation from Dialog
Sri Lanka's mobile service provider Dialog Axiata PLC is offering a SatNav (Satellite Navigation) App (application) tool for mobile phones, which will help Dialog Subscribers direction, plot routes and find places of interest at a touch of a button.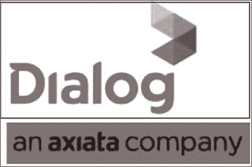 Motorists can now receive directions via a network of radio navigation system satellites also known as GPS (Global Positioning System). GPS is a space-based Global Navigation Satellite System (GNSS) developed and maintained by the US Government and is freely available for users, but maps and software are needed to pinpoint locations and give directions.
Orbiting satellites calculate exact could positions by precisely timing signals sent and received by satellites that orbit around the planet. "SatNav is the latest mobile application that offers Dialog customers the future today," Group Chief Operating Officer at Dialog Axiata, Supun Weerasinghe, said.
"With the rapid expansion of highways and the rural road network in Sri Lanka, emerging technologies such as SatNav will offer hassle free motoring for Dialog subscribers.
"The Dialog SatNav system has an added advantage of voice support navigation in Sinhala, Tamil and English which allows drivers to navigate their vehicle without looking at the screen of the navigation device.
The system has a detailed map of the road network, which includes the small city streets.
Places of worship, tourist destinations, financial institutions, automotive repair, emergency services, medical services and restaurants are also pre-loaded on to the device, available on demand.
GPS navigations systems are used extensively record operating profit of 5.3 trillion won in transport, marine, aviation, emergency services and disaster management sectors due to the systems reliability and accuracy.
Dialog Axiata PLC Dialog Axiata PLC, an ISO 9001 certified company, is a subsidiary of Axiata Group Berhad. The company operates 2.5G and 3/3.5G Mobile Communications networks supporting the latest in multimedia and mobile Internet services. Dialog has the distinction of being the first 3G operator in South Asia to commence commercial operations.
Its local coverage spans all provinces of Sri Lanka, while international roaming is provided in over 200 destinations.
Dialog Axiata, also operates Dialog Television a direct-to-home satellite television service and Dialog Broadband Network - providing backbone and transmission infrastructure facilities and data communication services.