Literature sans boundaries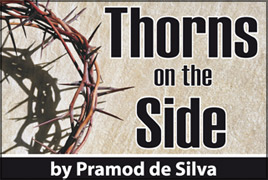 Another edition of the Galle Literary Festival (GLF) ended on January 22, firmly embedding the festival on the world's literary map. A large number of people including foreign visitors actively participated in the five-day event, which featured authors from around the English speaking world, including several well known writers from Sri Lanka itself.
Judging by the enthusiastic response to the event, people have still not lost their love for books despite the advent of television and other entertainment options. Everyone loves to hear an author talk about his or her experiences, approach to writing and future projects.
Literature is not a 'dead' subject – it is very much alive in the way we interact with books and authors.
The GLF was more accessible this year in more ways than one.
Physically, the Southern Expressway made the GLF easily accessible to those in the Western Province. I started my journey from home around 7.30 a.m. on the festival days and was at either Hall de Galle or Maritime Museum by 9 a.m. For most people, it negated the need to stay over in Galle or in the vicinity for all four days. At the end of the day's proceedings, they could simply head to their homes in Colombo and come again the next morning. The fuel cost, even for a luxury car, is lower than the cost of a four-day hotel stay.
Accessible
The GLF was also accessible in another sense – many of the events, including non-literary events such as documentary film shows and dance performances were free – one did not need a festival or day pass to attend these. This is a commendable move on the part of the organisers.
We hope that this trend would continue in the coming years, because a GLF day or festival pass is still out of reach for some people. Hopefully, more sponsors would come forward to make more events free to all.
The GLF essentially remains focused on 'English' literature, but it would be even more interesting if the event can feature more authors from the non-English speaking world as well. This year's festival featured famous German author Ingo Schulze, many of whose books are available in translated form.
It is also essential for GLF organisers to recognise the efforts of Sri Lankan writers not only from the Diaspora but also those who live here.
It has been pointed out that the standard of many local writers who write in English would not be up to the standards acceptable to festivals of this nature.
But they need to be encouraged and their talents must be nurtured so that they too can be a part of the widerliterary scene. One should also not forget the Sri Lankan writers who use the vernacular languages as their medium of expression.
This year's festival featured a program on Martin Wickramasinghe, an icon of Sinhala literature and another event on Sinhala literature in general. These are laudable initiatives that would also open the eyes of foreign participants to the rich literary tradition in Sri Lanka.
There should essentially be a program or mechanism to translate some of the best Sinhala and Tamil books to English, French, German and leading Asian languages.
That brings us to the question of having a literary event on the lines of the GLF for Sinhala and Tamil books and writers. True, the State holds a Literary Award ceremony for rewarding the authors of the best vernacular books of the year, but as far as we know, there is no event where local readers and book lovers can interact with the authors in a convivial setting.
True, there are book launches almost every week, but that cannot match the aura of a festival spread over several days. Perhaps performing arts too could be infused to this festival.
Now that Galle has been taken, another city can be selected to hold such a festival every year or key cities can host the festival each year. Interestingly, Sri Lanka is becoming a literary, art and performing art hub in the region.
The GLF is now hailed as one of the leading literary festivals in the world. Its art equivalent, the Colombo Art Biennale, will be held in February, with a similar mixture of art shows, talks, dinners with artists etc. The Symphony Orchestra of Colombo will begin its 2012 season with a session of German Masterworks, with a German conductor at the helm at the brand new state-of-the-art auditorium at Musaeus College, Colombo.
World-class
The Lotus Pond Mahinda Rajapaksa Theatre, with its ultra-modern stage and auditorium has become a truly world-class venue for local and foreign artistes. The newly refurbished BMICH Main Hall will also add to Colombo's allure as a performing arts capital in the region. Indeed, the availability of several brand new halls is an impetus for the growth of performing arts in Sri Lanka.
We hope that in the long term, all of Sri Lanka's main cities would get at least one truly world class auditorium which will enable art to move beyond Colombo. Sri Lanka has also begun hosting an international film festival, a trend that should continue. More opportunities should be created especially for those in the outstations to see and appreciate international art house films in all languages.
It is also enlightening to note that the Facebook generation really cares for art and literature. The annual Colombo International Book Festival held at the BMICH in September, a focal point for local literature, attracts tens of thousands of youngsters.
This augurs well for the future. Parents and teachers have a major role to play in urging children to read more. They may prefer to read their books and magazines on a Kindle or an iPad, but what ultimately matters is their enthusiasm for reading.
If they do not like to read 'dead tree' books, so be it. And if at least some of them take to creative writing, that can be seen as a victory. We need a next generation well versed in the art of writing and reading.