Adolescents too need parental supervision
President Mahinda Rajapaksa called upon parents to value the ideas, skills and achievements of their children and said it was their paramount duty to protect them.
He said as a father of three sons, he could advise all parents not to isolate their teens, but to take care of them with the same attentiveness which they displayed when they were in their formative years.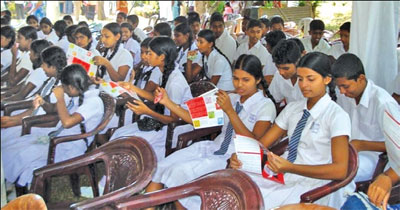 The President was the chief guest at the school book and educational equipment distribution programme held under the patronage of Transport Minister Kumara Welgama at the Matugama Educational Zone. Over 20,000 children who were admitted to Grade One classes in schools in the Kalutara District received educational equipment under the programme. The President further said that there was a tendency for parents to be inattentive about their chidlren's behaviour and activities once they reached adolescence.
He urged parents to be attentive to their children's well-being and also be affectionate and caring to them."It was of vital importance for parents to allocate time to witness their children's achievements, especially in the field of sports and extra curricular activities and also appreciate and encourage them", he said.
The President also called upon parents to pay close attention to their children in their needs as it will immensely help to guide them in the correct path.
The officials of the Parent-Teacher and the Past Pupils' Associations in schools islandwide highly commended the encouraging speech made by President Mahinda Rajapaksa at the function held at Matugama Educational Zone last week.
---
Deyata Kirula in Anuradhapura
The Deyata Kirula national exhibition will be held for the sixth consecutive year.
This year it will be held at Oyamaduwa, Anuradhapura on February 4, along with the National Independence Day celebrations.
President Mahinda Rajapaksa selected the Anuradhapura district for Deyata Kirula National Project this year and the mega development projects costing around Rs 21,000 million will be implemented for the welfare and well-being of the people in Anuradhapura parallel to the Deyata Kirula development exhibition 2012. Under the programme several major development projects in irrigation, agriculture, wildlife, health, electricity, water supply, human resources and physical resources will be launched in the entire Anuradhapura district.
The services provided by these sectors to the people will be upgraded and action will be taken to sort out problems pertaining to these major areas.
Three large stalls set up at the Deyata Kirula exhibition premises will be converted into state-of-the-art paddy granaries to facilitate farmers in the Anuradhapura area, after the exhibition.
More than Rs. 300 million will be spent on several development projects launched in Nachchaduwa Divisional Secretary Division during the last few months.
Deyata Kirula exhibition which attracts millions of visitors every year will be held from February 4 to 10 . Last year, the exhibition was held in Moneragala and massive infrastructure development was carried out there to facilitate the exhibition.
-RJ
---
World Wetlands Day is on February 2:
Let's protect our wetlands
World Wetlands Day is held on February 2 every year to celebrate the 1971 adoption of the Convention on Wetlands in the Iranian City of Ramsar.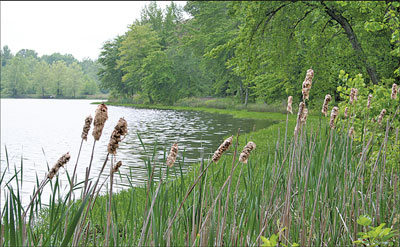 On February 2, 1971, countries around the world came together and signed the Convention on Wetlands (an Intergovernmental Treaty) - the first ecologically focused convention "Ramsar, Iran. Since then, 160 countries have signed the Treaty, including the U.S., and 1,911 wetland sites have been designated as Wetlands of International Importance.In the U.S. there are currently 30 designated sites. The U.S. National Ramsar Committee (USNRC) was formed to support the goals and objectives of the International Convention on Wetlands.It is aimed at raising public awareness of wetland values and benefits in general and this year's World Wetlands Day (WWD) theme for 2012 is Wetlands and Tourism - a great experience. and is linked to the theme for the next meeting of the Conference of the Parties, COP11: Wetlands, Tourism and Recreation, which will take place in July 2012, in Bucharest, Romania.
Wetland tourism has benefits both locally and nationally for people and wildlife "benefits such as stronger economies, sustainable livelihoods, healthy people and thriving ecosystem.
There is a connection between a healthy wetland eco-system and human health.
In the developing world, 1 in 5 people do not have access to clean drinking water. Poor management strategies that support the health of wetland eco-systems can affect the health of humans, with wetland-related diseases claiming the lives of three million people each year and bring suffering to many more.
It is estimated that 1.4 billion people live in water basins where water uses exceed sustainable levels.
By restoring, creating and protecting wetlands, we can improve the health of our local, national, and international waterways. Make a pledge to learn more about the functions and values of wetlands on World Wetlands Day.
WWD was celebrated for the first time in 1997.