Exhibition of water colour paintings
British artist Robert Sedgley will hold an exhibition of water colour paintings at the Artists Gallery, 18A, Sarasavi Gardens, Nawala Road, Nugegoda on February 8 from 10 am. to 8.30 pm. The exhibition will be opened by Lion Lal Manuelge on February 7 at 6.30 pm.
Robert Sedgley, a British artist living in Spain, has been visiting Sri Lanka annually since 1998 and has held five exhibitions here. Many will remember his very successful debut at the barefoot Gallery with his 'Street Level' show of watercolours in 2002, followed a year later by his exhibition entitled "Trading Places". But it was his show at the Artists' Gallery of S.H. Sarath at the turn of the century which first introduced him to this country. This was followed by his exhibition, 'From Humble Dwellings to Holy Places' at the Sri Lanka Institute of Architects.
Following the events of the tsunami he held a donation show, again at the Artists' Gallery, the proceeds of which were donated to the International Children's Villages which provides homes for orphans.
Robert Sedgley works in a variety of media. His oil paintings are largely of figures, depicting people relaxing and lying on beaches. These are sometimes in a realistic style and at others semi-abstracted creating a fragmented appearance characteristic of strong sunlight reflecting off flesh and brightly coloured costumes and beach towels, and deep shadow.
Other figure paintings depict people eating in restaurants (a common activity in Mediterranean Spin) in a more expressionistic mode of painting.
Following a journey by bus through the north of Spain he produced a series entitled Road and Bridge, 'which, through the use of colour and mark-making express a sense of space and movement through the landscape.
---
Undergraduate Indian Scholarships in Fine Arts
The Indian Cultural Centre in Colombo offers undergraduate scholarships in Fine Arts (Music, Dance and Painting) by the Indian Council for Cultural Relations (ICCR), New Delhi.
Applicants should be between 20-25 years and possess a minimum of three passes in GCE Advanced Level including "B" pass in the subject applied for Dance, Music or Art. In addition, they should have at least a pass in English language at GCE Ordinary Level. The application forms can be obtained from the Indian Cultural Centre, No.16/2, Gregory's Road, Colombo - 7 on weekdays between 9.30 am to 1.00 pm from January 27to February 3. The applicant should come in person to collect the forms.
Application forms duly filled in and supported by VCD or video cassettes and photographs should be handed over to the Indian Cultural Centre between 10 to 1 pm in person by February10. The applicants must bring their original certificates at the time of submission of their duly filled in forms. For further details please call ICC at telephone No.2684698.
Candidates from upcountry areas may obtain applications forms and submit them to the office of the Assistant High Commission of India, Kandy.
---
Annual Kala Pola today
The George Keyt Foundation will hold the 19th Kala Pola today at Nelum Pokuna Mawatha, Colombo 7.
The Kala Pola has established itself as the most successful, popular and unrivalled artistic event of the year in Colombo - for artists and aspiring artists a mutually supporting secular festival and a testing ground for their efforts, and for the public it provides undoubtedly one of shopping's highest satisfactions - making the totally unexpected discovery in a random encounter, to take home something greater even than the best of bargains.
Kala Pola has taken painting and sculpture from galleries and museums into the open air and provided a large spread of it for several thousands to appreciate and select from.
The Kala Pola was presented for the first tine in July 1993 and thereafter in January of every successive year. It has been presented by the George Keyt Foundation and is now in the 19th year. It will be the 18th presentation sponsored by the John Keells Group.
The core objective of the George Keyt Foundation has been "Opportunity for Art". This opportunity has also helped greatly in discovering artists, and for the artists it is a terrific exposure to the public and each other. These are two great benefits in the promotion of the arts in Sri Lanka through the Kala Pola.
---
Gabbara Minisa
Sriyantha Mendis' comic play Gabbara Minisa will be staged at the Tower Hall theatre on February 5 at 3.30 p.m. and 6.30 p.m.
The cast include Sriyantha Mendis, Kusum Renu, Sarath Kothalawala, Vasantha Vittachchi, Malkanthi Jayasinghe, Sujeewa Priyalal and Mihiri Priyangani.
---
Kawya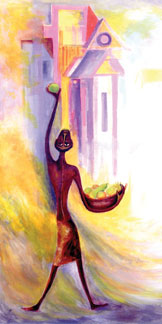 Kawya, an exhibition of painting by Kolvin Settinayake will be held on February 3 at 4.00 p.m. at the National Art Gallery.