MTD focuses on increasing number of vehicle accidents:
Learner drivers should be more disciplined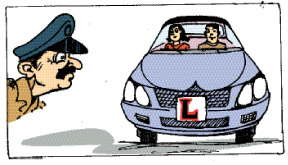 The Motor Traffic Department (MTD) has focused special attention on the increasing number of vehicle accidents at night and called upon driving school instructors to provide more training for learner drivers after 6.00 pm.
A spokesman for the MTD said that conducting training classes at night would help drivers avoid accidents. The spokesman said that many learner drivers are not familiar with the Highway Code and most of them are not self-disciplined at the wheel.
Motor Traffic Commissioner General, B.D.L . Dharmapriya told the Sunday Observer that some driving school instructors do not pay much attention on the Highway Code.
He said new drivers should be trained on busy roads, crowded junctions and roundabouts even at peak hours in the morning and evening, so that they could receive a better training to drive even in heavy traffic jams.
He said that a person who holds a temporary driving licence, from the Registrar of Motor Vehicles. (RMV) until the permanent licence is issued should drive a vehicle with the assistance of an authorised driving instructor or with a person who holds a valid driving licence.
A reputed driving school instructor, W.J.P.A de Silva of Moratuwa called upon temporary driving licence holders to practise more on busy roads until the licensee is familiar with the road rules and drive in heavy traffic.
He said many road accidents generally take place due to the negligence of indisciplined drivers.