Over 1,000 stalls at Deyata Kirula 2012 exhibition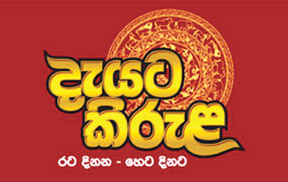 The Deyata Kirula 2012 exhibition has over 1,000 stalls run by public and private sector organisations on a 600-acre land.
The Deyata Kirula 2012 exhibition would be the biggest exhibition in Sri Lanka, said Deyata Kirula Organising Secretary Udaya R. Seneviratna.
President Mahinda Rajapaksa will inaugurate the Deyata Kirula 2012 national development program and exhibition at Tantirimale Oyamaduwa in Anuradhapura on February 4 afternoon.
The exhibition will be open to the public from February 5 to 10 from 8 a.m. to midnight daily. Schoolchildren who accompany their parents can enter the exhibition free while others need to buy a lottery ticket as the entry permit, he said.
Development projects worth Rs. 25,000 million have been implemented to mark the Deyata Kirula 2012 program. There will be special bus services from Anuradhapura railway station to the exhibition conduct day and night for people's convenience, Seneviratna said.