Water for Anuradhapura to cost Rs. 1,884.9 m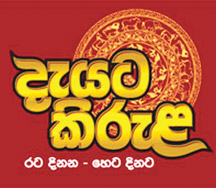 Most of the rural people are in dire need of improved sanitation and drinking water. According to the WHO reports eight people out of 10 in Asian and African periphery don't have proper access to potable drinking water.
The main reason for child mortality in South Asia is the outbreak of diarrhoea and 88% of the deaths is reported to be due to unprotected drinking water and poor sanitation facilities.
As estimated 1.2 billion of the world population of which 778 million Asians are used to open air defecation.
This primitive habit is one of the major causes for the pollution of water resources. Spread of renal diseases in the region has been attributed to polluted drinking water been.
The preliminary reason for majority of the diseases from which the people in NCP suffered was the drinking habit of polluted and the contaminated water has been identified as the principal cause for most of the diseases the people of the NCP has been fallen victim, according to the Provincial Health Services Director Dr. W. Atapatthu. There are around 20,000 kidney patients being treated, Dr. Atapatthu said.A number of water supply schemes is under construction in Anuradhapura at a total cost of Rs. 1,884.9 million. The Water Supply and Drainage Board's North Central Deputy General Manager L.L.A. Peiris told the Sunday Observer.