Police horses stand the test of time
A tall chestnut gelding called Alex, gazes majestically at the traffic as it flows past the busy capital roads in Sri Lanka, a member of the Police Mounted Division it is a symbol of a colonial tradition that has survived the test of time.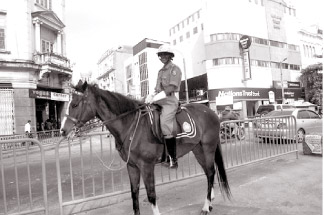 Alex is one of 29 thoroughbred horses that are currently part of Sri Lanka's Mounted Police Division and is a common sight during heavy traffic hours in the central part of Colombo as he works to keep the vehicles moving during the afternoon rush. Horses are perhaps an unusual tool for traffic control but it is a rich tradition with roots in Sri Lanka's colonial past.
The Mounted Division was started in 1921 at a time when the country was part of the British Empire and horses were the main mode of transport. The original building still stands today with its distinctive Dutch and British architecture and part of it is used as a stable. The colonial heritage is apparent in almost every aspect of this division - from the archways of the building to the ceremonial duties carried out by the members.
Mounted Division Director Senior Superintendent of Police Ranmal Kodithuwakku explained to Xinhua that the department functions much like it did over 90 years ago when it first started. At the time the Mounted Division was a special unit under the British rule until Sri Lanka gained independence in 1948.
"At that time records show there were eight European Mounted Sergeants and Constables that were trained equestrians. They were later promoted as Mounted Sub-Inspectors. In 1948 the equestrian section was re-organized and expanded. For the first time three Sri Lankan Sub Inspectors were trained. It was subsequently decided that young Sergeants and Constables would also be trained for this purpose," he said detailing the history of the Mounted Division.
Later in 1956 the proper Police Mounted Division was established with the strength of one Sub Inspector, two Police Sergeants and 22 Police Constables with 23 thoroughbred horses imported from Australia.
Senior Inspector of Police A.P Keerthiratne, who is one of the oldest members of the division, remembers in those early days with the Australian horses as being quite challenging. "They were bred for racing and therefore very spirited. Those horses were very fidgety in the traffic and would bolt at every opportunity."
However his first horse "Amber," which Keerthiratne was given in the early 1980s, is still his favorite, despite nearly 30 years of riding horses for the division and his eyes light up when he recalls the Australian gelding.
Nonetheless a policy decision was taken to import horses from France and the Netherlands since those breeds were seen to be more suitable for Sri Lankan requirements.Within the last few years a shipment of Indian horses also added to the collection and a range of beautiful thoroughbreds is the result.
With the increase of horses the Mounted Division also expanded to the hill areas of Nuwara Eliya and Kandy in the central province of Sri Lanka.The largest group of horses remain in Colombo for training purposes and are often seen trotting about in the early hours of the morning and late afternoon when the hot sun has lost its strength. The horses are trained in traffic control and patrols but their main duty is taking part in ceremonial escorts.
Sri Lanka's president is given a Mounted Division escort at all State functions including the Independence Day ceremony, which falls on February 4 and the horses are already busy in the training ground.
They are also an essential part of all State visits with many foreign dignitaries being given a Guard of Honor including Queen Elizabeth when she visited the island in 1954.
"Sri Lanka is also one of the few countries that has formation riding for its Mounted Police Division. In fact we use horses in more police duty than most other countries around the world. Only the UK police use horses in traffic duty making this a rare sight," "Kodithuwakku opined.
The road to become a Mounted Police Division member cannot be taken at a gallop. The department only selects policemen with a proficient sports background so that they are more comfortable on the steeds that can be difficult to control when spooked. They are also expected to undergo a year-long course on every aspect of horse-lore including veterinary, parade and policing skills that include formation drilling.
"They are also trained in equestrian events including tent pegging, hurdles and gymkhana riding. The division performs regularly at international or regional sporting events held in the country or at national exhibitions."
The horses also delight the crowds with their stunts that include the rider changing from his gelding to a motorcycle and even skipping.
Since all this takes practice the riders and horses train for long hours and of course are expected to develop a close relationship.
Even simple things like food can be a challenge with horses having to get used to local grass and other types of food once they leave their homes in France and The Netherlands.
Since the division has a special contingent of caretakers to feed, groom and clean the stables the horses are well taken care of. But officials admit that losing a horse or two occasionally cannot be avoided as even indigestion can be deadly for so large an animal.
"All the horses are male and are usually imported when they are around three years old. We have found that having females can be tricky so quieter geldings are the norm," Kodithuwakku remarked adding that a delegation including veterinary surgeons are flown to select the horses before they are shipped to Sri Lanka.
Even though breeding them has been attempted it has not been successful. Most horses stay in service for 15-20 years with some even going up to 25."Once the horses are condemned by the vets we auction them at low prices to private owners that will give them a good home." Since the horses are technically public property, an auction is a standard procedure to ensure a return to the State.
Nevertheless it is a win-win situation as the thoroughbreds are bought by horse-lovers with spacious farms where they are allowed to spend their retirement at leisure - as all good public servants deserve.
The Mounted Police Division may be small but it is a living part of Sri Lanka's colonial heritage and its services are not to be neighed at.
- Xinhua