A challenge for the 'privileged cinema culture':
How I wonder what you are
Chinthana Dharmadasa is a young filmmaker and script writer who could blaze the trail in Sri Lankan alternative cinema.
His first short film was Afterwards, he fell asleep which was selected for the best category in shorts 2005 film festival organised by National Film Corporation, and as a recognition he received a scholarship for one year for film training in Lodz Film School in Poland.
How I wonder what you are is his first feature film which he had written and directed with his friend Udaya Dharmawardhana.
This was the first time in Sri Lankan cinema history that two directors have collaborated in one production.
On the other hand, with How I wonder what you are, Chinthana and Udaya are challenging the 'privilege cinema culture' in Sri Lanka by introducing a low budget film, which now has become a popular, upcoming trend in the cinema industry.
Chinthana is the core-script writer of the film Alone In A Valley by Boodi Keerthisena.
He was involved in script writing of the international award winning film Flying Fish by Sanjeewa Pushpakumara. Chinthana is now into his second feature film Les Papillions Noirs which is a France-Sri Lanka co-production again with the collaboration of Udaya Dharmawardhana.
This is an interview the Sunday Observer had with the talented youth of Sri Lankan cinema.
Question: What is the background of 'How I wonder what you are?'
Answer: A few years ago, making a film was only a dream for us with the enormous budgets that it required to produce a better production.
Those days we were not familiar with low budget films and such technology or methods had not been introduced to the Sri Lankan cinema. Udaya and I were very close friends for some years and How I wonder what you are, is our very own life experience which we could capture into celluloid after several years.
It was a depressed chapter in our lives; where there was no hope, passion or recognition left for us. All the other friends and people around us had something or other to keep them occupied; we were out of that crowd and simply we were nobodies.
However, the insatiable desire we had towards the cinema, kept our hopes alive and we wanted to create our own life's tragedy into an art piece and at the same time we wanted to challenge the so-called stereotypical format which is common not only in Sri Lankan cinema but in many aspects of Sri Lankan society.
That's how the film How I wonder what you are was created with the lowest budget in Sri Lankan history of Cinema.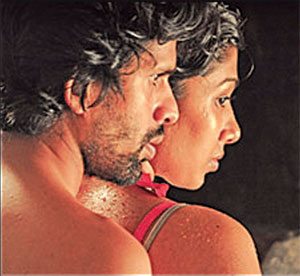 Q: What do you identify or understand as cinema?
A: When it comes to cinema there are so many categories such as world cinema, Asian cinema and European cinema. However, out of them I know only about Sri Lankan cinema and unfortunately as per my observation, Sri Lankan cinema has never existed.
There were prominent characters such as Lester James Peries, Pathiraja, Dharmasiri who achieved international recognition for their creations, but my perception on Sri Lankan cinema is different.
The main reason for the non-existence of Sri Lankan cinema is that we don't have a film industry in our country and we don't have the cinematic language or industrial space created to identify the cinematic methods or culture as same.
There were others such as Titus Thotawattha, Mahagamasekara, Sugathapala Senarath Yapa and Herbert Ranjith Peries who were not recognised by the international film festival market, but who had the real sense and touch of Sri Lankan culture in their creations.
It is unfortunate that we still could not create a dialogue towards this unrecognised trend, which I identified in their creations as the real feeling of Sri Lankan cinema.
Q: Most of the themes in alternative cinema are restricted the ungratefulness or sadness of lives in third world countries. Why?
A: The themes of the alternative cinema in the world are changing very often and the realistic art form is no more there in the scene. So far there were many trends such as realistic form, magical realism, and post modernism and now it has changed to touch the human's unconsciousness. That means universally the film language is developing and evolving frequently.
When it comes to Sri Lankan alternative cinema, still it is mainly based on Buddhism, Marxism or most of the story lines are always keen on finding the absolute truth of life.
That is because we have not understood the film language yet and still we are trapped in a modern thinking pattern.
For me, cinema is a medium of entertainment which we can use as a tool to express a feeling, a mood or any human expression.
Q: Today we see so many upcoming filmmakers being introduced to the industry. What is your opinion about the alternative cinema in the country?
A: There are so many newcomers getting into the short film-making, but unfortunately it creates an erroneous trend which is not a good sign in the long run.
I believe a short film is not a suitable structure to the Sri Lankan audience. I believe, to have an enthusiastic short film culture, it is essential to have a strong mainstream cinema in the country, because the short film is always a sub-culture which is generated due to a strong mainstream cinema industry. Therefore, my suggestion for short filmmakers is to produce 90 minutes short films which would be more meaningful when considering the socio-cultural factors in the country.
Q: Why did you want to become a filmmaker?
A: Actually I still don't think I'm a film-maker; rather I'm a writer.
However, I could visualise my writings and I think my visuals are more powerful than my language. Therefore, I tried to shoot or visualise what I write.
However, I have still not mastered my skills in editing, camera tricks, techniques and many technical sides of film making but I'm more conscious about developing powerful scripts.
Q: Do you have any role models in the film industry?
A: I have many. I'm getting inspired by many film directors and script writers in different areas.
As an ideological base I like Mexican film-maker Alejandro Gonzalez a lot and when it comes to entertainment base I like Quentin Tarantino and from managing and directing the acting crew, I like Carlos Reygadas. When it comes to Sri Lankan films I like 'Para Dige'.
It's a mystery and I really can't believe that a Sri Lankan film-maker has done it.
However, I think the credit should go to script writer Ajith Thilakasena who is a fabulous writer. Likewise, there are many international and local script writers and directors that I got inspiration from, but I never wanted to be anybody's follower.